Article Archive for 25 July 2016

Kmart Shutdown Imminent?
Posted in
Retail
on 25 July 2016
Stats: and
2 Comments
From Business Insider Store-level employees who spoke to Business Insider said many of the remaining 941 Kmart stores now appear to be in the midst of liquidation. Stores are being entered into numbered phases — such as Phase 1 and Phase 2 — employees said. The company has told employees that the phases are part […]

New Disney Books Contest!
Posted in
Books
,
Disney
on 25 July 2016
Stats: and
24 Comments
 Disney Publishing has sent along a nice assortment of fun books for kids including early sneak peeks at Pete's Dragon. Haunted Mansion (with CD!) Pete's Dragon – Lost Years Disney Pete's Dragon Junior Novel Contest starts now and ends August 1, 2016 11:59:59 PM. Enter below in the comments by answering the following question. You may enter […]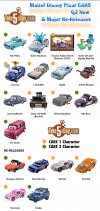 Mattel Disney Pixar CARS: 2nd Quarter Releases & Major Re-Releases Visual Checklist
Posted in
Disney Pixar CARS
,
Mattel Disney Pixar Diecast CARS
on 25 July 2016
Stats: and
No Comments
Here's a handy chart of the 2nd Quarter releases and major re-releases. Of course, in a year of spotty releases, it's hard to find 'em all … a phrase everyone knows. 🙂 YELLOW indicates CARS 1 releases. GREEN indicates CARS 2 release. The last two rows are re-releases – the Piston Cup racers are flat […]