Home
»
Disney Pixar CARS
,
Mattel Disney Pixar CARS
Mattel Disney Pixar CARS: Precision Series Town Poster
This is the mini map you get with each Precision Series Town playset.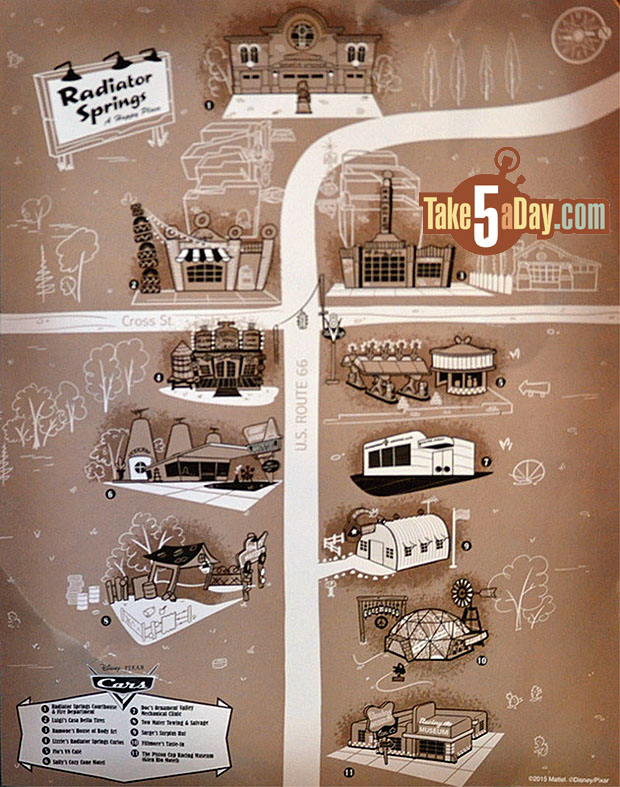 They are numbered but not in the order of release. But they have been named:
# 1  "The Radiator Springs Courtyard & Fire Department"
# 2 "Luigi's Della Casa Tires"
# 3 "Ramone's House of Body Art"
# 4 "Lizzie's Radiator Springs Curio"
# 6 "Sally's Cozy Cone Motel"
# 7 "Doc's Ornamental Valley Mechanical Clinic"
# 8 "Tow Mater's Tow & Salvage"
# 9 "Sarge's Surplus Hut"
#11 "Piston Cup Racing Museum"
FOUR with Amazon LINKS are out and available.
At D23 2015, they announced there would be 13 townie playsets + accessories. The townies playsets they showed off included the mini stores between Luigi's and Ramone's & the Courthouse. They are shown above in white outline – are they #12 & #13 (as two playsets for either side of the street?). The other house shown in outline is Ramone & Flo's house (not shown as a prototype in 2015).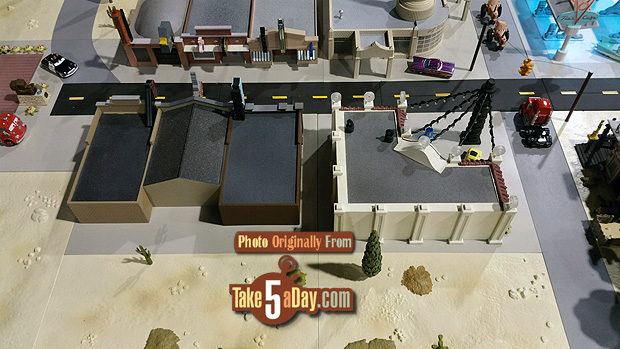 Can you name them?
(The Oil Pan, Lube O Rama, Sparky's Spark Plugs, Pop 'n Patch Tire, Miss Piston, Carburetor Emporium Repair, Muddy's Mudflaps & Mrs. Muffler on one side as one & Wimpy Wipers, Eat, Sparky's Spark Plugs, The Curb Feeler & Foggy's Windshield on the other side).
You need a table and you can top us all by planting real living bonsai trees – start now – you have 2 years.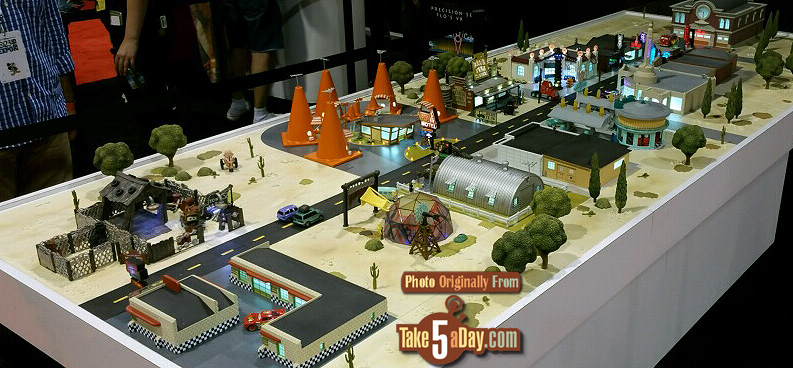 Thanks "AF" for the poster photo,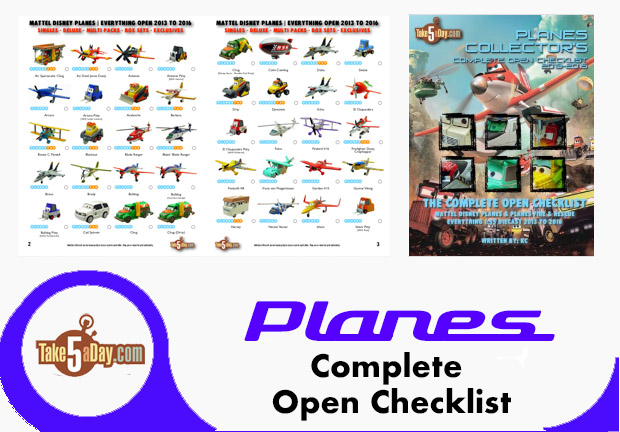 metroxing

8 July 2016

Disney Pixar CARS, Mattel Disney Pixar CARS


One Comment