Home
»
Disney Pixar CARS
,
Mattel Disney Pixar Diecast CARS
Mattel Disney Pixar CARS: Target 11-Pack Lizzie with Radio, Radio
Thanks for the heads up and photos, "John H."
There is a new Target 10-pack with a new Lizzie … and radio.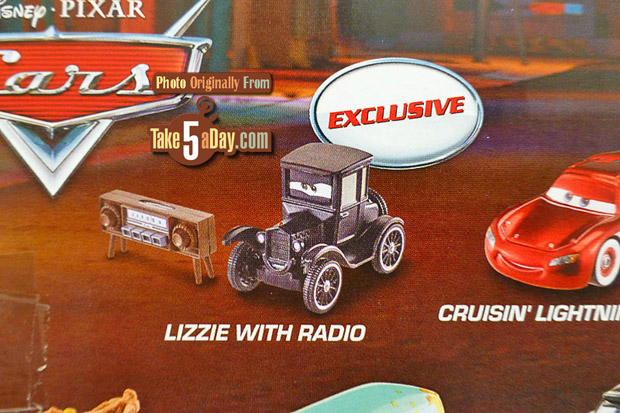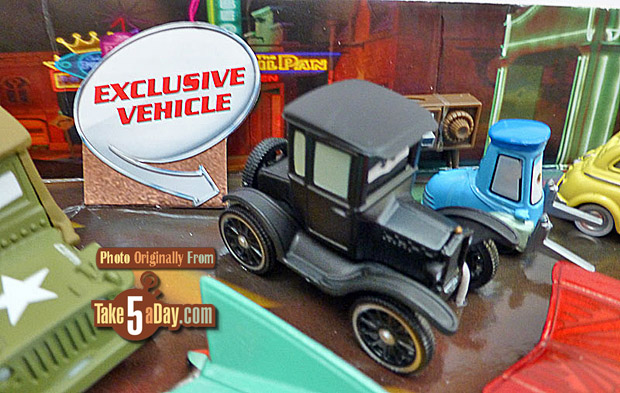 The Radiator Springs Friends Gift Pack with 11 Townies.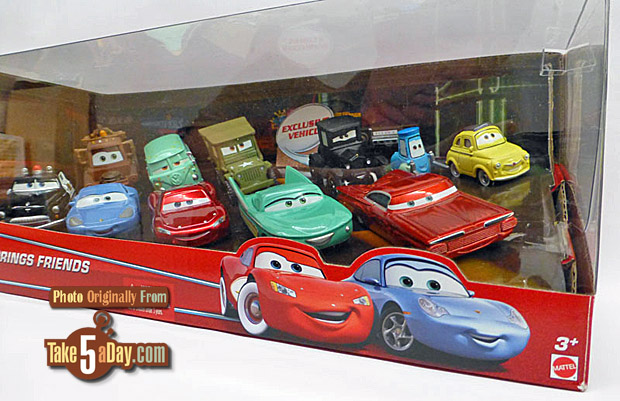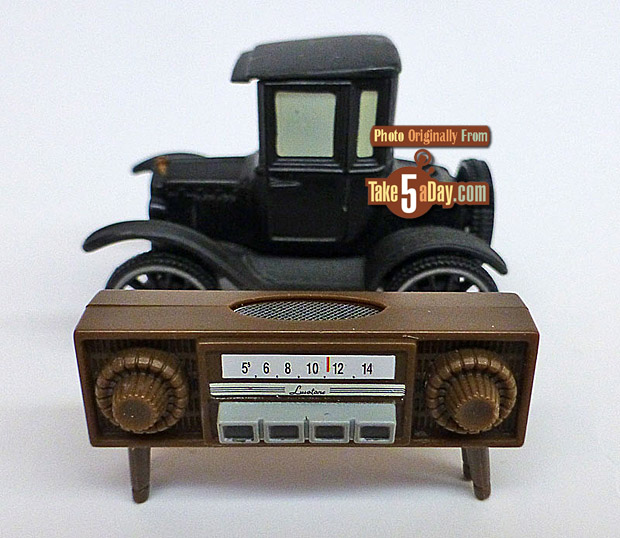 The radio is a nice accessory.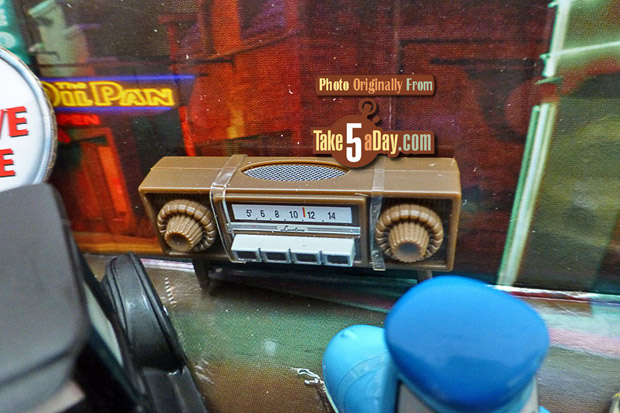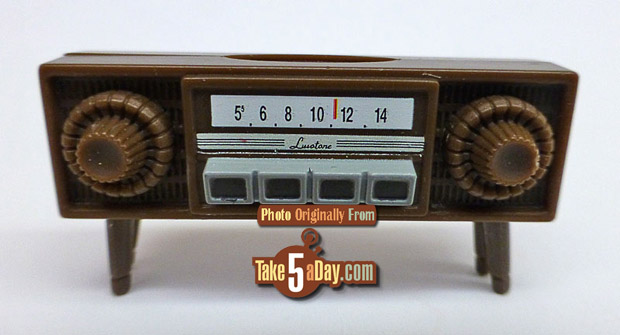 Regular Lizzie (L) with the "new" Lizzie with Radio (R). Her eyebrows look different so "Lizzie with Radio" counts a new release and not just a variant. Hard to tell if anything else is different.
This is regular Lizzie with the new radio.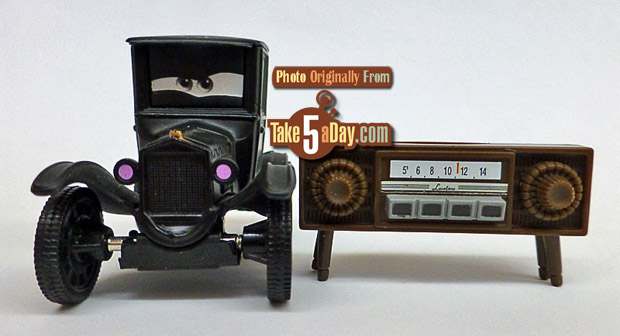 With Wedding Day Stanley.

As for the other 10 releases, presumably they are all the recent variants with the flat windshields so if you're a variant collector, here's your chance to scoop them all up.

I've been told the purple headlamps are correct for the Model T. The lamps gave off the appearance they were purple.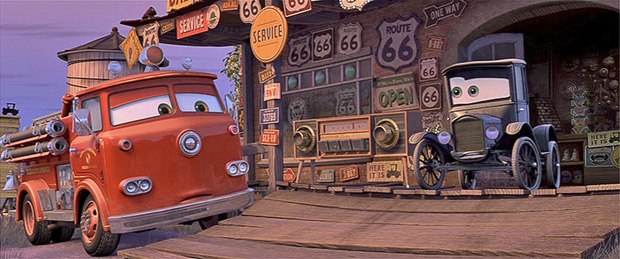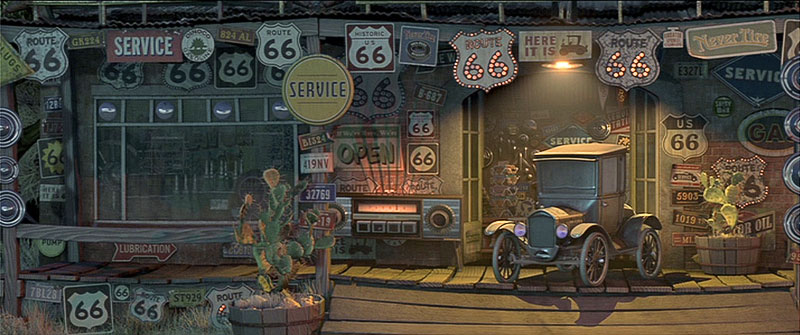 John H. notes … "The legs are a soft rubbery material that bends. Strangely there's no marking on the radio bottom ("Mattel", "Disney", "Pixar", "Made in", etc) that will pin this object to the Cars universe. I expect this accessory will quickly become very rare. If you look at both screencaps, it appears from the night shot that the radio should have had a silvery faceplate. The toy designers likely worked off the scene with Red where the radio looks brown in front.
For the Precision Lizzie's Curio Shop it would be terrific if they did "Sleeping Lizzie" with a lit up radio dial.
A detail that I think Pixar missed would have been to include the Civilian Defense markings on the radio dial. Of course one could argue that maybe in the Cars world there was no Cold War, or that Lizzie's radio was made after 1963.
CONELRAD (Control of Electromagnetic Radiation)
Between 1953 and 1963 all new radios sold in the United States were required by law to have a triangle in a circle at the 640 and 1240 spots on the AM dial. The triangles marked the Civil Defense (CD) stations.
In the event of an emergency all United States television and FM radio stations were required to stop broadcasting. Upon alert most mediumwave stations shut down. The stations that stayed on the air would transmit on either 640 or 1240 kHz. They would transmit for several minutes and then go off the air and another station would take over the same frequencies in rotation so that enemy aircraft could not use the broadcasts as a navigation aid.
By the early 1960's the development of Soviet missiles had made the civil defense system obsolete and it was replaced by the Emergency Broadcast System in 1963.
The set is $39.99 at Target, each store appears to have gotten four in. I doubt there will be a huge rush on these but I don't think they'll sit long enough to go on clearance."
Elvis Costello RADIO, RADIO lyrics appropriate. 🙂
Thanks, "John H!"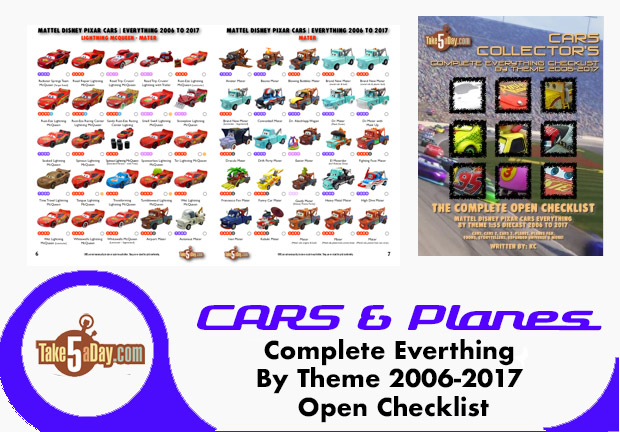 metroxing

13 June 2016

Disney Pixar CARS, Mattel Disney Pixar Diecast CARS


5 Comments