Article Archive for 13 June 2016

Mattel Disney Pixar CARS: Precision Series Flo's V8 Cafe 50% Off Again
Posted in
Disney Pixar CARS
,
Mattel Disney Pixar Diecast CARS
on 13 June 2016
Stats: and
No Comments
Amazon seems to make daily adjustments of Flo's V8 Cafe –  50% off sale for the Precision Series Flo's V8 Cafe down to $47.37 as I'm wring this. It was $52.77 last Wednesday – what is it today? Don't be sorry you missed out. Don't forget Fillmore's Taste-In Tent also before the next playsets arrive. Tweet […]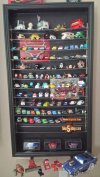 Mattel Disney Pixar CARS: Custom Shelving Lights Up!
Posted in
Disney Pixar CARS
,
Mattel Disney Pixar Diecast CARS
on 13 June 2016
Stats: and
No Comments
Thanks "Michael R." for a look at your custom shelves … And yep, they even light up! Nice! I haven't seen that garage in years! Thanks Michael R. Tweet This Post

Mattel Disney Pixar CARS: Target 11-Pack Lizzie with Radio, Radio
Posted in
Disney Pixar CARS
,
Mattel Disney Pixar Diecast CARS
on 13 June 2016
Stats: and
5 Comments
Thanks for the heads up and photos, "John H." There is a new Target 10-pack with a new Lizzie … and radio. The Radiator Springs Friends Gift Pack with 11 Townies. The radio is a nice accessory. Regular Lizzie (L) with the "new" Lizzie with Radio (R). Her eyebrows look different so "Lizzie with […]