Home
»
Disney Pixar CARS
,
Mattel Disney Pixar Diecast CARS
Mattel Disney Pixar CARS: The Holy of Holies Brainstorm 50 Lightning McQueen Auction
After 8 years, the holy grail of CARS, the holy of holies CARS item is up for the auction on eBay by Martin Arriola, lead designer of CARS 2007-2010.
Yep, a real BRAINSTORM 50 Lightning McQueen with the key addition … the shirt that came in the gift bag!
Here's the full story – with the "surprising" longevity success of the CARS diecast line, the powers that be – Disney, Pixar and Mattel decided to gather all the important principles in early 2007 to "brainstorm" ideas, concepts and direction for 2008 and beyond. They met off-site in Palm Springs. Mattel decided to give away a gift bag as a thank you. Included in this gift bag was a special CARS TEAM '09 Lightning McQueen diecast (we're calling it the Brainstorm 50 since there were about 50 people at the meeting) along with a shirt in a CARS bag. The bag has not survived the ensuing years but it was basically one of those kid's party CARS bag you could pick up at the party store back in 2007.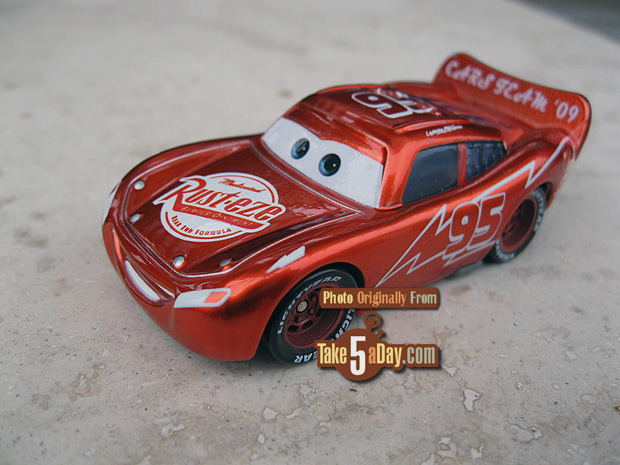 This is an actual Brainstorm 50 giveaway Lightning McQueen. Of course, long time collectors know that a lot of these were offered in 2007 and 2008 with a lot of made up stories* about it but the key thing to know is that it's actually SPECTRAFLAME RED and not Ransburg Red. The counterfeiters sold it as a "Red Ransburg" which was what they sold but it turns out the Brainstorm was not "Ransburg."
I'm no manufacturing expert but "spectraflame" is a Mattel process with a "shiny vacuum-metalized finish covered in a semi-transparent, water-based lacquer." (Technically, the original process was retired due to lead but they still use the name even though it's different than the first Hot Wheels cars processed with it).
The Ransburg process, though the end result is very similar, is from another company and is, "an electrostatic painting process." The end result is that the Brainstorm 50 is NOT Ransburg Red (see your metallic Lightning McQueen's for what Ransburg Red looks like) but Mattel's Spectraflame Red which in this cases ended up with a slight orange tint – that's why the fakes/counterfeits are all slightly wrong in color.
Because when they placed a rush order to have 50 made for the Brainstorm meeting and it was such a low run, they used their own Hot Wheel's plant (which made Lightning McQueen's in 2006 for Mattel – the first releases made in Thailand – site of one of Mattel's Hot Wheels plant).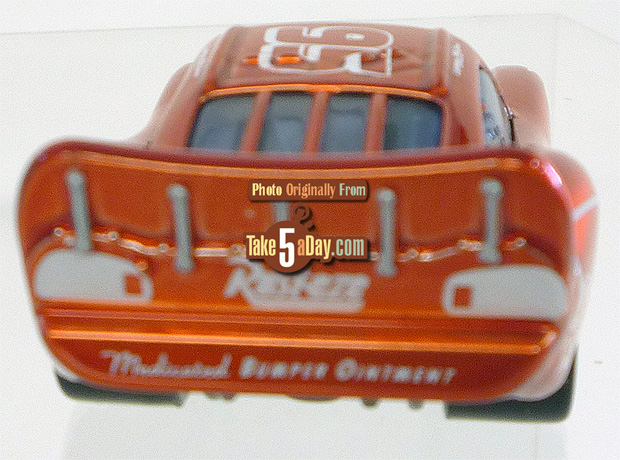 The TRU Dream Halloween one is a Red Ransburg Lightning McQueen. (see link) That is the difference … along with the slightly different tampo decals and of course, the Brainstorm 50 contains the ATROCIOUS back spoiler CARS TEAM '09 decal – any one ever involved in any design cringes that anyone who would ALL CAP a script typeface font. Martin wants it to be known he had zero hand in designing this decal – clearly the work of a clueless low level employee.
And yes, it is weird that they called it CARS TEAM '09 when the meeting took place in 2007 to discuss the 2008 lineup … but again, Martin says he was not involved.
(yes, the one being offered has a slight color chip on the spoiler).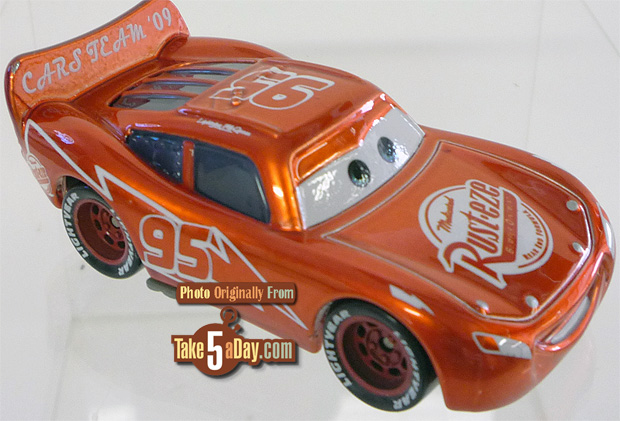 And the crucial difference in all the counterfeits out there besides the color mistake?
They do not include the SHIRT.
Finally revealed!
A bowling shirt that reads CARS Palm Springs 2007. Martin did design this shirt.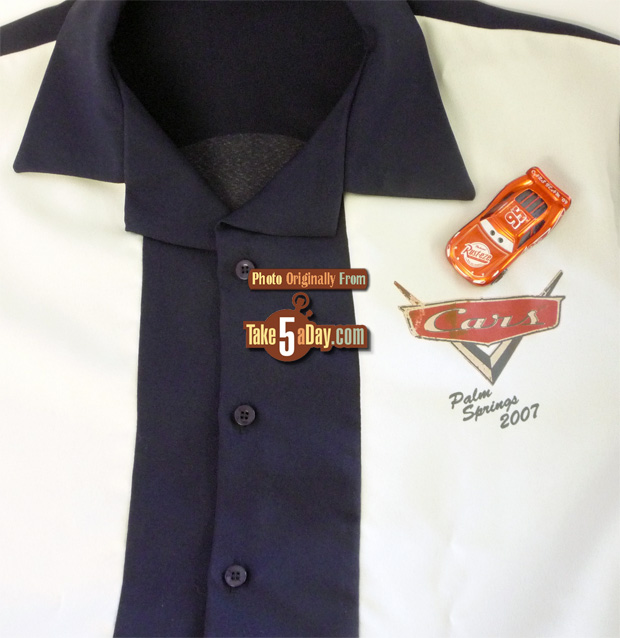 I think it's a large. There is also some artwork on the back but I'll leave it out just in case some enterprising hooligan decides to start making fake shirts also – you can check with me (or the winner of this auction) as to what's on the back. 🙂
In addition, Martin has boxed it up in a nice display so you're all set … but of course, it opens right up, you can wear the shirt and eat some spaghetti if you like … after you buy it. (BTW, Martin never wore the shirt, he just kept it in his closet so it's all new).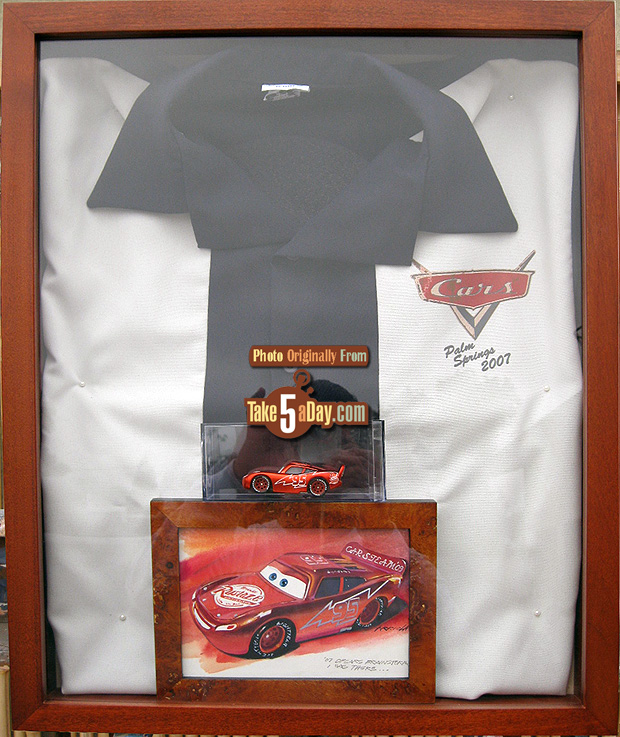 In addition, Martin has included a beautiful watercolor rendering of the CAR – signed "I WAS THERE."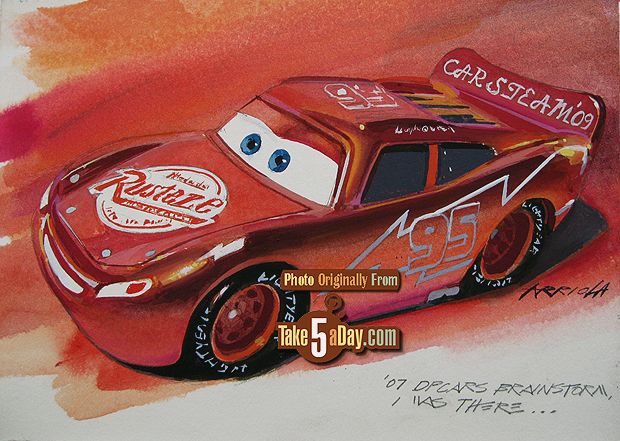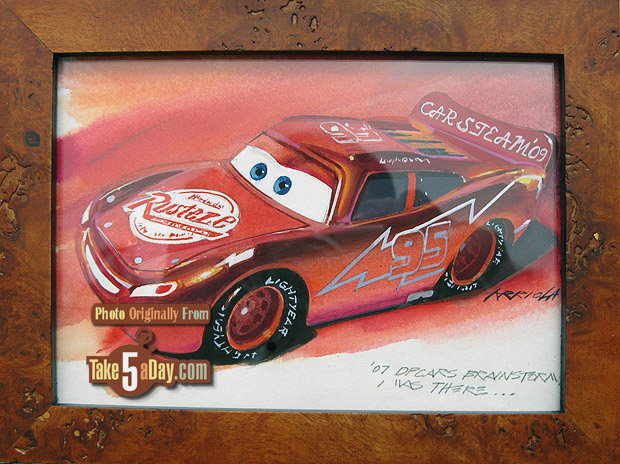 So, while there were about 50 gift bags doled out, after 8 years, NONE others have ever surfaced … mostly because there are hardly anyone left on the line who was there in 2007 … even John Lasseter has technically moved on … a little too busy running Pixar Animation, Disney Animation and Theme Parks Creative Director … I'm guessing he still has his – next time you see him, see if you can pry his away. 🙂
And as others can attest, most of the people I've met on the CARS line could care less about being on CARS – they might as well be marketing cardboard boxes so in that sense, it's not really surprising that most people tried on the shirt, if it fit, they might've worn it but if not, probably just gave it away and the diecast? When diecasts are free at the workplace, who needs another one? And of course – in 2007, they were still mostly thinking this was a short term lineup for a movie tie-in … so no one paid it much attention. (When I asked someone else who was at the meeting about their diecast, they just shrugged and said they lost complete track of it).
After 8 years, this is the first complete package to turn up.
It is the holy grail of holies for CARS.
I think the The Dream Halloween box set won by the CEO of TRU is the ark of the covenant for CARS. 🙂 BTW, many years ago, I was told it's on display at the HQ of TRU in New Jersey so if you live in the area, snap us a few pics if it's up or maybe they'll pay you to haul it away.
🙂
Enjoy and good luck on the auction!
* Part of the story regarding the Brainstorm 50 and the "vast numbers" of diecast available for sale was that there was a 2nd meeting in Asia. There was not. Since all of Pixar, Disney and Mattel's design team are/were all in the US – they do not need to go to Asia to meet. Or everything about the counterfeits and counterfeit/fakes in general if you want a long read.


metroxing

12 July 2015

Disney Pixar CARS, Mattel Disney Pixar Diecast CARS


One Comment