Home
»
Disney Pixar CARS Toons
,
Mattel Disney Pixar CARS Toons Diecast
Mattel Disney Pixar CARS: Dragon Lightning McQueen Variants & Errors
Prior to the recent re-release, we had 3 releases of Dragon Lightning McQueen in 2009 and 2010. Since each of these have different names, they are VERSIONS and not VARIANTS.
Dragon Lightning McQueen (clean and smiling).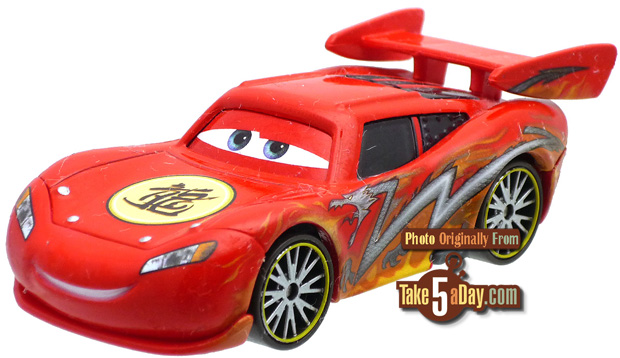 Metallic Dragon Lightning with Oil Stains (and angry mouth)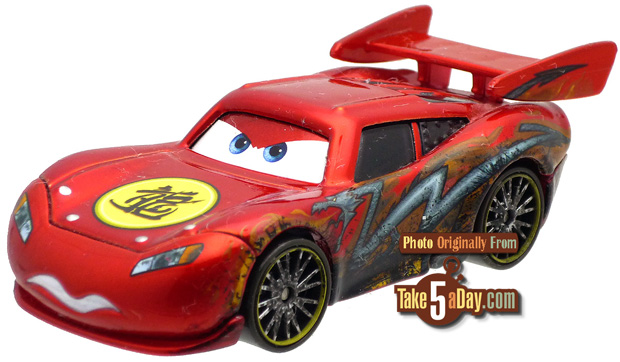 Dragon Lightning with Oil Stains (and grimace)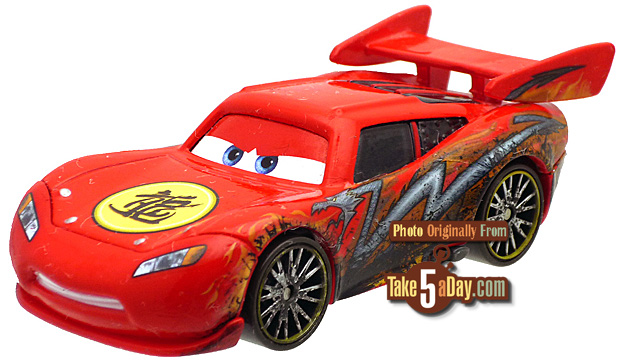 Now, normally, variants occur when there is a production change – a major upgrade such as when they switch from a segmented face to a unibody (not in this case) or a minor one such as Nitroade "mustache" tampo decal changing from lavendar to tan.
Recently, the re-release of clean Dragon Lightning McQueen seems to come in two versions. A repeat smiling version (see top photo) and one with a grimace that matches the regular release Dragon Lightning McQueen with oil stain version (third photo from top). You can see the photos in this post of the 2014 re-release.
So, since the smiling re-release matches the original release, that is the "correct" re-release – the grimace-expression one is a variant if there are a lot of releases available at retail … if it's only avilable in a few shipments, then it's an error.
Of course, sometimes the original release is an error version that requires correcting but there's not a lot of evidence for that based on matching screenshots. Previous TOON releases (and like the current re-releases) feature a giant Toon Mater and a screenshot photo below on the insert (saves on cost since the insert sleeve card is cheaper to change out versus the actual cardboard card).
None of the screenshots supplied by Pixar to Mattel really match the actual diecast expression so there's no evidence to "overturn" the first mouth expression releases.
The most obviously example of an original release that became the error variant is DJ who did not sport the correct green piping from 2006 to 2009 – and was finally fixed as a Night Skyline release and subsequent re-releases are all much more correct.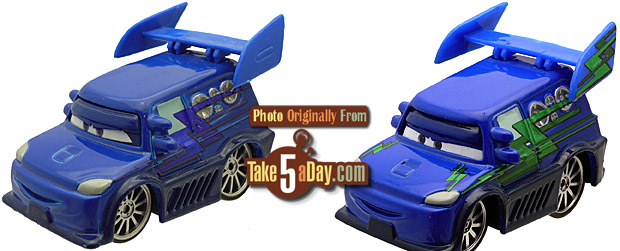 So, the Dragon Lightning McQueen 2014 re-release should sport the smile.
Until a lot of the "grimace" expression versions are unearthed, that one is an error and NOT a variant.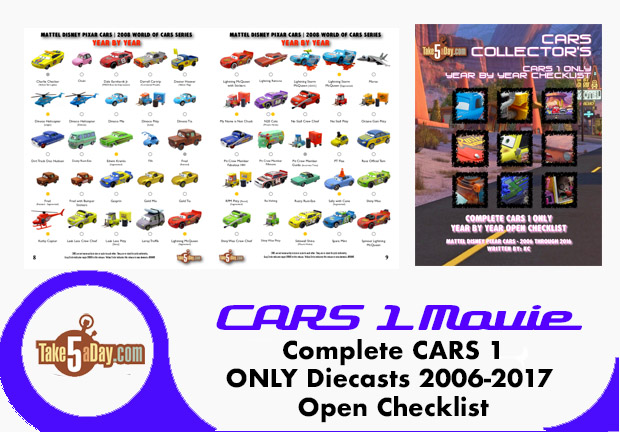 metroxing

8 September 2014

Disney Pixar CARS Toons, Mattel Disney Pixar CARS Toons Diecast


No Comment