Home
»
Disney Pixar CARS 3
,
Mattel Disney Pixar Diecast CARS 3
Mattel Disney Pixar CARS Diecast: San Diego Comic Con Neon Racers Official
Well, no real surprise (except for those that didn't believe us). 🙂
Disney•Pixar Cars 2014 Special Edition Neon Racers Gift Pack (with Lightning McQueen & Shu Todoroki).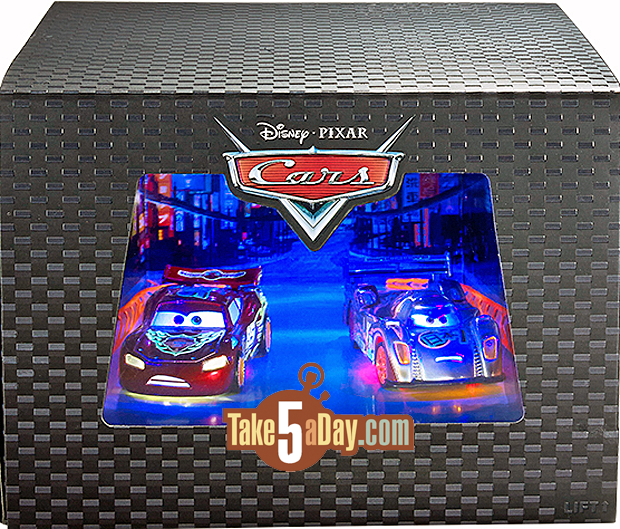 Looks pretty nice. Definitely an upgrade – while $50 is still a little spendy, it's a nice showcase.
Open PHOTOS here plus the lights/glow/LED in action.
Pre-booking starts June 24, 2014. Presumably like last year, there is no mail order for the time being, pre-orders can only be picked up at SDCC (July 24-27). Obviously it will be on sale at the show and then if any is left, post sales will be offered a few weeks after SDCC.
The Official Blurb …
"Disney•Pixar Cars 2014 Special Edition Neon Racers Gift Pack ($50)
Welcome to Japan! Shu Todoroki is hosting an endurance night race from Mt. Fuji to Tokyo's colorful Ginza District. Get ready to experience the exciting world of neon racing!
In Japan, the presentation of a gift is as important as the gift itself. You can experience this Japanese tradition with the 2014 Special Edition Neon Racers Gift Pack. The specially designed furoshiki, Japanese wrapping cloth, features comic book-style illustrations of the Neon Racers story. Open the wrap and you'll find a racing diorama with die-cast characters Lightning McQueen and Shu Todoroki illuminating the streets of Tokyo in their amazing customized lighting and neon deco.
Please enjoy! Tanoshinde kudasai!"
It's unknown how many are being made – I would presume they made more than the 1,000 only of the Convoy Brothers at D23 Expo last year – since they sold that one out so fast … but they'll probably be conservative so my guess is not much more than 3,000-5,000.
NASCARBronco wants to remind you parking goes on sale May 20, 2014 – if you planning on buying master cartons upon master cartons, then you definitely want to jump on getting parking under the convention center but if you're not going to drop off bulk purchases, you can wait and park anywhere as there are dozens of free shuttles – you can ride out to your car, drop off stuff and then ride back, there are shuttle buses running all day long.

metroxing

16 May 2014

Disney Pixar CARS 3, Mattel Disney Pixar Diecast CARS 3


9 Comments