Home
»
check list
,
Checklist
,
Disney Pixar CARS
,
Disney Pixar CARS 3
,
Mattel Disney Pixar Diecast CARS
,
Mattel Disney Pixar Diecast CARS 3
Mattel Disney Pixar CARS Diecast: The Big Checklist 2006-2013
This checklist combines all the mainline releases from 2006 to 2013.
For most completist collectors you should have about 604 releases.
453 CARS 1 & CARS 2 diecasts.
99 CARS 1 & CARS 2 variants (both minor and major).
97 CARS 1 lenticulars (this total doesn't include lenticular variants – or those who did not collect lenticular can subtract 97).
55 CARS 1 & CARS 2 Kmart Piston Cup & WGP Racers – Rubber tire & silver metallic.
Of course, there are still dozens of minor variants not really counted here. Of course, you can get the full listings in our checklist magazines which offers up photographs of every variant. If you want a photo checklist, the Complete CARS 2006 to 2011 is here, and CARS 2 Year 2011-2012 is here (2013 is not done yet).
This list also does NOT include Expanded Universe & PLANES … someday. 🙂
This is PART 1 of 3. You can right click to print.
(Yes, I added Jay W. and Pit Crew Member Flo here).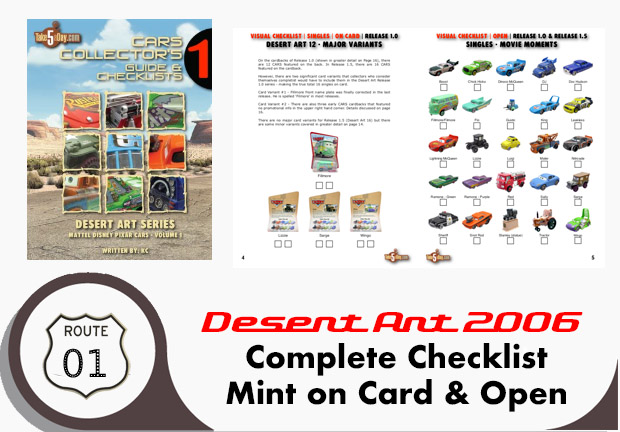 metroxing

14 January 2014

check list, Checklist, Disney Pixar CARS, Disney Pixar CARS 3, Mattel Disney Pixar Diecast CARS, Mattel Disney Pixar Diecast CARS 3


2 Comments