Home
»
Disney Pixar CARS 3
,
Mattel Disney Pixar Diecast CARS 3
Mattel Disney Pixar CARS Diecast: Singles 2014 – Case U & V – Not Too Bright
While CASE T was weak tea, Case V and it's "twin" U is slightly better but still packed by someone who was staring at the Sun too closely.
It does contain the all new "Louis LaRue" (Citroen CV2), Super Chase Trike Feldman, Magen Carrar (Porsche – new sculpt?), Carla Veloso with Flames and Acer with earpiece. So, while some might be quick to dismiss most of them as repaints/re-accessorized – 5 "new" CARS characters (with new names so new versions, not variants) is still nice.
UPDATE: No Louis LaRue.
The bad news, they are packed ONE to the case – okay, even if you preclude the whole Super Chase shenanigans of one to a case, what about the other 4? With the TWIN CASE U coming first packed for retail "only," and retailers NOT ordering/NOT necessarily offered CASE V, then there is no argument the channel might be "overstuffed" with NEW CARS – as if that's an actual problem?? For example, if a retailer did actually order CASE U and CASE V also – would including 2 Louis LaRule's in each case for a total of 4 on a store pegs actually harm the line – versus the last 2 cases including 7 2006 CARS Lightning McQueen?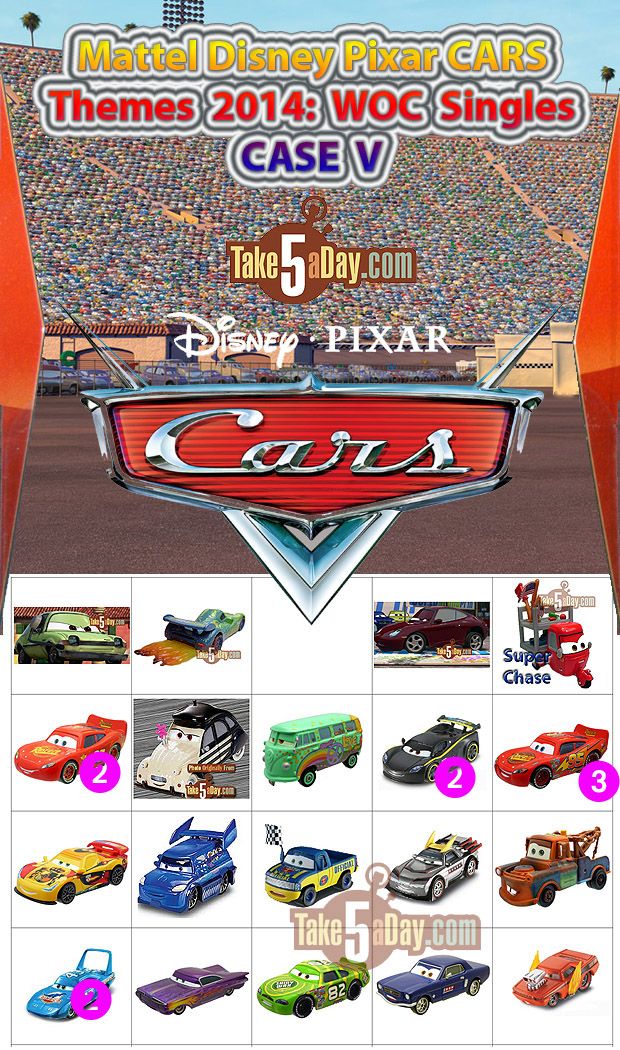 So, while it's a nice looking assortment on the pegs, it would've have been better if more than 1 person got a chance to buy the 5 new CARS included.
I did not bother doing up a visual chart for U – which while the retail TWIN does not include the Super Chase (Trike Feldman), it does include a diecast NOT in CASE V – Mater with headset – which is actually a re-release – previously an exclusive at Kmart called PIT CREW MATER.
These are all on the new Themes 2014 – WOC cards so if you are a card completist, most of these are NEW NEW (there are a few repeats from CASE T). This is the first release of Shiny Wax as a non exclusive single and the return of Purple Ramone to the mainline singles.
So, yea, Super Chases are starting early this time. Most Super Chase cases for 2013 made it to retail, we will see if that holds true for 2014.
Both cases are shipping next week. Thanks for the heads up CTC & Rob (My 6 Kids).
Let us know if you spot these at retail.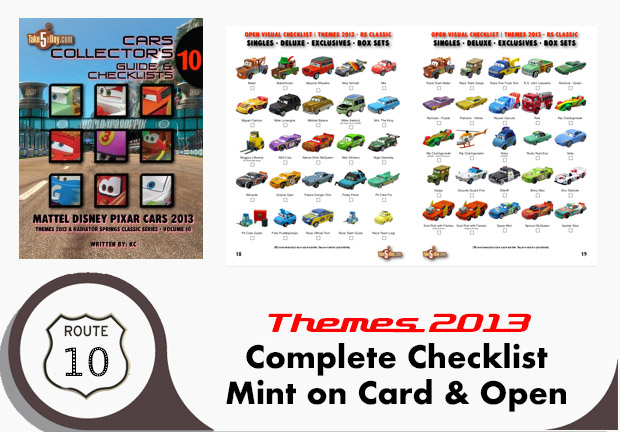 metroxing

17 November 2013

Disney Pixar CARS 3, Mattel Disney Pixar Diecast CARS 3


6 Comments