Home
»
Disney Pixar CARS
,
Disney Pixar CARS 3
,
Mattel Disney Pixar Diecast CARS
Mattel Disney Pixar CARS Diecast: Singles 2014 Launches With Case T
CARS diecast singles 2014 launches with Case T.
Yes, pretty odd. Every new year of every toy line gets a CASE A to get off the new year (whatever time the calendar is) with a fresh start. The letter A cries out to all – it's a new start. We have new. You want the new. Get the new – it's A – 1st! It's Grade A. You can smell the fresh cardboard and blister – bask in the fresh off the boat and warehouse aroma (trust us, it smalls better than it sounds).
Even lenticulars got an A case.
CARS diecast 2014 singles is offloaded in the dark, rowed ashore and quickly packed on llamas with no fanfare, no huzzah, like it's a rusting Yugo trailing gasoline.
Ta-da!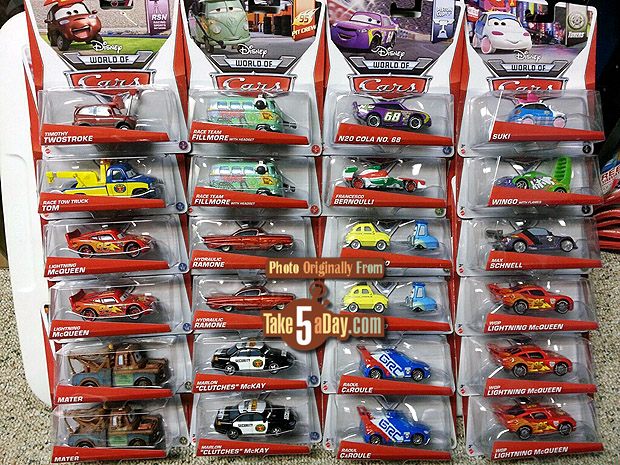 Since I worked in PR, I can spin this 10 ways to hump-day!
10) Brand new cards! Be the fist on the block!
09) First release of one of the most beloved characters of all time – Mater – since 2009 … as a regular available everywhere diecast single on card AGAIN!
08) By popular demand – Fillmore with headset – no longer an exclusive!
07) Surprise Hydraulic Ramone is not really Hydraulic anymore – old school style.*
* Not to be confused with Old School Ramone.
06) Timothy Twostroke – never before available as a single!
05) N20Cola – Never available as a common singles release available everywhere where CARS are sold (and ordered by a buyer)!
04) Marlon Clutches McKay – Can you ever get enough? We do not think so! We mean that literally, figuratively and production wise.
03) Wingo with Flames goes in his own direction! Astonishing! It will astound you!
02) New(ly named) WGP Lightning McQueen – NEVER previously released EVER! (well, under this name so it's NEW! NEW! NEW! and in tiny type underneath – name).
01) First time ever – CARS 2006 Lightning McQueen and CARS 2 Lightning McQueen in ONE CASE! A case to buy and keep SEALED forever! This case and assortment with its card design WILL NEVER be released again looking exactly like this. It's a TIME CAPSULE of memories! Keep it forever!
Are you convinced yet!?
Raoul might be a unibody. You can't tell from this photo, you'll need to buy a case to be certain!
They may be the softest launch ever for a new year …
Thanks for the photo and heads up Rob (My 6 Kids)!


metroxing

14 November 2013

Disney Pixar CARS, Disney Pixar CARS 3, Mattel Disney Pixar Diecast CARS


17 Comments