Article Archive for 17 November 2013

Mattel Disney Pixar CARS: Frosty Winterbottom In Store + New Numbers
Posted in
Disney Pixar CARS 3
,
Mattel Disney Pixar Diecast CARS 3
on 17 November 2013
Stats: and
5 Comments
"OzzieMum" sends us some great pics of Mark "Frosty" Winterbottom at his in-store signing event … I guess if you did not buy something – this was his giveaway card. The kids say hi! Cute! The smallest one looks like he's wearing the official frosty hat and shirt! "OzzieMum" also sends along this label indicating […]

Disney Star Wars – Open Casting Call
Posted in
Disney Star Wars
on 17 November 2013
Stats: and
2 Comments
They're casting for a teen/college-age boy and girl in the next Star Wars – open casting call! (hopefully the new teen "lead" will have wider acting skills than just pouting and whining like the last guy) Good luck!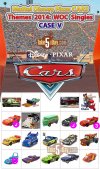 Mattel Disney Pixar CARS Diecast: Singles 2014 – Case U & V – Not Too Bright
Posted in
Disney Pixar CARS 3
,
Mattel Disney Pixar Diecast CARS 3
on 17 November 2013
Stats: and
6 Comments
While CASE T was weak tea, Case V and it's "twin" U is slightly better but still packed by someone who was staring at the Sun too closely. It does contain the all new "Louis LaRue" (Citroen CV2), Super Chase Trike Feldman, Magen Carrar (Porsche – new sculpt?), Carla Veloso with Flames and Acer with […]