Home
»
Disney Pixar CARS
,
Disney Store
Disney Pixar CARS: Disney Store New Light-Up Tuners, Metallic Chase & Surfin' Lassetire!
A NEW Lights Tuners Set! While it's hard to tell scale from a photo, they are listed as diecast and the longest is listed at 4.25″ inches (presumably Toyko Mater), these should be the repeat releases of DJ, Boost and Wingo (as 1:43 scale – no reason to make a new scale) PLUS the new and never available before light up versions of Dragon Lightning, Tokyo Mater, Kabuto and Ninja Kabuto! Nice!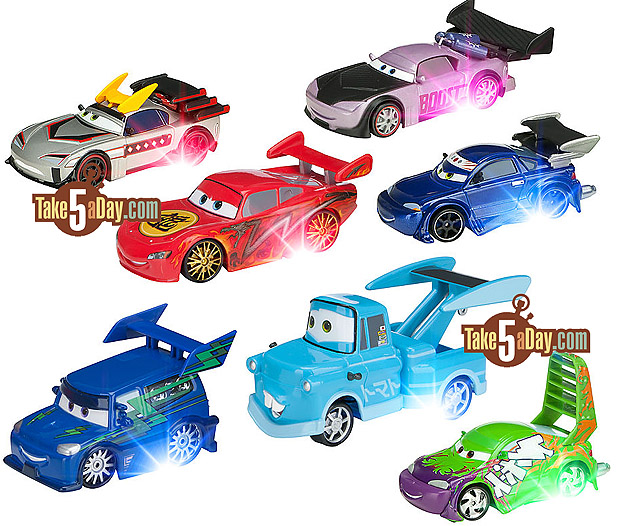 The light up tuners at the Disney Store are super nice. If you pick up a set, shoot us some photos to confirm size!
"Tobias in Sweden" spotted these online at the Disney Stores UK last week but they are now online in the US stores online. The color metallic set of 16 racers including all of the Super Chases from last year (even Frosty)! The CARS 16 Pack Diecast Gift Set (free shipping!)
They look nice in metallic.
I believe this is the first time they have done up any of the Mater Saves Christmas CARS. These are NOT available online in the US Stores yet.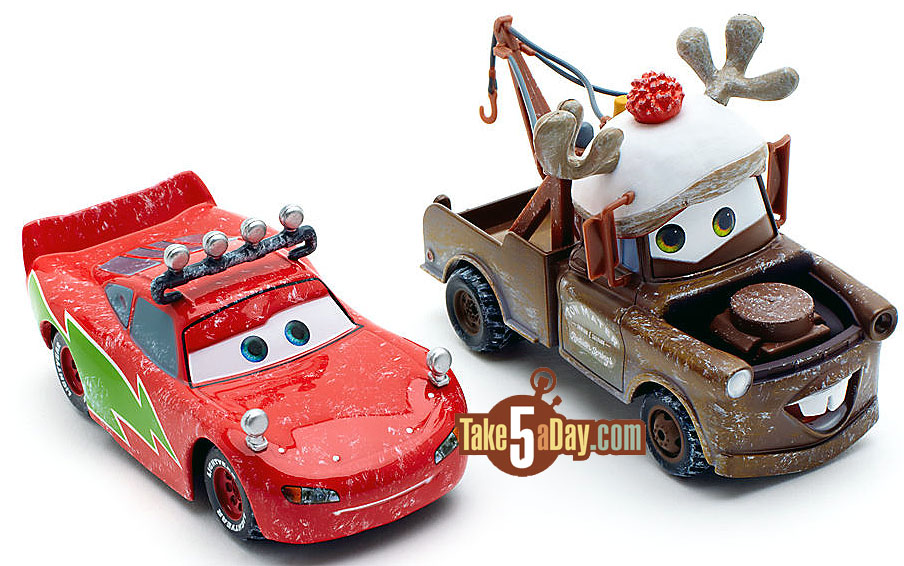 And while the actual Surfin' Safari Lasseter is one of the rarest promotional CARS, you can now get a mini version of the next closest thing – a mix of the Surfin' Safari promo car & RS John Lassetire (and a surfboard … though you could argue, in CARS World, you really, really need a surf BOARD to get in the water as a CAR though I suppose Guido might make it).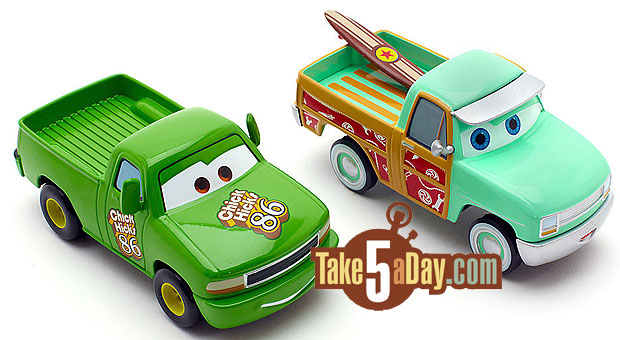 The "Surfin' Safari" John Lassetire will be a US Chase (in an acrylic box) – NOW ONLINE IN THE US – thanks, "Pontiac Michigan!"
Chick Hicks crew chief is available separately in the US – not listed yet, is it another CHASE?
Thanks, Tobias, "Jupiter230," "Pontiac Michigan," & Quercy for the heads up!
There is also a new Black Matte Chase Lightning McQueen.


metroxing

4 November 2013

Disney Pixar CARS, Disney Store


9 Comments