Home
»
Disney
,
Disney Pixar CARS 3
,
Mattel Disney Pixar Diecast CARS
Mattel Disney Pixar CARS Diecast: Kmart CARS Day Update
Kmart CARS Day #10 Factory Sealed cases are online … here's the text link (or click on the graphic below):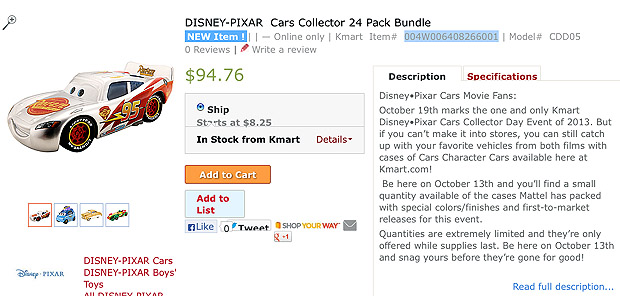 The Coupon Code seems active:
EXTRA 10% off Kmart.com orders of $75 or more with code KMART10PSAVINGS thru 12/31/13.
Hopefully you will get the case contents listed. Rob (My 6 Kids) has already seen a different assortment (No Lightning McQueen's if I recall – sorry, accidentally wiped).
NASCARBronco has some problem with a duplicate order that can't be canceled because it's already shipped.
People are also reporting that many Kmart's seem to have already displayed the case assortment – still too early for the promo but how hard is it to change a 15 into a 19 on the receipt? 🙂
Those who practiced that in school – give us some pointers?  😆
In theory there's another way to get credit for your case purchase – just buy it online, return it to the store and buy each one individually back … of course, you have to find a Kmart employee willing to do that – maybe it will work better AFTER the 19th and you can say you're sold out of the collector CARS … it might help with real cute and sad looking kids. Good luck with that. This is NOT illegal or unethical as you are not cheating them of anything, merely taking up their time but you are the customer and it's hard to fathom why something you purchase online does not qualify you for the in-store offer (since they offer in-store returns "no questions asked," clearly they want the online & retail stores to link up). I'm presuming your local Kmart's will be stripped clean of the CARS Day #10 CARS and most singles. Let us know if you can charm 'em. (Remember, charm, not belligerence).
BTW, the previous Kmart CARS Day #9 case are still listed (do you guys miss the banner from T5? It was up about 355 days …) … while the case looks enticing, I would caution you the odds are not great you will get this case assortment – since many seem to be repacked from stores – as the online warehouse seems to have asked for "extras," back, the stores took the opportunity to stuff them with whatever so while you might get a correct case, the odds are high you might get 20 lightning McQueen's with Racing Wheel (as one person emailed me). But good luck to you.


Let us know if you got a case already or had any troubles ordering?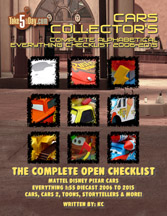 metroxing

15 October 2013

Disney, Disney Pixar CARS 3, Mattel Disney Pixar Diecast CARS


14 Comments