Article Archive for 27 October 2013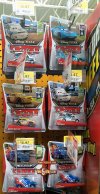 Mattel Disney Pixar CARS Diecast: Themes 2014 WOC Cards Arrives on Pegs?
Posted in
Disney Pixar CARS
,
Disney Pixar CARS 3
,
Mattel Disney Pixar Diecast CARS
on 27 October 2013
Stats: and
12 Comments
"Lane Change" spotted the new cards on the shelf at his Walmart – well, just two Raoule Caroule's. In looking over the listed first case of "2014," while the "new" is not exactly too new, I could see a completist wanting the new cards but leaving Raoule behind? If the listing is correct, there's only […]

Mattel Disney Pixar CARS: Kmart Mystery Listing – CARS Day #11?
Posted in
Disney Pixar
,
Disney Pixar CARS 3
,
Mattel Disney Pixar Diecast CARS
on 27 October 2013
Stats: and
7 Comments
Well, a mysterious listing might portend a Kmart CARS Day #11? It's a Deluxe – oversized case assortment listed as a Kmart Exclusive. So, is it like the May 2013 non-event where if you buy a certain dollar amount of CARS – with some new deluxe exclusive-first to market releases as an enticement – you […]