Home
»
Toys
The Price of Supply & Demand
There have been a lot of rumbling about pricing lately but we have to lay all the arguments on the table.
First, one reason I write about toys/diecast is that it's not a respirator part, not baby formula or water purification – it's not life or death. Okay, if you're an 7-year old at heart, it does feel like LIFE or DEATH but it's not, I know you don't believe me but as an 11-year old with my 4 MORE years of life experience, I can tell you it's not life or death. Trust me. I was alive BEFORE the first iPad ever came out, I know everything.  😆
Though it's a good thing you're fired up about it – because you care and we care – otherwise, it's like the original Take5 … Take5AllAboutGinghamDresses.com – there were no fights, no name calling (well, hardly any) because millions of others did not want to fight over what you wanted or had.
So, remember that it's because we are rationally irrational that we are all here at the corner of Mattel & Disney Pixar CARS – just around the corner of Rocket Firing Boba Feet Way and Apple CAR Turnpike.
I'm not saying everything is 100% perfect in toyland but if EVERYONE who wanted something could go in any store and buy it at "regular" retail, then you do NOT have a collector's market. So, remember you need a little craziness – what amount is up to you.
CARS are not medical parts or even plumbing supplies when your basement is flooded. You should buy only what you like at the price you think is reasonable.
AND everyone's "reasonable" price is different for every imaginable reason. There are the obvious reasons like your income but if I offered you 100 pianos for $100, would you take that deal? You could certainly afford it but would you take that deal? Some of you would see that as a selling opportunity, others of you would think – where would I put 100 pianos in my apartment? So, reasonable is a moving target.
Same with price and pricing. What is reasonable? How about the single Lightning McQueen with Racing Wheel?
The non-rubber tire version sells for $.99 to $5.99 on eBay right now. $.99 is clearly below wholesale & retail so do you feel bad some seller is losing $3 or more on each sale? Or even if they bought them at the $.99 clearance, clearly after eBay/PP fees, they are still losing money on the deal … isn't that the price of doing business? You win some and you lose some?
And eBay is the essentially the purest form of supply and demand. You put in exactly what you want to pay. Sure, sometimes you get caught up in the frenzy which is the reason for the auction format but in theory, you should pay exactly what you want for it … just like sometimes you'll scan pricing, decide it's not for you and not bid on any of the items offered?
People will pay what they wanna pay. Buying online is convenient, safe and can even save you other monies. It is worth some money to you to have someone else drive around, buy up merchandise, pay the tax for it, photograph it and set a price. If you are the high bidder, they will pack it up & mail it to you to your doorstep AND it's protected by purchase insurance. What is that worth to you? Again, it varies because ultimately, YOU put a price on it. Or a Super Chase – eBay Pricing? Or only at retail pricing?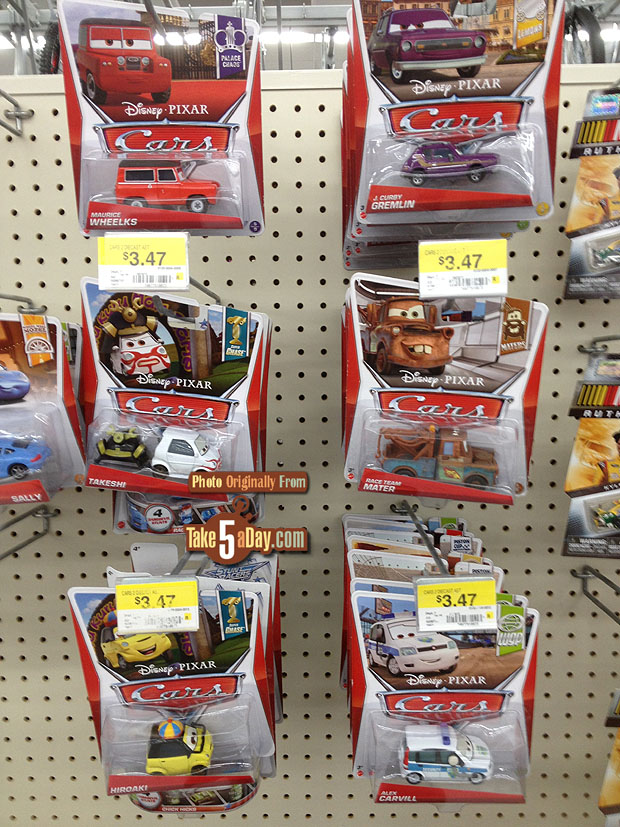 (sorry I lost track of who sent me this fun photo).
You weigh how many stores you can drive to and the time you're willing to spend chasing this. Or you can buy a case and pay around $4.50 for each CAR shipped to you? But again, it's your call. You might personally set a $3.47 + tax limit figuring you're driving to Target/WM already?  If you score like this shopper, woohoo but any unsuccessful trips?
For exclusives, I've argued that toy manufacturers are creating artificial shortages that serve no purpose anymore. Of course, as a manufacturer, it's always better to sell out than end up with too many but when you sell out in hours? YOU MADE TOO FEW. So, for those who have extras to sell, it is a SELLER'S MARKET that was crated because the manufacturer made too few – this was NOT caused by the seller. They are only responding to market conditions. You look at the price that selling venue is offering and you decide if it's what you are willing to pay. Most people are willing to pay $3.47 for a new release – sure, you would like to pay less but you are readily accepting the $3.47 price as within reason – most single CARS are around $6.99 at CVS/Walgreen's – most people are unwilling to buy common releases at $6.99 but a Super Chase? You might, right? Again, it's your call.
So, when you see a price, you either accept it or reject it (in some cases, you can start negotiations but you might only start this tact when you are buying in volume or a high price). And if the price is too high now, you weigh whether it will go higher or lower and make your decision based on that. Sometimes it pays to wait. Other times, it's only going higher.
So, while we would all like to pay less for something but when it comes to toys, maybe YOU WANT a healthy, vibrant and a little craziness so you know you are collecting something at least a few other people want.