Home
»
Disney Pixar
,
Disney Pixar CARS 3
,
Mattel Disney Pixar CARS
Mattel Disney Pixar CARS: New Pit Row Launchers with Pitty But …
They have arrived in Australia and it looks like they ship from Mattel's warehouse by next week!
These Pit Row Launchers were listed a while back but they were just a text listing with no real details. Other than Rip Clutchgoneski, getting re-releases of Pit Row Launchers did not seem too enticing and now, at first the photos of the re-releases look great but …
I pity the Pitty Fool!
The included Pitty's are PLASTIC. Yep, PLASTIC.
Not diecast metal …
Hence the snipe that reads DIE CAST RACER – at first, I thought du'h – what's the point of that snipe … then OzzieMum warned the Pitty's looked like they were plastic … suddenly, the snipe on the right side under the only metal diecast CAR in the package made "perfect" sense …
Ohhh, guttersnipe!
Kids, gather round. Once upon a time, Pitty's were made of metal. It was glorious, I tell you, glorious. But now pity the Pitty buyer … I Pity the Fooled …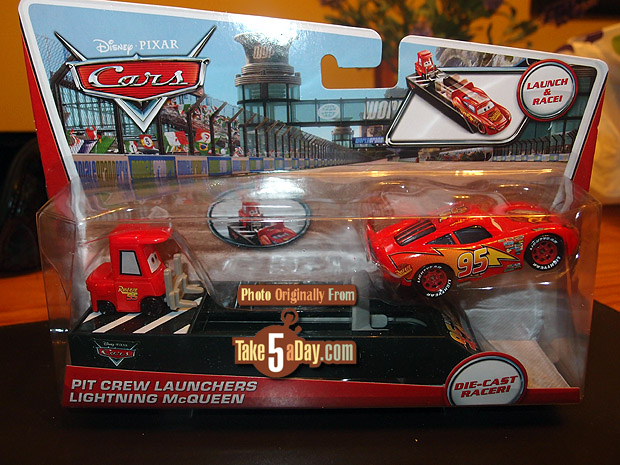 Oh, crickey! That's NOT My Name is Not Chuck. McQueen has replaced him with an inflatable "auto pilot" version from MIB.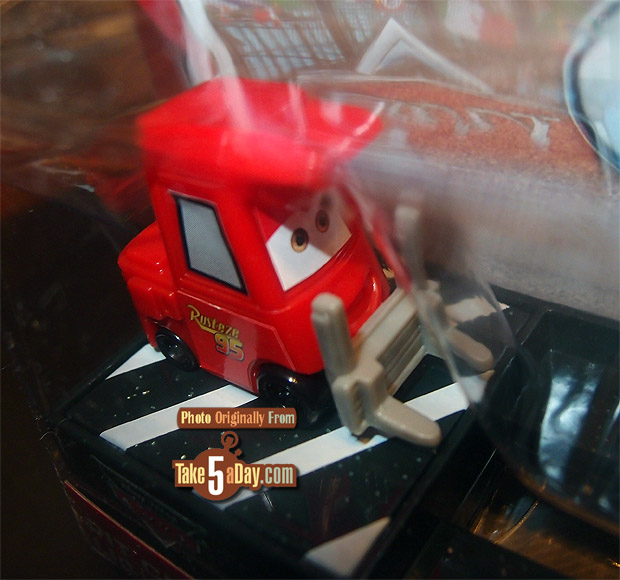 This one makes us the saddest … Sacre Bleu! Raoul and OUR piddly Pitty …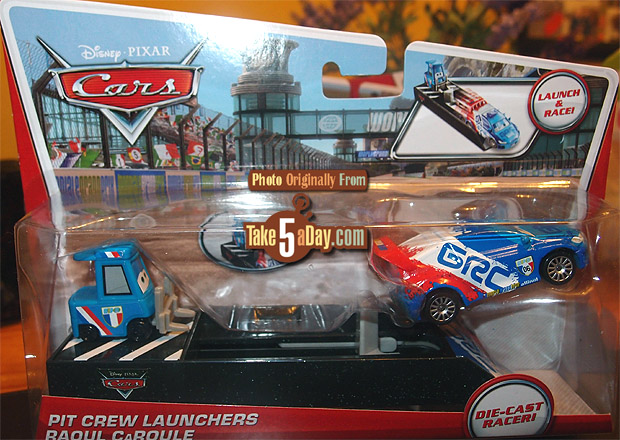 This ain't a Pitty! This ain't even an Pez dispenser! Where's me candy, you plastic headed galoot!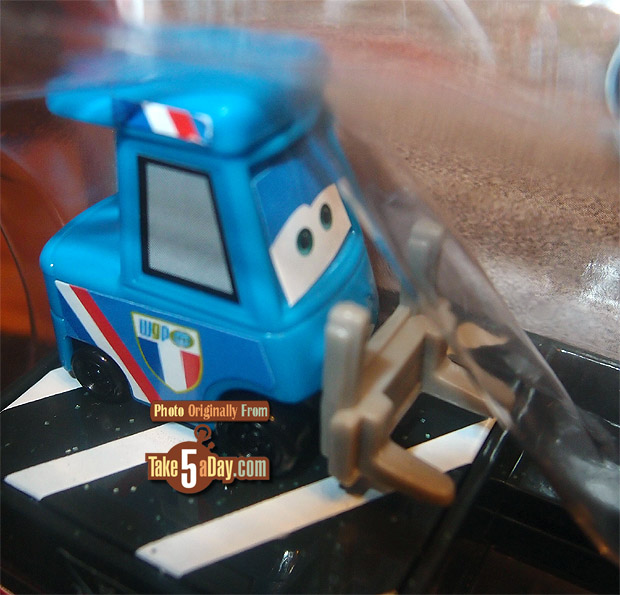 Yep, Stacy was fazed out by a plastic statue. Yep, I must've missed Lak Less on the WGP starting grid.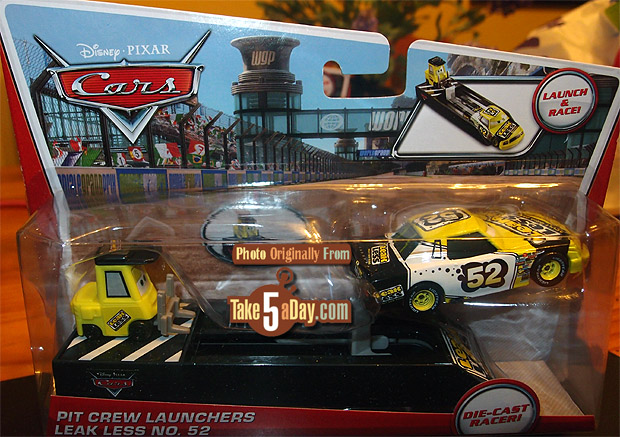 Will we get a silver color plastic Stacy that mocks us also?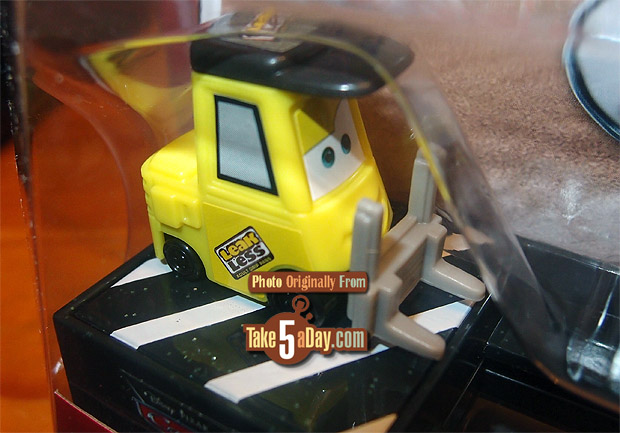 So, in a good way – not much was known about this listing – it would've sounded so good.
The plastic Pitty's are NOT removeable (well, unless you find a 2-year old and tell him the Pitty is non-removeable)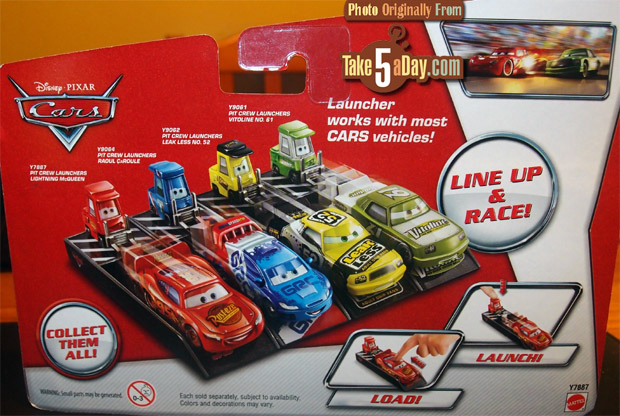 The Pitty is the launch activator … shouldn't that actually be a crew chief?
This is a slight upgrade from the wheel launcher in its cheapness but beyond that, it's a travesty of a mockery of a plastic sham. I also feel pity for people who don't look closely and buy this to get a racer and a Pitty … I presume some of you might have an opinion or two? 🙂
Thanks for the heads up on the plasticized Pitty & high res pics, OzzieMum! Thanks for the heads up warning also.
For those interested, there was also a canceled Movie Scene launcher series …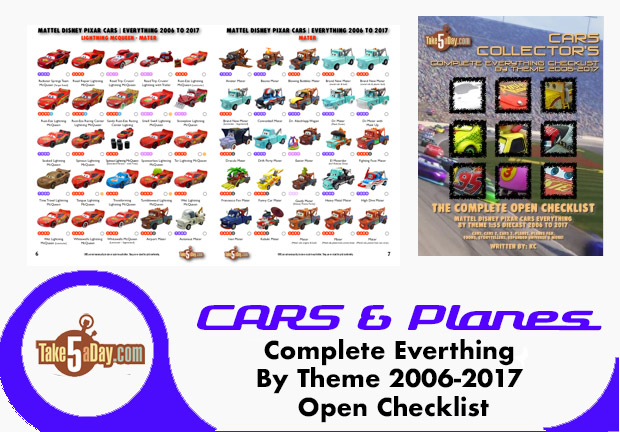 metroxing

24 April 2013

Disney Pixar, Disney Pixar CARS 3, Mattel Disney Pixar CARS


16 Comments