Home
»
Disney
,
Disney Pixar
,
Disney Pixar CARS 3
,
Mattel Disney Pixar Diecast CARS
,
Mattel Disney Pixar Diecast CARS 3
Mattel Disney Pixar CARS Diecast: Sarge Returns … Different
Sarge has had a checkered release schedule. Sarge was one of the original 12 Desert Art card releases and as a Radiator Springs townie and as a jeep, he should've been available along with the all the other townies in the regular release schedule but with his lead issue during the Supercharged card era, he disappeared for over 2 years not returning until October 2009. Even then he was only available in the box set and was not available in the Final Lap series (he was released as a lenticular single) – while he wore the LM 95 logo in the CARS 2 series, "original" Sarge has finally returned as a single on card nearly 4.5 years later!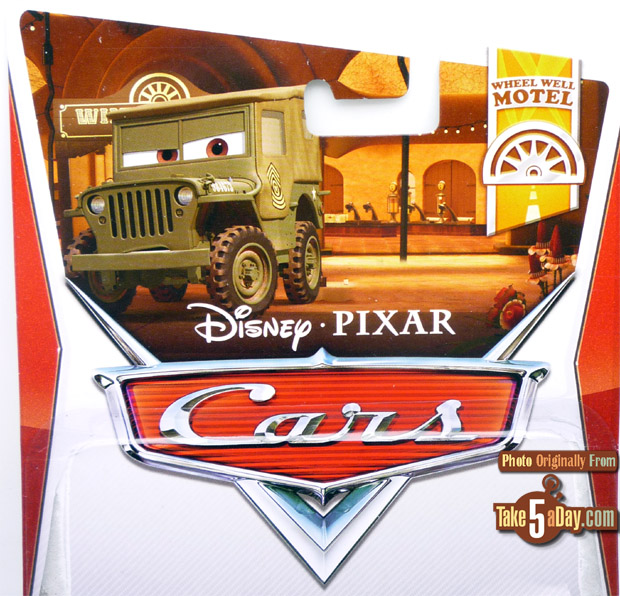 But after nearly 5 years, he's had some "plastic" work done … Let's start from the start. The original 2006 release is on the left. He has a USA stencil. When he finally returned in 2009 (on the right), one noticeable different is the insert gap around his eyes/windshield as they prepared him for lenticular eye insertions (ouch!) and they took off the USA stencil. There are some color differences but as with any production shift, there are bound to be some changes. Otherwise, he's generally an upgrade as his chevron/stripes are sharper and the overall mold is sharper.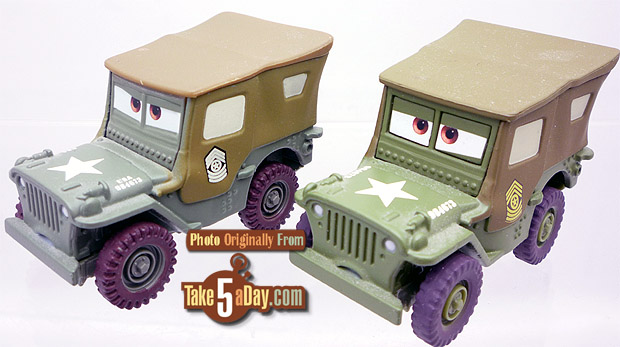 But here comes CARS: 2013 Themes card variant #3 …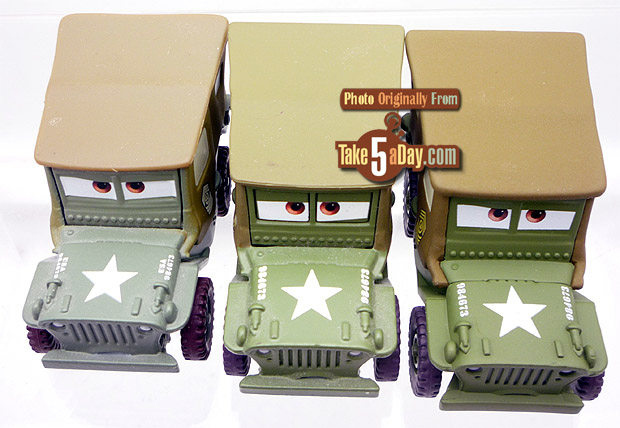 At first glance, it seems they have gone back to the 2006 design around the eyes-windshield as a one-piece but if you look closely, where as before there was a "mock" seam-line to indicate where his hood opened, there is now an actual seam – why? While I did not crack one open literally, I'm guessing his eyes-windshield and that little front piece of the hood is now plastic. You can also see that his hair/canvas top extends a little further (brown area) and while not too evident until you see the photos below, instead of two pieces of plastic glued together, it's now one piece.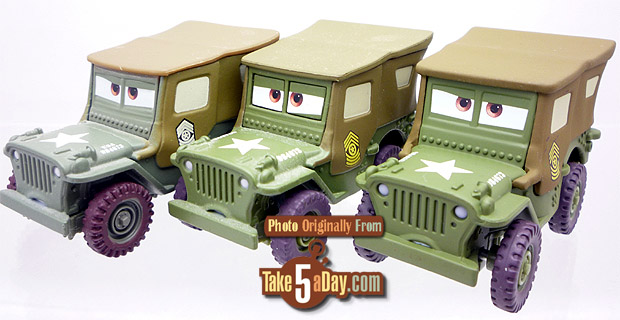 Previously, the plastic portion was his sides and back with the top as a plastic cap, now, it's just one piece of plastic. It's neither better or worse just different.

The mold is obviously new and the sharpest of all three so it has that going for it.
When Race Team Sarge (2011) was first released, he seemed to be mostly the update of Sarge 2009 with the lenticular-ready eyes with seams and the hint of the hair/canvas top extended correctly.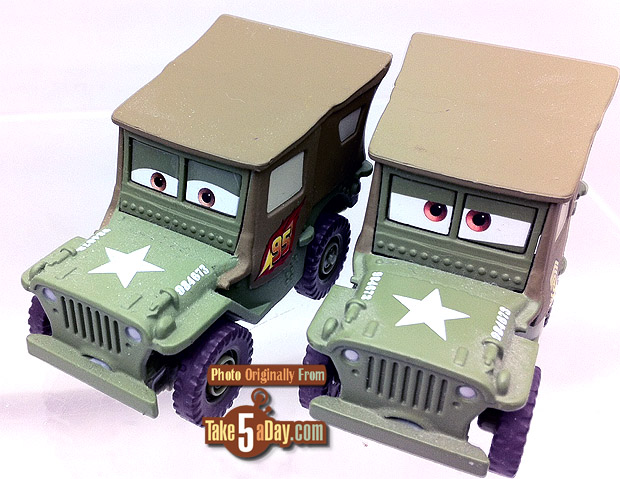 But then Race Team Sarge #2 (2012) (below) keeps the new hair BUT goes way back with the USA stencil and no insert gap around the eyes. (and kept the old design of the plastic hair design (2-piece).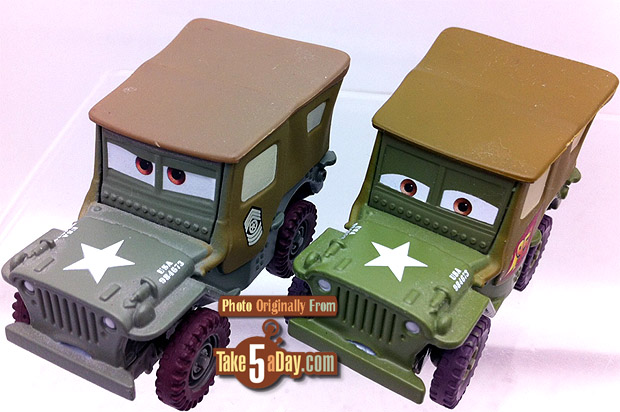 So, if you're a completist collector, there are 5 basic Sarges.
2006, 2009 and now 2012. Race Team Sarge 2011 and RT Sarge 2012.
There were 2 lenticular Sarge's, both with the USA Stencil but different eye positions.
Ten-hut.
For those curious, Sarge appears to be the only variant among CARS 1 diecasts returning in the CARS 2013 Themes series so far. As for the Radiator Springs Classic series, Dexter Hoover seems to be only real variant.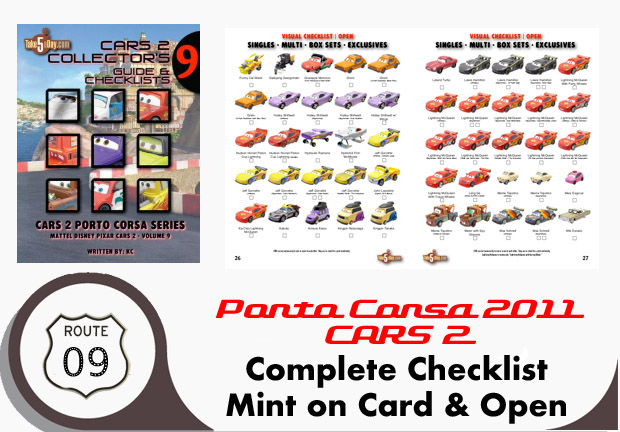 metroxing

3 January 2013

Disney, Disney Pixar, Disney Pixar CARS 3, Mattel Disney Pixar Diecast CARS, Mattel Disney Pixar Diecast CARS 3


10 Comments