Home
»
Disney Pixar
,
Disney Pixar CARS 3
,
Mattel Disney Pixar Diecast CARS
,
Mattel Disney Pixar Diecast CARS 3
Mattel Disney Pixar Pixar CARS: The Frosty "Melt Your Heart" Contest!
"Hostile Takeover Banker" has a nice magical story to tell us from a land down under …
"It was a store far from my house I drove out to and asked the store clerk to check out the back for me. At this point, I had already visited 2 other Targets in the same morning, vainly hoping to find just 1 Superchase. She said she recognised the car I was after and they had a few. She then asked, "do you just want 1?" to which I cheekily replied,"at least one, maybe 2, but just bring whatever you have back there.' When she returned she came back with some K-mart day boxes that had spare cars and another that had 10 Chases left in it! It literally felt like I had won a mini-lottery or something! I told the girl she had made my friends and I very happy and if she didn't mind could I take them all.' She asked why I wanted them all and what was so special so I explained it to her. I could've hugged this girl I was so happy for her helping me; I don't think she had any idea!" Now it is time to spread that warm fuzziness with Take 5!!"
"HTB" is very generously offering up a very limited Frosty on card as a contest giveaway!
"Hostile Takeover Banker" is no hostile takeover banker, that's for sure!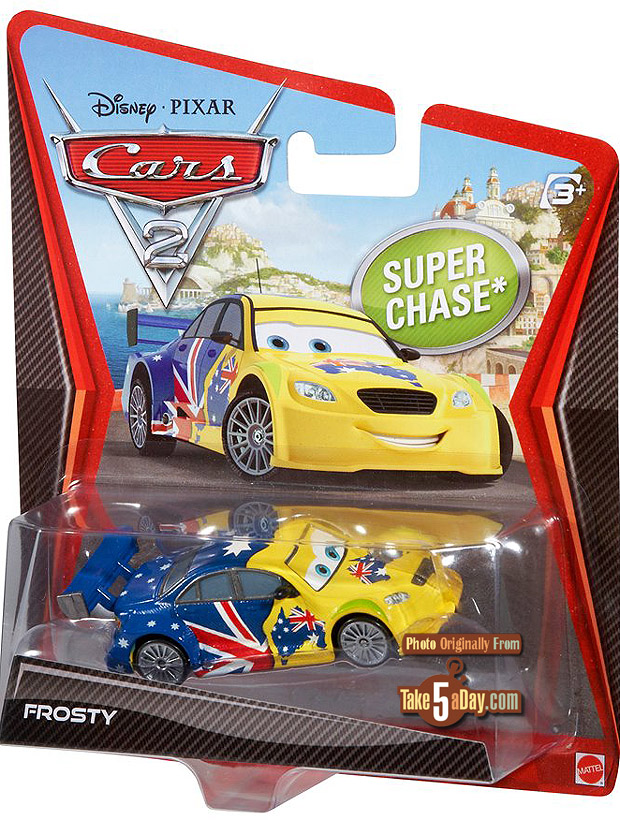 The contest starts right now and ends Sunday, November 18, 2012 – 11:59:59 PM Pacific US West Coast time (even though HTB is in Australia).
You may enter once every 12 hours by including the phrase:
CONTEST ENTRY
(and answering the following question):
I'm almost sure this is true about Australia,  _______________________.
Winners will be selected at random so we will merely appreciate how much or how little you know about Australia … if I disqualify Americans from using the phrase, Crocodile Dundee, shrimp, and barbie – will I stump 88% of the audience? 🙂
Okay, like Australia – no holds barred. Good luck!
"HTB" will mail you the CAR directly – so everyone worldwide can participate! Bonne Chance!
In case you did not order a full case, you might want to enter this contest … 🙂 Unless you live in Australia, your odds of finding this on the shelf are pretty much zero.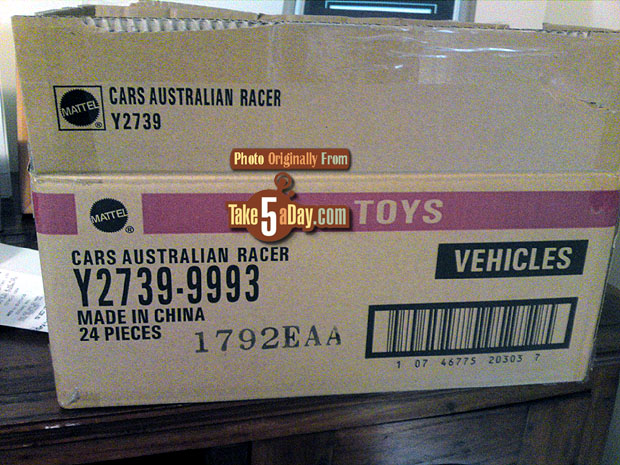 Thanks again, "Hostile Takeover Banker" for your generosity! And a great story – it gives hope to everyone … and by that, I mean, I want to hug a Target store clerk someday … and in the US, my most feverish wish is to find a non-Finn at Target but hey, you start with a small dream, right?
But for everyone else – you can dream big and enter big in the Frosty "Melt Your Heart" from the totally misnamed "Hostile Takeover Banker," great giveaway!
Maybe if you don't enter, he's re-possess your house. 🙂
Thanks "HTB" for being very non-HTB like!
You can read more about the very limited racer Super Chase here.

metroxing

9 November 2012

Disney Pixar, Disney Pixar CARS 3, Mattel Disney Pixar Diecast CARS, Mattel Disney Pixar Diecast CARS 3


385 Comments