Home
»
CARS
,
Contests
,
Food
NEW CONTEST – Cars Bellywashers Giveaway
Hey there Take5ers!
Tizmanian here with a new contest just for fun courtesy of our good friends at In-Zone Brands makers of Belly Washer and Tummy Tickler beverages for kids.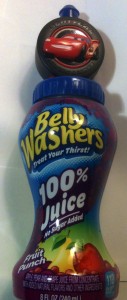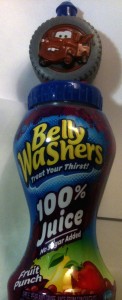 I really like the quality of their products as they are 100% fruit juice with no sugars added and nothing artificial. And the little Tizmanians LOVE these things!  Seriously…and they love keeping the containers after finishing the original contents and filling them up over and over again. In-Zone has licensed a lot of characters and naturally they have licensed some of our favorites characters from CARS.
We will be drawing two (2) random winners from the comments section of this post (U.S. addresses only please).  Each winner will receive three (3) 8 oz Belly Washer beverages featuring Lightning McQueen and Tow Mater!
Here is what you have to do:
Post an entry comment in the section at the bottom of this post saying why you want the juice!  Simple…please one entry per 24 hour period. Just mark the first word in your comment with ENTRY and then your anticipated witticisms. 🙂
Older kids are welcome to enter as they are rather tasty and why should kids get all the good stuff?
Contest will end this SATURDAY, NOV 3rd….Have fun!