Home
»
Uncategorized
Mattel Disney Pixar CARS 2 Diecasts: G'Day Ultimate Chase Hunting Australia
"Hostile Takeover Banker"has a fun story to tell us …
I went into a local Kmart over here the other day and was blown away by what I saw. This store was full of Finns and McQueens the other day and now ALL the Finns are gone, including all the oversized ones! I was thinking I had scored pretty well at this point. The Mcqueens seem to still be there though. I must admit I did a quick rearrange before I took the photo but there were many chase security officers and Becky Wheelins.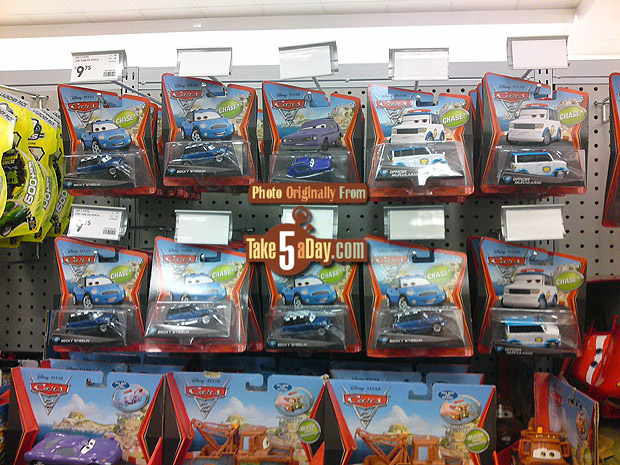 It should be noted that I'm not sure anyone in the US went to a store where there were this many Becky Wheelin's and Security Dude Murakarmi … But wait, it gets better!
Anyway, I did a quick check through and headed to the check out then I had a really good think about the posts you had made on Take 5 about this case. It seemed largely intact with many characters I hadn't seen in a while, then it dawned on me, there may be a Super Chase. I went back to look, this time a lot closer …
… and found one. I have had a really bad experience with cars hunting lately but this has renewed my faith!
Very nice! Did anyone actually find a FLASH Super Chase on the shelf at a retail store in the US? This was the post of the US release pics, I presume it's the same card so as of now, US & Australia are the only countries these have turned up in …
So, good hunting Australia!


metroxing

26 October 2012

Uncategorized


18 Comments