Home
»
Disney Pixar
,
Disney Pixar CARS 3
,
Mattel Disney Pixar Diecast CARS 3
Mattel Disney Pixar CARS Diecast: Kmart CARS Event Day Today – Don't be Denied – It's At 9 (AM)!
The in-store event is today! 9 AM! If you're going, don't be late!
For old timers who may have missed Day #8 – it's NO LONGER at 11 AM but 9 AM start time!
Let us know in the comments how your day went.
Hope it wasn't too crazy …
Supposedly, the BUY 5, GET 1 free offer is still available but I could not any reference to it online or in the circular … anyone?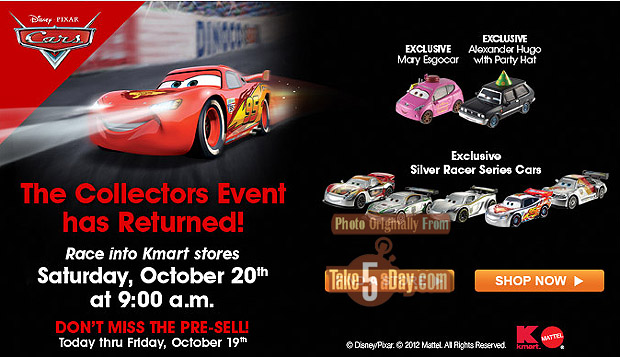 If you've never gone, here's the BASIC Scoop….
What is the Kmart CARS Collector Event Day?
Twice a year, Kmart stores offer EXCLUSIVE rubber tire racers. You can skip the event and buy an entire case of 24 (see link above). If you prefer not to buy an entire case, the in-store event is later today, Saturday October 21, 2011 at 9:00 AM (your local time).
How Does it Work?
Generally around the toy section, they will set up a table – you will also see some people gathered about (from some to hopefully not too many). At around 9 AM, they will begin letting people draw numbers. The rules are that ANYONE who is capable of physically drawing a numbered ticket is eligible to draw … meaning pretty much anyone from the age of 6 month and up … they will then call out numbers randomly from the draw – if your number is called, the will start to cut open a box for you – you are allowed to select up to 5 CARS in the first go around.
Will I get the CARS I want?
It all depends on what you are looking for and it will all depend on how many boxes the store receives and how many people are drawing tickets. (see banner above for CARS at this event). Now after everyone who has drawn a number has picked their 5, some stores hold additional drawings – other stores just open it up as a free for all.
How early should I go to the event?
OFFICIALLY, they are supposed to draw numbers at 9 AM and in the order of your drawn number. So, you might show up at 8:58 and draw a low number or show up at 8:30 AM and draw a high number.
WARNING – there are stores that aren't going to follow the official, guidelines so you probably want to show up at least by 8:30-8:45 and scope out the situation … in some cases, you actually have to remind them to re-read their instructions. It's by the number you draw and not when you begin to line up.
Good luck and have fun.
If you need a store locator – try here.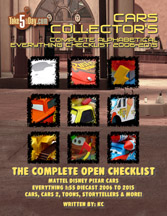 metroxing

20 October 2012

Disney Pixar, Disney Pixar CARS 3, Mattel Disney Pixar Diecast CARS 3


118 Comments