Home
»
Disney Pixar
,
Disney Pixar CARS 3
Disney Pixar CARS: Chicagoland Speedway Take Flight
If you're in Chicago this weekend, you can check out the Cars "Take Flight" experience going on this weekend.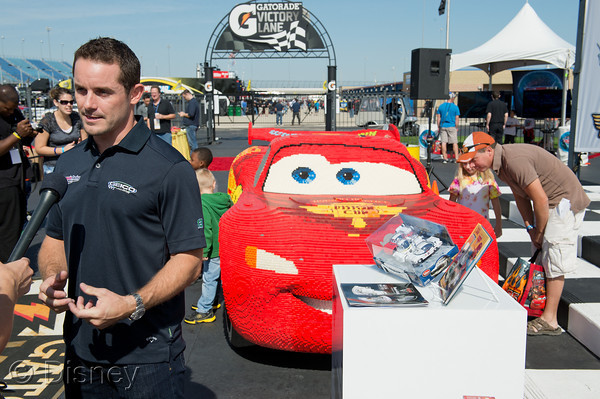 NASCAR driver Casey Mears is explaining if you're a real fan like the boy in green, you can pull a few pieces of the LEGO bricks off LM.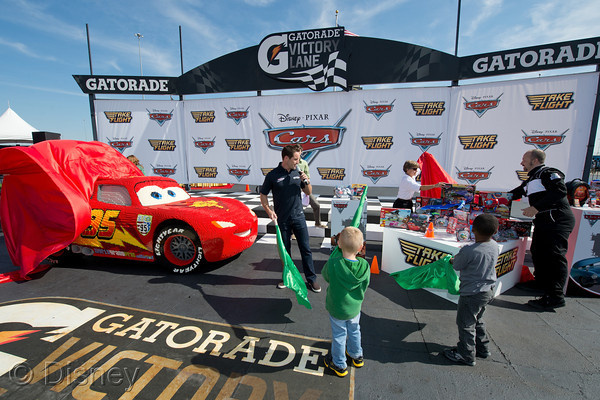 If I were not lazy, I would've copied the actual caption that goes with these photos … um so I'll make up some PR blurbs …
Green flag to fun!
Drop the flag to a rockin' good time!
It's go time for some Chicago hot dogs!
The flags are free – not the toys on the table, sorry kids.
Root, root, root for me, I'm Casey Mears …
Hey kids, maybe you can convince Disney Pixar to put me in CARS 3?
Gatorade is for drinking, kids – not pouring it over my head.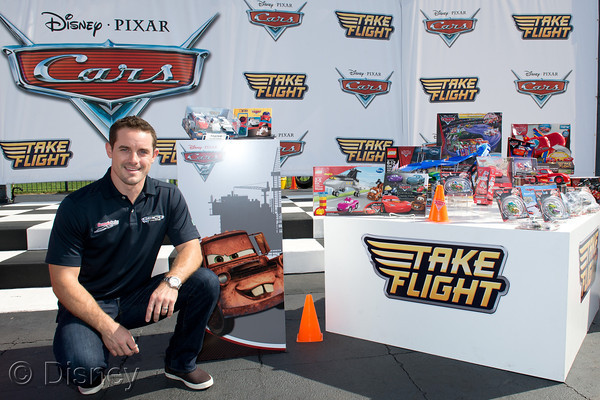 That stinkin' guy Jeff Gorvette uses Allinol, NOT ME!
I think that was the caption that went with this photo – either that, "I get to take home the Cozy Cone playset prototype," WooHoo!*
* okay, it's a lie. I think that's the cup you get at CARSLAND.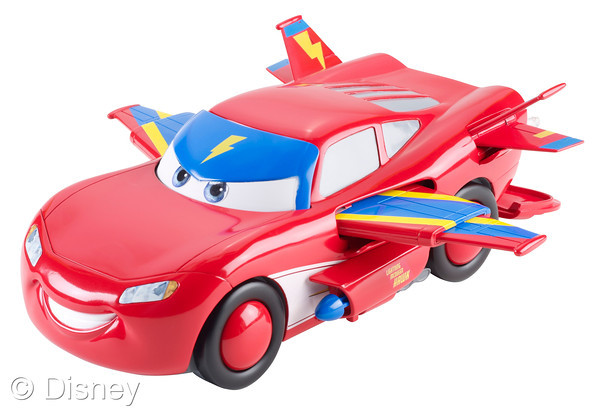 We told those lazy ******* at LEGO to build an actual Lightning McQueen Hawk out of 250,000 lego bricks but did they? Nooooooo.
(again, I'm not 100% sure that was the caption but I think I got the gist of it).
This may either be all my own or a copied press release. Though all the words spelled correctly and properly punctuated may give it away …
If you're going this weekend, snap a few picks or grab a few bricks off of the LEGO LM – Casey Mears said it was okay.
Joliet, IL – September 14, 2012 – Today Disney•Pixar Cars fans teamed up with NASCAR driver Casey Mears to wave the green flag and kick off the Cars "Take Flight" experience during Chase weekend at Chicagoland Speedway, Sept. 14-16.  In celebration of the world television premieres of the Cars Toons short films "Air Mater" and "Moon Mater" this fall on Disney Channel, and the launch of a new Cars "Take Flight" product collection, Disney has created a fun and immersive family experience for race fans to enjoy the world of Cars.
Through Cars themed "pit stops" at Chicagoland Speedway Kids Zone in Champions Park, the world of Cars is brought to life. Fans can snap photos of the life-size LEGO® replica of Lightning McQueen made of 250,000 bricks, create Cars scenes at the puzzle building station, enjoy story time, race against friends on the Cars video game, see the new collectible die-cast cars and play with the products in the new "Take Flight" collection. The new Cars "Take Flight" product line features die-cast, race tracks, games, books and more and is available now at retailers nationwide.
"The Cars Toons shorts have done a great job extending the storytelling and fun that happens in the world of Cars," said Mary Renner Beech, senior vice president of licensing, Disney•Pixar animation, Disney Consumer Products. "Likewise, Disney•Pixar product designers take the story where only a child's imagination can go through new toys and products. And what better place for us to celebrate the new "Take Flight" collection than right here at the Chicagoland Speedway during an actual NASCAR race weekend."
"A weekend at Chicagoland Speedway is about more than just the excitement on the track," said Scott Paddock, Chicagoland Speedway president. "We want the entire family to enjoy memorable experiences throughout their trip, whether it's in the Kids Zone taking pictures with the life-size Lightning McQueen, in Champions Park with free entertainment or in our new infield fan experience. Our goal is to deliver additional value to our fans and give the start of the Chase for the NASCAR Sprint Cup the platform it deserves."
Since its release in 2006, Cars has remained Disney Consumer Products' leading boys franchise. Several of NASCAR's biggest stars voiced characters in the first two Cars films which have grossed over $1 billion in box office revenue, including Dale Earnhardt Jr., Jeff Gordon, Richard Petty, Darrell Waltrip and Humpy Wheeler. New Cars Toons animated film shorts released through Disney Channel and Walt Disney Home Entertainment, continue to keep fans "revved up" about Cars. This weekend only, the public can view Cars Toons in the Kids Zone, located in Chicagoland Speedway's Champions Park.
Chicagoland Speedway is the first race of the Chase for the NASCAR Sprint Cup this September – the first of ten 'playoff' style NASCAR Sprint Cup Series races in pursuit of the 2012 championship. The Dollar General 300 powered by Coca-Cola NASCAR Nationwide Series will kick off the weekend on Saturday, Sept. 15 with the GEICO 400 Chase for the NASCAR Sprint Cup concluding the weekend on Sunday, Sept. 16.
For tickets to the GEICO® 400, the start of the Chase for the NASCAR Sprint Cup, or the Dollar General® 300 powered by Coca-Cola®, visit www.ChicagolandSpeedway.com or call 1-888-629-RACE (7223).
For more information on Chicagoland Speedway stay connected on Twitter and Facebook or by visiting www.ChicagolandSpeedway.com.


metroxing

15 September 2012

Disney Pixar, Disney Pixar CARS 3


3 Comments