Home
»
Music
Scott Paper – Free $5 Amazon MP3 "Voucher Coupon Code"
(NOTE: if you entered some of the Kimberly Clark CARS 2 promotions, you might already have an account (as Scott is part of K-C) – log in with the same email & password, if not, just sign up – it's free).
They'll ask you if you want coupons and other emails (obviously).
Once you are signed in … then at this page below, click or wait for the Amazon offer to pop up at the top.
The Amazon offer is the tiny round button underneath the "dad," that says MP3 … of course, the other three buttons are the other three offers or you can just wait until it cycles to the Amazon offer.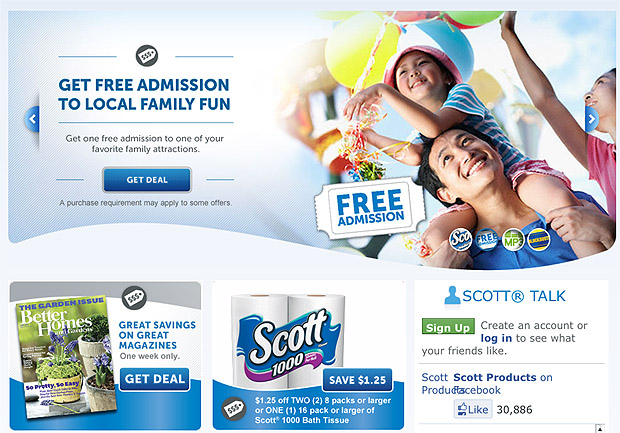 You have to answer a short buying quiz (they ask you if you buy Scott paper products – takes like 2 seconds), click SUBMIT and the AMAZON VOUCHER code will pop up.
At the Amazon Mp3 page, when you click on album or single, there's a button on the right that says REDEEM VOUCHER. Key in the code. What's nice is this voucher does not expire until mid January of 2013 BUT I'm not not sure how long this offer will last so get clicking.