Home
»
Apple
,
Apple Mac
,
IOS
,
ipad
,
iPhone
The MobileMe to iCloud 30 Day Move Notice
MobileMe users should have gotten this email from Apple: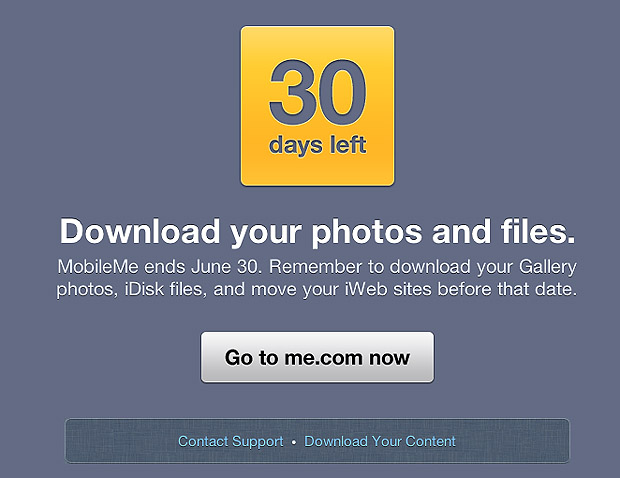 What does it mean?
Well, the simplest explanation is that MobileMe is shutting down (and being replaced by iCloud – more below).
So, if you have used MobileMe to display your photos in the Gallery, have a personal website on the site or store files in iDisk and you do NOT have them backed up elsewhere – then you will need to copy your files off by June 30, 2012.
There's also email but we'll get to that in a second.
The simplest thing (besides clicking the button in the email) is to go your MAC DESKTOP and the GO menu. Drag down to iDISK and your MobileMe storage will appear on your desktop as a "mock" hard drive. Open it and look through the folders. Any files or folders you want, just drag off and it will be copied onto your Mac. You can back up everything by creating a folder called "Old MobileMe" and dragging all the files & folders off. However, if they're all old files and you don't really care or you know you have backups, then you can just ignore the copying instructions.
Email settings is more important.
Most likely, the one feature you are still using is EMAIL.
On your iPhone, iPad or iPod Touch, your MobileMe email has already been converted to iCloud so you don't need to do anything.
If you access your MobileMe email ONLY through a web browser, Apple has already pretty much taken care of that automatically. If you go to www.MobileMe.com, it will point out to you that your email has moved to www.icloud.com – so just switch bookmarked urls to www.icloud.com to avoid the need to have to jump through another web page.
If you access or want to access your .me/iCloud email though a MAIL application (Apple's MAIL, MS Outlook or Entourage, or others) …
If you are using Mail on a Mac (OS X v10.7.2 or later), or Microsoft Outlook 2007 or 2010 on a Windows PC, follow these instructions for automated iCloud Mail setup.
Or if you want to want to do it manually (or if you're running an older or other MAIL app).
Go into preferences or accounts and create a new account – call it iCloud and change/enter these settings:
IMAP (Incoming Mail Server) information:
Server name: imap.mail.me.com
SSL Required: Yes
Port: 993
Username: example@me.com (use your @me.com address from your iCloud account)
Password: Your iCloud password
SMTP (outgoing mail server) information:
Server name: smtp.mail.me.com
SSL Required: Yes
Port: 587
SMTP Authentication Required: Yes
Username: example@me.com (use your @me.com address from your iCloud account)
Password: Your iCloud password
Note: If you receive errors using SSL, try using TLS instead.
(full Apple support page here).
The only decision left is whether you want to keep any older emails still in MobileMe. If you do, you can create a new FOLDER in your MAIL app and drag the old emails into it to backup. Or if you prefer to have them still in your new iCloud account, drag them in there instead. Careful of duplicates as "newer" ones may have already been moved there automatically.
The main difference is that MobileMe was @$99 a year and offered email, disk storage, photo gallery, bookmark and keychain syncing and a few other features. many features were deleted already in the last year or so and Apple also stopped charging people using it about 18 months ago.
iCloud is a FREE service available to everyone who is an Apple customer (Mac, iPhone, iPad or iPod Touch). It's main features are email, address book syncing, calendar syncing, photo streaming and auto backup, document backups and iTunes in the Cloud. And of course, the VERY IMPORTANT Find My iPhone – Don't forget to TURN IT ON – here's how.
About the only main feature not carried over is the iDisk setup where it would mount on your desktop like a mock hard drive … but you can sign up for free with DROPBOX which is many way and numerous ways a much, much better iDisk.
You can buy more storage space and also also sign up for iTunes Match. If you want more info, just read Apple's iCloud page.
Good luck!