Home
»
Disney Pixar CARS 3
WINNER UPDATE:Huzzah! A New Contest To Celebrate Metroxing's 4,000th Post On TakeFiveADay.com
Holy squirrel carcass on a skewer!
UPDATE:
Too many good choices for me to pick… so… courtesy of Random.org, we have our randomly picked winner (you know we love you all!):
MIKE MANIFOLD!
Congrats, Mike! Just drop Tizmanian a return email (sent to you a bit ago) with your mailing addy and I'll run to the USPS for you.
Thank you for all for your participation.  We pulled in $45.55 just for Metro to splurge on more Cars or cappuccino!
——-
Metroxing recently completed his 4,000th post here at Take5!  That is an AMAZING achievement.  It truly boggles my mind and I work here (albeit down in the furnace room chasing squirrels anymore but you know).
Seriously.  4,000 posts.
I don't think I can even estimate the number of images and videos we've posted here but it is a HUGE number. Let's just say it's a lot (ok, it's been 13,467 images, videos, and audio files).
So let's put 4,000 posts in perspective. You know that Metro, for the most part, does not write skimpy posts.  They are lengthy diatribes, er posts, but to be fair let's say that his average post is 500 words.
That means since March, 2007 in our first real post, he has averaged:
571 posts per year
67 posts per month
2.23 posts per day
That's easily over 2,000,000 words if you consider 500 words per post on average (and for Metro that is a low average).
The man is a machine.  I would name him Locutus but then he would try to assimilate us so we'll pretend we all don't know.
So in two tiny, teeny ways, I want to celebrate this milestone.
The first way:
Any and ALL donations made to the the Take5 Tip Jar in the month of June will go 100% to Metro's pocket.  Damn the squirrels!  Dig deep, dig often.  Metro can use the encouragement!
You can click on the handy Donate button at the top right hand corner of our website or click here.
I will post a recap post a few times in June and then a final recap with a final whiz bang announcement of how many Venti Caramel macchiatos Metro can buy.
The second way:
A contest!
First, the prize, and there can be only one.  Watch this video to find out what you could win!
No strings attached for entering this contest. All you need to do is enter a comment below in the comments section with a link to your favorite Metro post he as created here on Take5 the past five years.
I should have mentioned that in the video but the video squirrels were driving me crazy (this was the fourth attempt and getting the dang sound to sync correctly…I am beginning to hate iMovie '11).
So that's it, T5ers!  Thank you! And 'All Hail, Metro! Blogging and news producing machine!'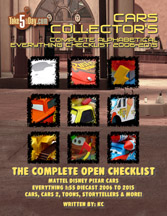 tizmanian

1 June 2012

Disney Pixar CARS 3


35 Comments