Home
»
Gadgets
Free VOIP Calls Priced Even Lower … With the OBi100
While there have have been home VOIP boxes which lets your regular phone use the internet to make phone calls that are very low-priced or free, the adapter box once started out at $199 and has been steadily dropping – now down to $44!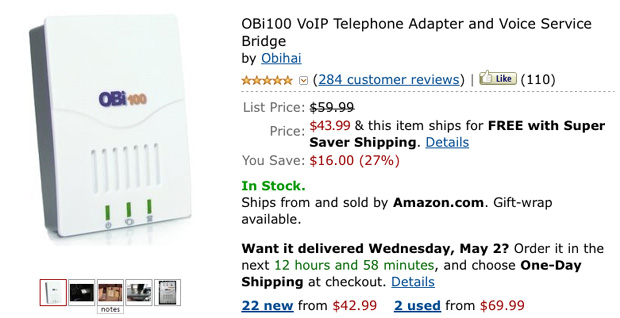 If you use Google Voice, all US & Canada calls are free through 2012 …
OBi100 Connections
Requirements
1. Broadband Internet Connection
2. Internet Router with Available Ethernet Port
3. Analog/Digital Corded or Cordless Phone
4. VoIP Service Provider Account Username & Password (Optional)
You only need a computer to get your phone number set up, then afterwards – it acts just as the regular phone does.
Check out the Amazon page for lots of info on features, setup, etc …