Home
»
Mattel Disney Pixar Diecast CARS 3
Mattel Does NOT have the Best Financial Quarter: Shocker!
The topline …
Mattel Inc. said Monday that its first-quarter profit dropped 53 percent, pulled down by costs tied to an acquisition and lower sales for Barbie and Hot Wheels.
Results for the largest U.S. toy maker were below expectations and its shares fell more than 7 percent in trading. But the disappointing results came during what is typically a slow time for toy sales, so Mattel executives say they remain optimistic.
Mattel's toy brands like Barbie, Hot Wheels and American Girl have been perennial best sellers in the toy aisle. But during the period — the smallest quarter of the year for toy makers — cautious reordering by retailers coupled with the timing related to shipping "Cars 2"-related toys last year, hurt results. That was particularly true in North America, where revenue slid 9 percent.
Two of Mattel's most popular brands had declines across the globe. Worldwide gross sales for Barbie slipped 6 percent in the quarter, while sales of other girls' brands rose 22 percent. The Wheels segment — which includes Hot Wheels and Matchbox — reported a 6 percent sales decline.
SELECT comments from CEO Bryan Stockton during the conference call:
In North America, our shipping volume declined versus last year, primarily driven by 2 key factors: first, a decline in Cars shipping volume; and second, cautious retailer ordering patterns. Let me touch on each.
More than half of the U.S. shipping decline is attributable to the timing of last year's Cars 2 movie launch. As we discussed, Cars 2 was and will be a first half tail — headwind for us as retailers were gearing up for the movie launch last year in the first and second quarters. That said, Cars continues to be a great success as an evergreen property, selling well over-the-counter and gaining NPD share in the first 2 months of 2012, both in the U.S. and Europe. Retailers were particularly cautious in their first quarter ordering patterns in the U.S. For the quarter, shipping lagged our POS as retailers reduced inventories. In fact, inventory at our top 4 U.S. customers fell mid- to high single-digit levels. Brands like Barbie experienced some of the most significant gaps between shipments and consumer takeaway.
Despite that, we continue to have the toy brands that consumers choose more often. Barbie, Hot Wheels, Monster High and Cars all gained NPD share in the U.S. through February 2012.
SELECT comments from CFO Kevin Farr …
Overall, sales for the region were down 9% due to lower shipment of Cars and as retailers focused on adjusting their inventories in the quarter. As we said earlier, Cars was a headwind for the quarter, and we expect that will continue for the first half of the year. As we've previously indicated, we continue to expect Cars' seasonality and our total company seasonality to return to more historical levels in 2012.
The full transcript available at Seeking Alpha.
There are more questions in the Q&A portion in regards to CARS (you have to register at Seeking Alpha to see it – FREE to register).
But frankly, the analyst missed the BIG PICTURE in their questions – yes Q1 2012 is down from Q1 CARS 2011 BUT nothing from CARS 2 shipped until Q2 2011 so if anything, Q1 2012 should still be riding momentum from a 9-month old movie (and 3 month old DVD release) while Q1 2011 was the last Q of a 5 YEAR OLD FILM … so while they are focused on slower/lower shipments, they missed the BIG MISS from Q1 2012 versus Q1 2011 when CARS was on its last legs while CARS 2 should still be fresh legs.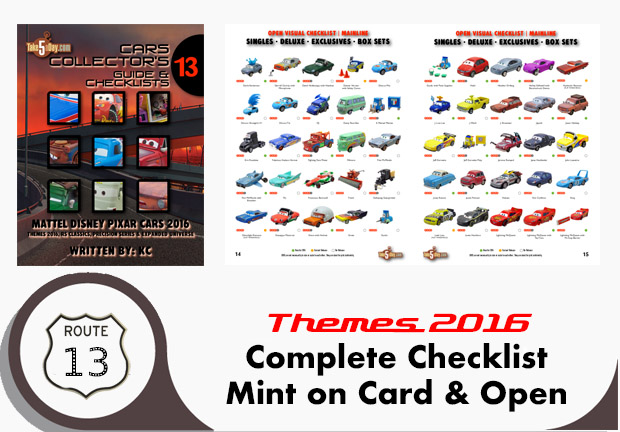 metroxing

17 April 2012

Mattel Disney Pixar Diecast CARS 3


8 Comments