Home
»
Internet
The Internet 2011 – You Was There! Remember the Meme?
From internet ad agency, Syzygy.
Once again, we've taken 20 seminal (or just mental) events from the year on the internet and carefully weaved them together into a single illustration – this year crafted by Executive Creative Director, Peter Jaworowski.
Your challenge?  Name each of the 20 events (and we mean events – just recognising Darth Vader isn't really enough).
For those of you that can't remember last week let alone last year, we'll provide clues from Wednesday onwards.
Important. This. Is. Not. A. Competition.
We know it's Olympics year and all, but it's not about winning, unless you count bragging rights over your colleagues. But we do have a few signed limited edition prints to give away.
View the illustration here and get involved by following us on Twitter and tweet a link to the picture using the hashtag #20things.
We'll randomly pick a couple of lucky people each day to receive a poster. We hope that you enjoy!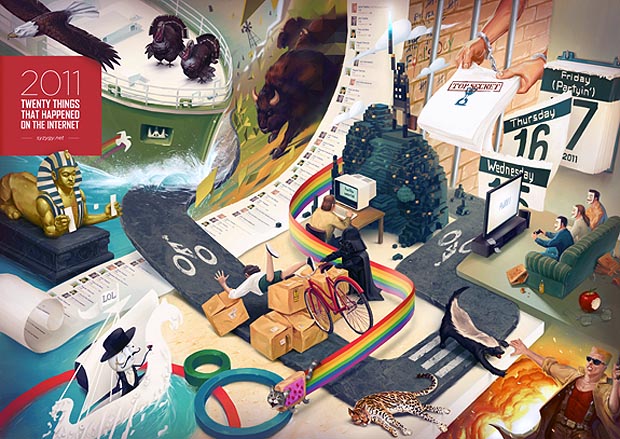 There was a cat on the internet this year?  🙂