Home
»
Disney Pixar CARS 3
,
Retail
Disney Pixar CARS 2: New TakeFive Amazon CARS Books/Video Database Catalog
In case you haven't noticed, we added a new FRONT PAGE TAB and side LINK that is an online catalog database of all CARS World books & videos.
It's also an Amazon storefront.
It's broken out in CARS books for adults and all non-toddler kids, kid's books, the comic graphic novel collections from Boom Studios and all the DVD/Blu Ray choices. Also added are the Pixar & Disney Animation Books (Art of …, etc, etc …)
Now, it's not 100% percent comprehensive as I mostly stuck to books with words – I figured were more important than the coloring books. 🙂
You can still peruse it as a database but of course, if you click to buy something or bookmark the TakeFive regular link, you help support us – thanks!
(and note, while it looks like you place items in the shopping cart at TakeFive, the shopping cart and purchases are all done entirely through Amazon – we do not see any of your info).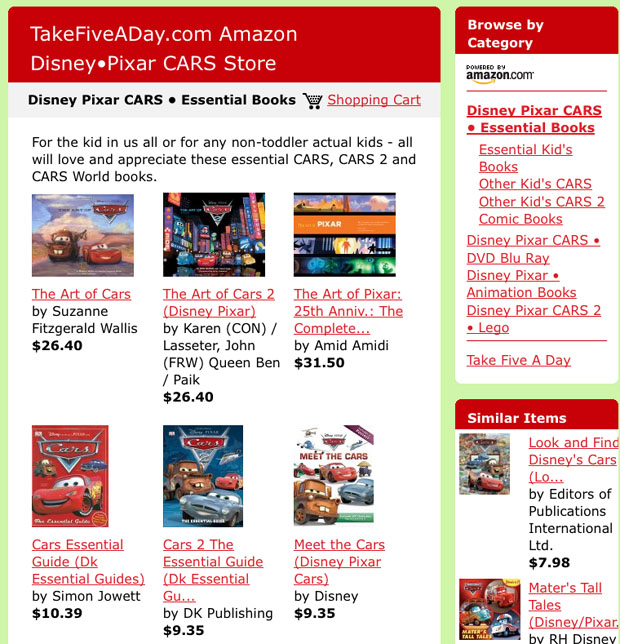 There is a LEGO link but another CARS Toys link page as those links tend to come and go and prices change quickly from SRP to demand-pricing … but I may add one soon.
Thanks for your help, "David V." and thank you for your support of T5!


metroxing

6 January 2012

Disney Pixar CARS 3, Retail


2 Comments