Home
»
Retail
Cyber Monday – Why Work When You Can Click to BUY, BUY, BUY!
Of course back in the day … 2008 and before, you know BC, before CARS … and when most people didn't spring for that faster internet so people waited touse the one at work on Monday … plus it was fun to go click, click, click at work versus actual working. Cyber Monday was the day after Black Friday Weekend when you needed to go online to buy what you could not find in the stores but of course, now, it's all one big blur of what's real, what's reality with augmented reality, QSR codes and 3D that is more real than the real 3D … but what the hey, let's all go buy on the internet … if nothing, most likely the last year that some, many internet purchases are tax free …
Barnes & Nobles – Up to 50% off on Electronics.
Barnes & Nobles – Up to 70% off on CD/DVD's.
Cyber Monday Sale! Save up to 50% off 1 Item at BN.com – Use coupon code D7E4M3E at Checkout!
NOOK® Cyber Monday Deal – Buy Any NOOK, Get $25 BN Gift Card. Today, Online only!
Walmart's Cyber Week Specials Here.
You can find all the Amazon's deals here …
Amazon has thoughtfully listed the DVD/Blu Ray's special deals by time slots here.
The Disney Store has extended the CARS sale to 55% off if you spend over $125 – so if you've been planning on getting some CARS 2 stuff, now, just combine with some other items-gift purchases or of course, team up with a fellow collector … remember, it's only 24 hours so shop fast!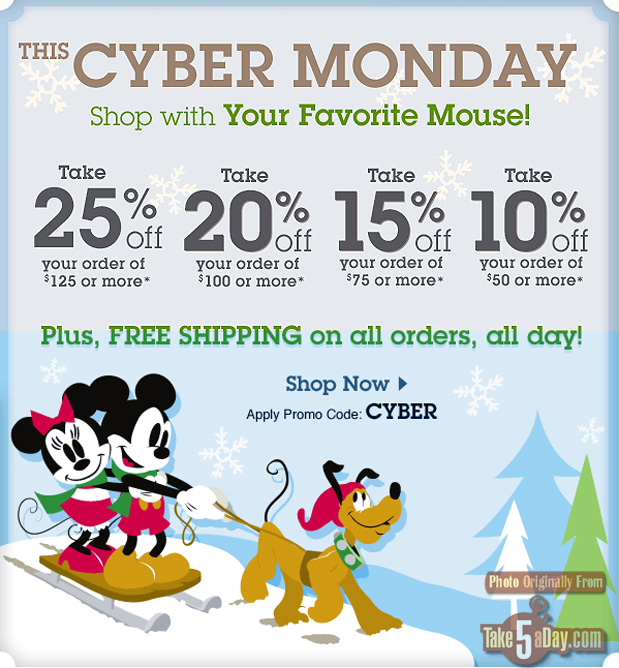 Fab.com has more fun items … rock posters & yes, shower curtains …