Home
»
Film
,
Gadgets
If You Miss "Polaroids," It's Back (Sort of)
It vaguely looks like the old Polaroid cameras and you get the iconic white border …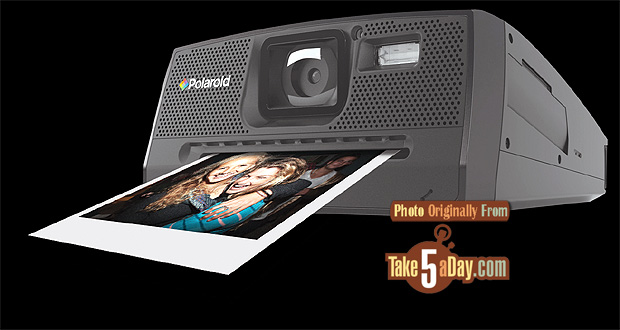 But the Polaroid Z340 Instant Digital Camera with ZINK (Zero Ink) Printing Technology is more like a handheld printer with camera optics …
Polaroid's Z340 Instant Digital Camera melds together the joy of an instant Polaroid and the convenience of digital. With no ink, no computer, and no hassles, the Z340 prints out 3 x 4″ full color images. You can add fun borders, including the classic Polaroid border logo format, and upload custom borders that express your unique style. The camera boasts a resolution of 14Mp for clear, bright pictures with that Polaroid look. A 2.7″ LCD on the top of the camera allows you to see the image before you print. You can even crop and make other edits before printing the image. Files also store to SD memory cards for archiving and in-camera editing, if you so choose.
So, while there's technically no ink, it's embedded in the "paper," it's ultimately the same thing as you have to buy cartridges of paper/ink … pretty much like cartridges of film back in the day but it is much more fun when the camera acually spit out the print instead of wandering over to the printer …
Or if you want a small instant camera, Fuji makes one. And of course, you'll need some film … yep, a phrase still relevant in 2011 – buy some film for the camera. 🙂
Even Hello Kitty borders!