Home
»
Disney Pixar
,
Disney Pixar CARS 3
,
Mattel Disney Pixar CARS
,
Mattel Disney Pixar Diecast CARS 3
Mattel Disney Pixar CARS Diecast: Prototypes, Resins, First Shots & Production
Last week, there was an auction of several RV "prototypes," and there was some question as to the definition of the word prototype …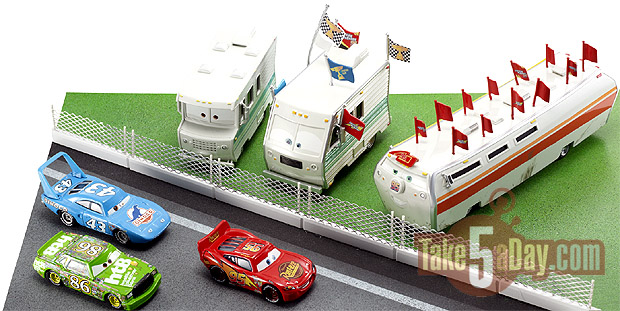 Because the word "prototype" has a definite TOY PRODUCTION INSIDER-JARGON meaning and a more "average" meaning to everyone else.
For Mattel Disney Pixar diecast CARS, the process goes something like this.
Once the diecast makes the list of "approved" characters/vehicles, Pixar generates a shot of what the character/vehicle should look like. Mattel creates a handmade version with resin (plastic) version. This is technically in the toy design jargon/industry called the PROTOTYPE.
It is sent to Disney & Pixar for approval. Once, they approve, Mattel sends it along to the factory where they make a mold and create a FIRST SHOT (see below). In the case of CARS, it is a mish-mash of zinc diecast metal plus random colored plastic that is handy …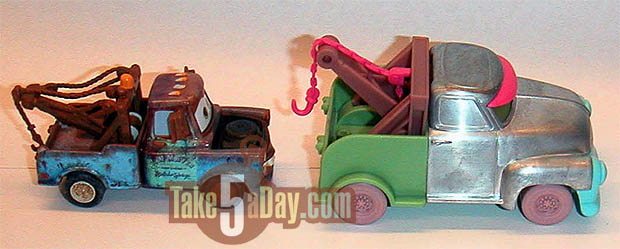 Some of these are hand painted and forwarded for the next round of approvals.
So, while those in the toy production & design would only refer to this Bubba above as a FIRST SHOT, to those on the approving list (licensors, marketers, etc, etc … aka: not in the actual production & design side of this process) MIGHT call this version in the "normal" usage of the word "prototype."
Once approved, a small batch/production is created as the final test. Again, what an employee at Mattel might call them is entirely different than those on the receiving end of these early PRODUCTION versions to give the final, final sign off. The average person might casually refer to them as "prototypes," since "mass-market" production cannot begin until everyone signs off … or if Mattel holds up production such as Richard Clayton Kensington for 3 years, the average person would certainly consider the first test batch, "protoypes," since there are NO other releases … of course, once they begin production, then most people would probably retroactively "de-name" them as "prototypes" or "pre-production" ones (technically though they were produced as part of "production.")
So, what is a prototype? It all depends on where you stand and perhaps if you are buying or selling.
First, do you actually want one made of plastic resin?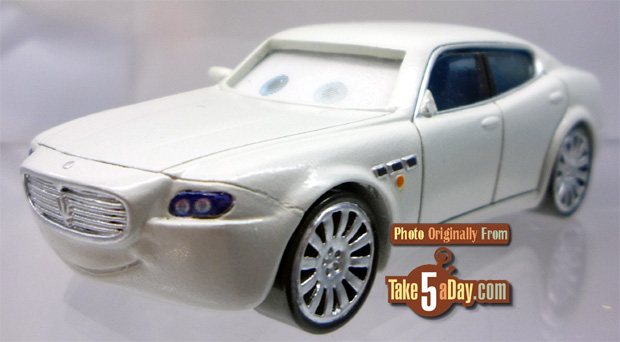 This is a real actual prototype by the letter of the definition as designated by toy industry jargon – (photographed at SDCC 2009). It weighs like it was carved from foamboard – nothing. The wheels are glued on and clearly, it is rough in many spots.
It's not even diecast metal.
Or do you consider an unpainted FIRST SHOT a prototype?
Or do you consider/want a "prototype" only made of metal and either hand painted or the first off the production line for final approval …
Like Antonio's cousin, Costanzo? Made of mostly metal, rolls and out months before the the actual release?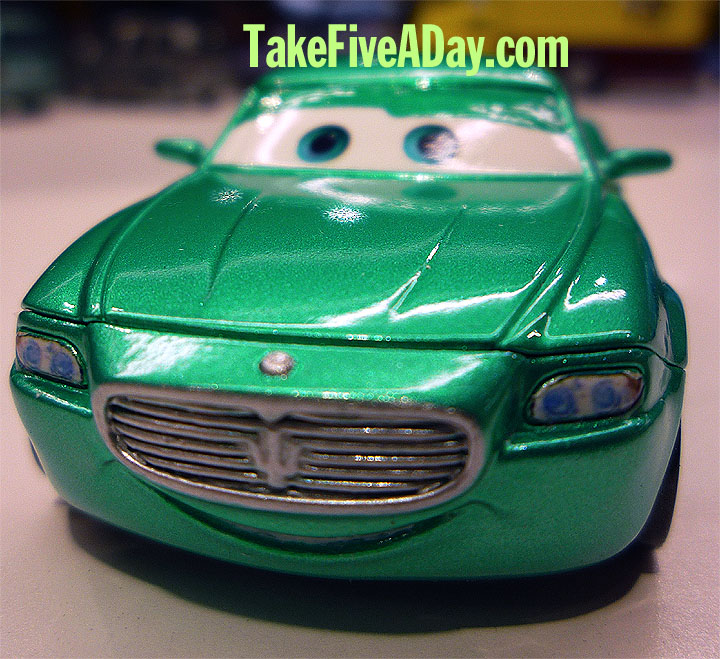 Or by toy industry definition, not a real prototype nor a first shot but the average person might call this a prototype since it's NEVER BEEN released to the general public?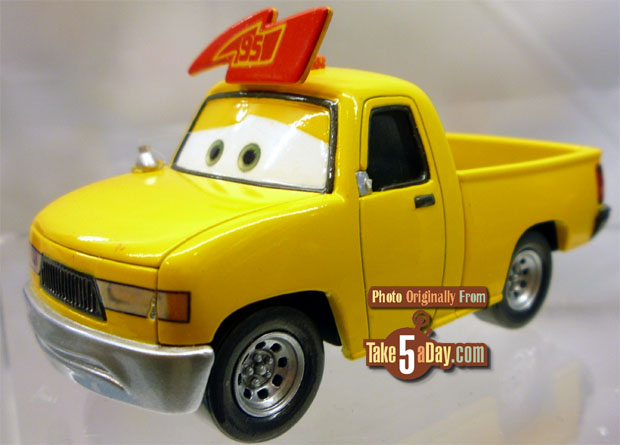 To the average person, prototype can mean anything created along the way to give people a 3-dimensional understanding of the concept … for instance in the (real) auto industry … the prototype might only vaguely look like the final production car …
For instance, for the average person, this 1962 Ford Mustang prototype is fairly difficult to envision as the iconic production release of the 1964/1965 Mustang we all know so well.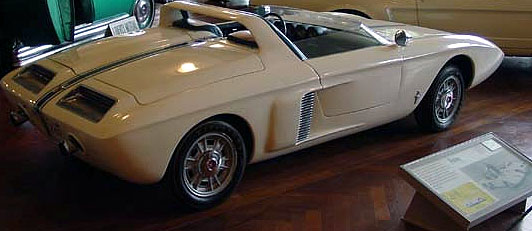 Via OKMustang.com
And along the way, as the shape and design changed, there were further prototypes …
So, are the RV's above toy industry PROTOTYPE? Or prototypes?
But wait – it gets intriguing because the supplied PR photos do NOT match the actual item … you'll note that the description says the three racers are from the original release (not prototypes as noted also) and as people point out, McQ with the spoiler decal was NOT available in 2006 But the REAL auction item does feature a LM with the missing decal spoiler …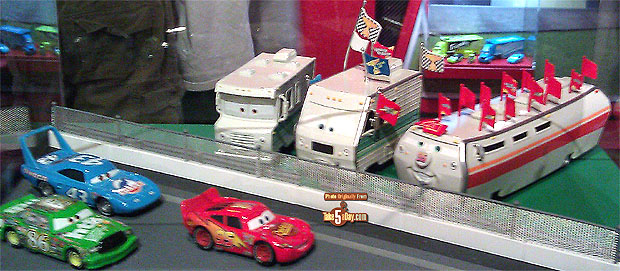 AND if you look closely, Syd VanDerKamper does seem like he's missing cross hatching on his front grill and his air vents on the roof seem much rougher …

So, were the auction RV's handmade of resin, the industry term of a "prototype?"
Without having actually picked one up, it's pretty impossible to say for absolute certainty and with only a rough photo, it's hard to say with absolute certainty but it does seem there were enough "finished" RV's to shoot one photo along with a later Lightning McQueen as the PR photo – probably because under bright studio lights, the resin "real" prototypes don't look as great with a lot of rough details?
So, for now, I would lean towards the auction as being "real" prototypes in the industry usage of the phrase and that they got further along to have "pre-production" ones completed – molds done – all ready to go except for the final word to fire up them up …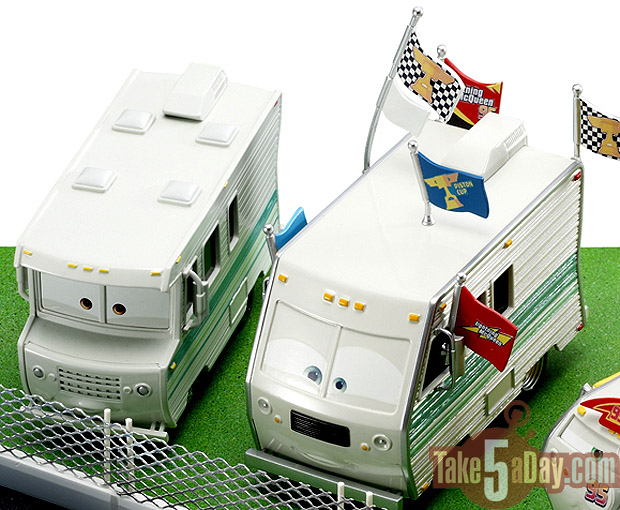 So, like buying art – do you want the sketchbook pencil rough draft? Or the final one on canvas with all the colors?
UPDATE: Buyer says they are REAL prototypes as Mattel calls them – they are lightweight and plastic throughout.


metroxing

18 November 2011

Disney Pixar, Disney Pixar CARS 3, Mattel Disney Pixar CARS, Mattel Disney Pixar Diecast CARS 3


25 Comments