Home
»
Disney Pixar
,
Disney Pixar CARS 3
,
Mattel Disney Pixar Diecast CARS 3
TakeFiveADay – Now Fortified with Forums!
As I'm traveling towards SDCC, it won't be as easy to post so it seems the perfect time to launch our forums.
Simply click on the link (on the right or at top) to go to our forums.

First, keep in mind there is no way to really test it so there might be some glitches – be patient – thanks. Not everything might work perfectly. We are just going full speed on this.
First, when you log into TakeFive, you should be logged into the forums login. Some people who are using a login name with a space may not have transferred over correctly. For instance, the computer had no trouble if your login is:
BobSmith or Bob.Smith, Bob_Smith or Beeboobillysmith …
But if your user name had a space like Bob Smith or Love Me CARS, the computer would put a comma after every space because it thought it was a separate user.
I'm not positive if you can log in with your current T5 user name and pw and then you'll be ok or you need a more hands-on fix.
So, if you cannot log in the forums after truing a couple things, send me an email with the subject FORUM NAME and I will manually add you but it looks like 95% of users names went through smoothly. Keep in mind, I may not be by my computer so it might be a while before I get you a login …
Otherwise, the forum is pretty straightforward.
Right now, there is not much obviously but soon, clicking on NEW TOPICS will show the most recent posts.
This is just a quick snapshot – below are general CARS topics plus further suggestions.
SAME RULES apply on selling & trading.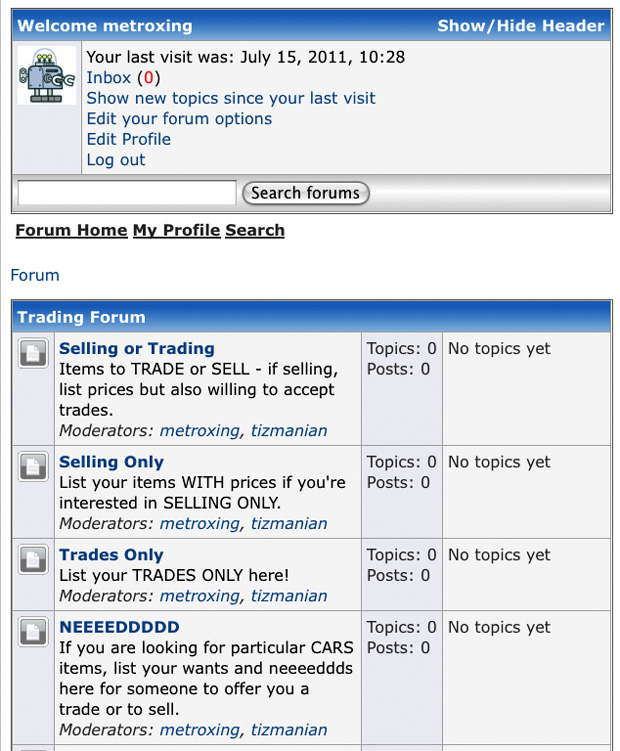 Also keep in mind, everyone at T5 is on the road this week so we might not be able to get to every comment or fix straight away – stay calm and er, collecting. 🙂
The forums are a work in progress so if you can help out a fellow poster who has a questions on how to embed link a photo or something like that, please help them out. Thanks!
Have fun – enjoy and we may need a few volunteer moderators down the line so drop us a line if you're interested. Thanks!
Thanks "David" and "Tizmanian."
Enjoy!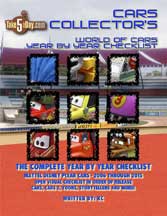 metroxing

18 July 2011

Disney Pixar, Disney Pixar CARS 3, Mattel Disney Pixar Diecast CARS 3


27 Comments