Home
»
Disney Pixar CARS 3
,
Mattel Disney Pixar Diecast CARS 3
Mattel Disney Pixar Diecast CARS 2: 2-Packs Checklist (Fixed)
The other day, we put together a checklist of everything coming out on hanging cards – some people were confused about the 2-packs since they were alpha listed and not by package so here's a listing of the 2-packs by the pack itself. These should all be out before the movie opens.

They are technically not called Movie Moments anymore. I'm just temporarily using it as a shortcut.
The ones in column one are available to all retailers – are just called "2-packs."
The Walmart ones are called "Mater's Secret Mission" and contain one good guy and one villain. Interestingly enough only the 'regular' 2-packs are sniped with EXCLUSIVE VEHICLE but not the Walmart ones for what's that worth.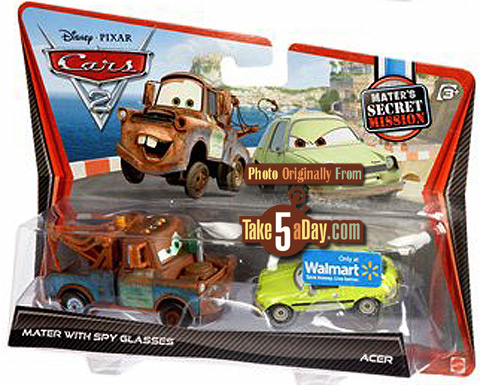 The Kmart ones are called "Pit Crew 2-Packs," and of course contain one racer and one crew member.
Right now, it's also unknown if the racers will have different eye or expression differences between the launcher version, the 2-pack version or the single carded version …


metroxing

8 April 2011

Disney Pixar CARS 3, Mattel Disney Pixar Diecast CARS 3


11 Comments