Home
»
movies
,
Video
Warner Bros. – Swap Your DVD's for Blu Ray's For $4.95
Here's an interesting deal from Warner Bros. – you can swap your DVD's plus from $4.95+ for new Blu Ray DVD's (depending on which title you choose).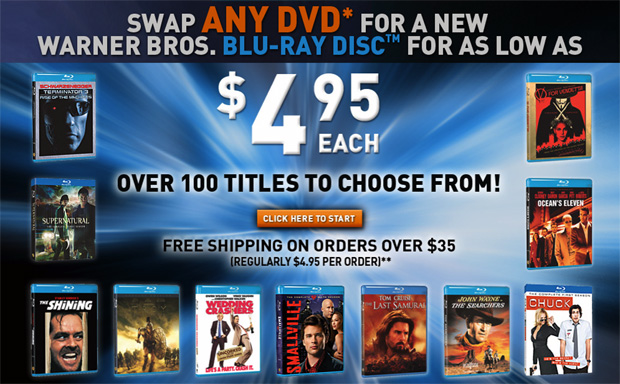 You do have to mail them back a DVD disc but here's the oddity – it can be ANY DVD – it does not have to be the SHINING DVD to get the SHINING Blu Ray DVD! (for example) And you don't even have to mail them a Warner Bros. film – ANY DVD will do (ok, no adult titles, no blank DVD's and DVD-R's but otherwise …).
Go to the DVD2Blu WB's website HERE.
Choose the movies you want to "swap."
You will get an email with a PRE-PAID postage form to print out. Put the "matching number" of DVD's in the envelope. When they receive it, if it matches, you get your new Blu Ray's sent in the mail. (Do not send in artwork or the DVD case).
"Q: Can I really swap any DVD for a new Blu-ray disc?
A: Yes, qualifying DVDs include any pre-recorded discs that contain professionally produced content purchased at a regular retail or e-commerce store (excluding adult content). The DVDs can contain film, TV, sports, animation or documentary content and can be from Warner Bros. or non-Warner Bros. Blank or copied DVDs do not qualify.
Q: Does it have to be a movie DVD?
A: No, also qualifying are DVDs containing TV, sports, animation or documentary content.
Q: Can I send in blank or copied DVDs?
A: No, they do not qualify."
A: Yes, as long as they contain professionally produced content (excluding adult content)."
Interesting, they really, really want to make sure you are not watching SD DVD's when they are not looking. 🙂