Home
»
Computing
,
Retail
Amazon Prime – Now With Free Amazon On Demand Video Streaming
Amazon Prime is the $79 (per year) program where you get free 2-day shipping on EVERYTHING* and $3.99 per item for overnight shipping.
If you order more than once or twice a month on Amazon, it's great because there's no minimum order – instead of having to accumulate $25 worth of stuff, you can buy a $3 book or a $8 dollar box of cookies and you'll get it in 2-days.
Yes, you get free shipping above $25 but sometimes you have to wait an "excruciating" 2- weeks before you get it. This way, it's 2-days for everything.*
Or $3.99 for overnight shipping per item – no weight limitation. I ordered exercise equipment that must've weighed 300 lbs – got it overnight for $3.99. So, if you look to Amazon for most of your stuff – and really, there's hardly anything they don't carry …
Now, if you sign up for Amazon Prime, you get their Video On Demand streaming service for free. Now, they don't have as large of a selection as Netflix but it's a great free add-on.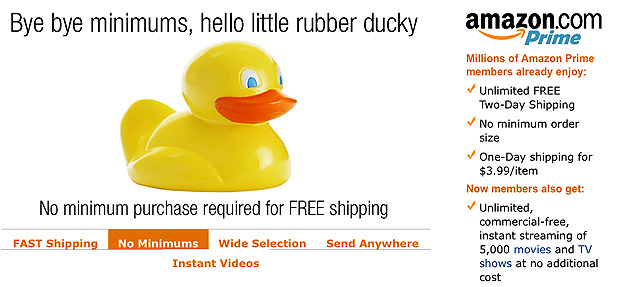 Just click on the duck – you even get a free month to try it out!
It's accessible on your PC, Mac or 200 devices including your XBox. just click HERE to see if it's available on your device. Like Netflix, you get thousands of "free" streaming choices plus like iTunes, there thousands of other titles you can rent or buy.
In case you didn't know, Amazon now offers discounts if you sign up for planned shipments so if you love a certain food or household item, check out HERE – sign up for the delivery schedule you want and you can save another 20-30% percent! It's great customer service also as Amazon will send you an email a week BEFORE the next scheduled shipment goes out just in case you don't want it. They of course only charge you after they ship it.
BTW, if you ever thought, cheese crackers just don't have enough cheese, here are crisps made of cheese … one box is not enough for me so I signed up for monthly deliveries. 🙂
So, now you can fill your house with food every few weeks without literally having to lift a finger to click … 🙂
*2-day free or 1-day $3.99 only applies to Amazon fulfilled items but that's still tens of thousands of items …