Home
»
Travel
San Diego Comic Con: Hotel Reservations March 9, 2011

Starting at 9:00 AM PT on March 9, 2011, you will be able to access the SDCC Hotel reservation request form via this page or by calling 1-877-55-COMIC (1-877-552-6642) or 212-532-1660.
Here's a sneak peek at the hotels & rates as a SDCC attendee … keep in mind that nearly all the hotels within a 15-mile radius is participating in the whole SDCC thing so it's not like you're going to find lower rates in the area – at least for now. Let us know how your Priceline plan goes on July 19th. 🙂
Here are your options. If you do not plan on getting a rental car, just bite the bullet and book as close a hotel to the convention as your budget allows or one very close to the SDCC shuttle bus route. Otherwise, if you think you can just taxi in – YOU will rack up a huge taxi bill as traffic slows to a crawl most hours of the convention so it's fairy pointless to try and save on a hotel but to pay for a $50 cab ride for 15 blocks twice a day.
If you really feel comfortable in planning, you can taxi to the a train stop – either the commuter train or the Amtrak so you can stay further away – though of course, SD is a resort town so it's not like you're going to find huge bargains along the coast …
If you have a rental car (or driving in) – You can probably save money staying much further North-East and or East towards the desert but keep in mind traffic is heavy commuter traffic so it's an option but keep that in mind when weighing the savings as it might only look like 30-40 miles away but it is most definitely NOT a 30-40 minute drive.
Again, you can drive close and park in one of the shuttle parking lots versus making it all the way in – the shuttles run all day so if you want to ferry stuff back to your car or hotel, that's the easy part.
So, here's hoping the hotel booking thing goes just a tad smoother than everything else.
Other things to note:
# Once confirmed, all hotel reservations will require a deposit of at least one night's room and tax for each room booked. This will encourage people to release unwanted rooms in advance so people on the wait list can reserve them.
# Hotel reservation deposits are fully refundable until May 10, 2011.
# From May 11 to June 8, 2011, a $100.00 cancellation fee will be charged. The cancellation fee will be deducted from your deposit.
# Starting on June 9, 2011, ALL DEPOSITS ARE NONREFUNDABLE.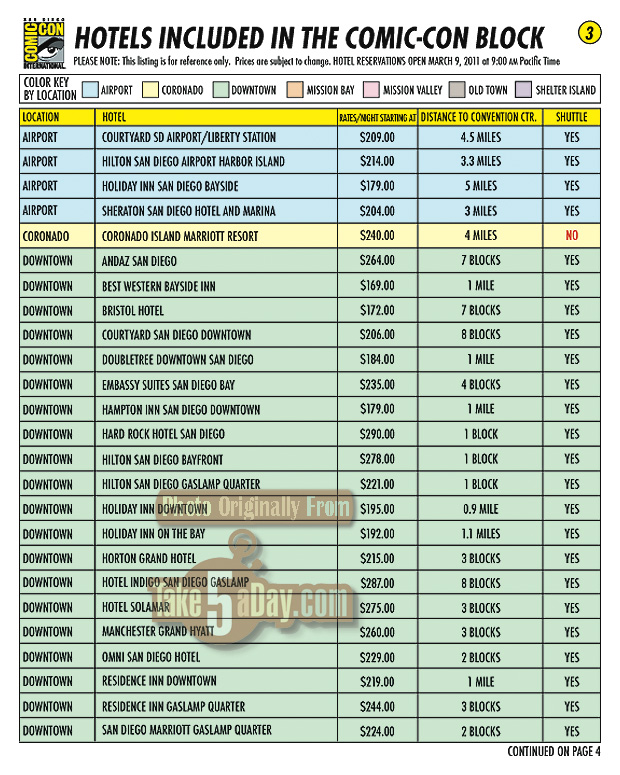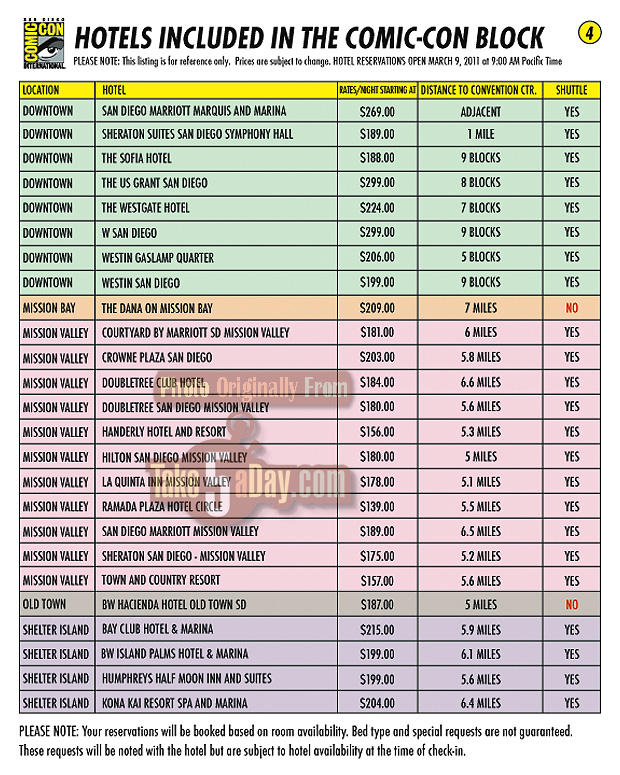 Here is the SDCC Hotel page & info packet PDF if you want more info.