Home
»
Mattel Disney Pixar CARS
Mattel Disney Pixar Diecast CARS: The 37th Most Important Post About Bumper Save
I guess we are officially out of topics to discuss about CARS 1 …
"Buckland Blowouts" sent me a telegram.
I was sure they stopped telegraphs in 2006 but that didn't stop "BB."
Then some Kodachrome's followed.
I even got a diskette with his findings.
There exists a Bumper Save variant.
And when I say exists … it's like microbes on Titan.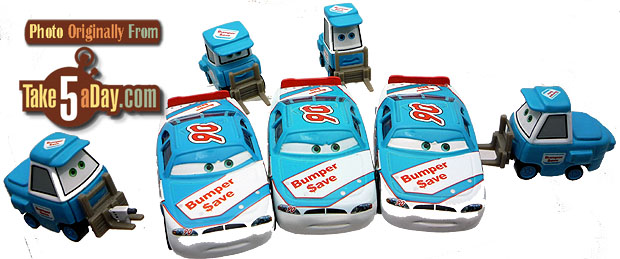 Whud? What did he say? Variant?
Well, if you have eagle like vision that BB possesses … you will spot from a million miles away that the Bumper Save from the 2009 Black Friday WM Mack Trailer only has 6 dots near the back bumper instead of the 7.

That accounts for the reason the Mack with trailer set was only $10 versus the normal $22.99. A dot saved here is another reflective Bott's dot for the roadway (but you knew that).
So, launcher Bumper Save – 7 dots.
Rubber Tire Bumper Save – 7 dots.
WM Black Friday Bumper Save – 6 dots.
Sorry for the excessive watermarks but I knew the photo would be stolen for the newly raised price of the Bumper Save with 6 dots to $499.99 on the secondary market.
And I thought there was nothing to talk about today other than the proper way to stack firewood. Or that "cord" is yet another Canadian conspiracy to mess with us much like this Bumper Save info?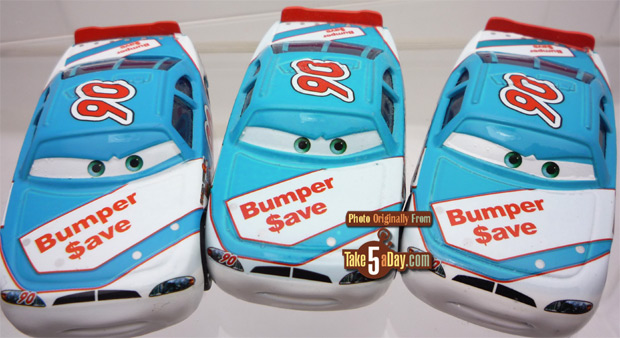 Looks like center ice WM Bumper Save is also a couple ticks lighter in color … guess with all that savings in material (not to be confused with the military – materiel), I can get Mattel to sponsor me in the 1st ever North Korean Open Golf Tournament.
(don't tell anyone it's really a signal from you know who to activate the secret Tikal Ossulary Portal as foretold in the Richard Clayton Kensington Runestone … once the three Bumper Save's are assembled and aligned in the proper stacking formation).
Bumper Save will SAVE us all. Rune for your lives!
1:2:3:5:8:5:3:2:1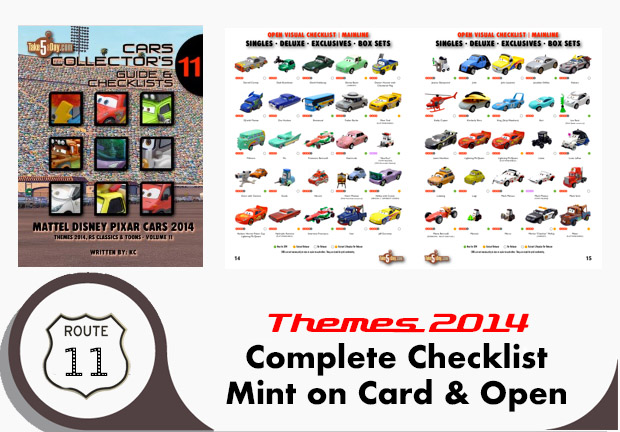 metroxing

22 January 2011

Mattel Disney Pixar CARS


37 Comments