Home
»
iPhone
,
Mobile
Last Days – Massive Games Sale – iTunes – iPhone, iPod Touch & iPad (Now With More Grover!)
If you're buying or gifting an iPod Touch, iPhone or iPad, you can set up the account early to grab these games before the sale ends. The EA games sale I think ends next week but some of the others end as early as midnight Eastern tonight so grab fast!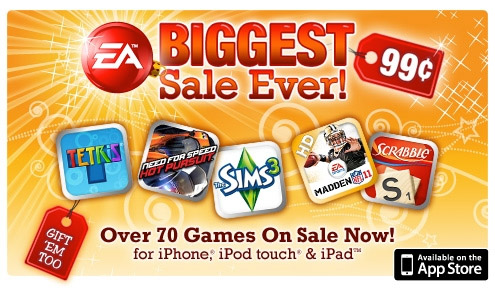 ALL listed here are ONLY $.99! Links will launch iTunes.
And remember, you can also GIFT these games.
iPhone/iPod Touch Games:
BOARD GAMES
Battleship
Boggle
Clue
Connect 4
The Game Of Life Classic Edition
Monopoly
Monopoly Here & Now: The World Edition
Risk: The Official Game
Scrabble
Sudoku
Trivial Pursuit
Yahtzee Adventures
DRIVING
Need For Speed Hot Pursuit
Need For Speed Shift
Need For Speed Undercover
Reckless Racing
FPS
KIDS
PLATFORMER-SCROLLER
Command & Conquer: Red Alert
Dragon's Lair
Mass Effect Galaxy
Mirror's Edge
Pandemonium
R Type
The Simpsons Arcade
Skate It
Star Trek
Zombies & Me
PUZZLER
Cause of Death: Can You Catch The Killer?
Mystery Mania
RPG
Heroes Lore III
Wolfenstein RPG
SHOOTER
SIM
Lemonade Tycoon
SimCity Deluxe
The Sims 3
The Sims 3 Ambitions
The Sims 3 World Adventures
Surviving High School
Spore Creatures
Spore Origins
SKILL
American Idol: The Game
Anytime Pool
Jewel Quest Mysteries
Snood
Tetris
SPORTS
Fifa 10 By EA Sports
Fifa 11 By EA Sports
Madden NFL 11 By EA Sports
MMA By EA Sports
NBA Elite 11 By EA Sports
NCAA Football By EA Sports
Tiger Woods PGA Tour By EA Sports
iPad Games:
Boggle for iPad
Clue: Secrets & Spies – A Hidden Object Game
Command & Conquer Red Alert for iPad
Madden NFL 11 By EA Sports for iPad
Mirror's Edge for iPad
Need For Speed Hot Pursuit for iPad
Need For Speed Shift for iPad
Pictureka! for iPad
Reckless Racing HD
Scrabble for iPad
SimCity Deluxe for iPad
Snood for iPad
Tetris for iPad
Yahtzee HD
And to compete with EA, a lot of other games have dropped in price – though some sale prices end as early as TONIGHT … For the iPad (all $.99 unless noted).
Deer Hunter 3D
James Cameron's Avatar
Let's Golf2 HD
Secret of Monkey Island (MUST GET!)  🙂
Secret of Monkey Island2: LeChuck's Revenge
Space Invaders (iPad) – $2.99
Splinter Cell: Conviction HD
For iPhone or iPod Touch
Star Wars Arcade: Falcon Gunner*
Star Wars Force Unleashed
* One of the cool 'show-off' apps for the iPhone – activate the AR feature and what you see in your iPhone camera lens becomes THE BACKGROUND SKY for this Star Wars – ANOTHER MUST HAVE for $.99
And best news of all – one of the greatest books ever written is now it's own interactive app read by GROVER! (wave skinny furry blue arms over head time!) – also on sale for $.99!