Home
»
Retail
,
TV
Gilt to Offer 1 VW Jetta a Day for $5,995 ($10k Off)
Beginning Wednesday, December 15, sales site Gilt will sell one new 2011 Jetta for $5,995 — a 63% discount off the regular price of $15,995 — for three consecutive days beginning at noon ET.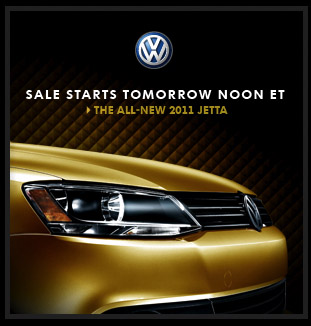 Those with smartphones get first shot Wednesday (12/15) at 9 AM Eastern, 12 Pacific – on the website, you have access on the 16th and the 17th for a total of 3 Jettas available at $5,995. (or $10,000 off – that's a nice coupon 🙂  ).
iPhone App can be downloaded here.
iPad App can be downloaded here.
There is also an Android version.
On December 16 and 17, however, members will be able to access the sale on gilt.com as well as via the company's mobile apps. The proceeds from the sales will be donated to the charity Dress for Success.
If you would like an email invite, shoot us an email at metroxing (at) gmail.com with the subject GILT INVITE.
Yes, the odds are sort of against you but hey, if you want a Jetta – take a shot. I have no idea how they plan on selecting the winner … but …
" …Those who don't manage to get one of the three Jettas can add the vehicle to their "Wait List" for a so-called "special incentive" — presumably a lesser discount — that can be redeemed at participating Volkswagen dealerships at a later date."
So if you win – you'll need one of these – so your life can be like those auto commercials – I know hundreds of people who give cars as Christmas presents … no, not CARS, automobiles.  🙂
For those who have not checked out Gilt, it's a nice "flash sale" site that offers nice deals on lux goods.