Home
»
Mattel Disney Pixar CARS
,
Retail
Mattel Disney Pixar Diecast CARS: Kmart CARS Day #5 – Solution Straight From the Top …
From Dev, President Toys & Seasonal
"Dear Kmart Cars Collector Community:
Thank you for all the feedback on the recent Cars Collector event.  I
apologize on behalf of my team and Kmart for the order/shipping problems
a number of you experienced.  These events are quite complicated to
organize and run, both online and in the store, but we believe in the
Disney Pixar Cars movies and in you as a community that have been our
loyal customers and partners in improving these events.
Why are they complicated to run?  Well, there's a lot I could share with
you on this topic, but the shortest explanation is that our business
like the other big retailers is about selling large quantities of
similar products across a very large number of stores to millions of
customers.  However, we know that there is a lot of interest in more
specialized products and collectables that don't have anywhere near the
volume but are still very important to many of our customers.
I've personally wanted to support these businesses because I've
experienced myself the pleasure of collecting and – perhaps even more
importantly in today's world – being a member of a community that shares
the same interests.
To get back to the current problem. I am grateful to everyone who
provided feedback. It does help us improve and we do want every customer
to have a good experience.
So, we know that there are a number of customers who have mistakenly
received the Kmart Cars Collector Day 4 Series in place of the confirmed
Day 5 pre-sale order from the week of 10/10.  This was due to a
warehouse issue on our part as we tried (but didn't) separate the two
sets of products.
To fix this, we're asking anyone who received the wrong Cars Collector
Pack to follow the steps below so that we can make the exchange.
Steps to exchange your order:
1. Call our Customer Care Network at 1-877-235-9959 explain you have a
Cars Collector Pack that you would like to exchange. The Customer Care
Representative has the necessary steps to help you through the process.
2. You will need your order number from the confirmation or the packing
slip so they can look up your order.
3. A pre-paid shipping label will be issued and sent via email to return
the item back to Kmart.com
4. Apply the shipping label to outer carton.  Please note that the
merchandise must be in its original packaging to process the exchange
with the original cars. If you send us the wrong package or forget some
of the cars we'll simply return it to you with info on what's missing.
5. You can track the return via the Shipping Tracking number provided on
the shipping label
6. Once received and checked, your replacement case will be sent via
2-day shipping, and we'll send you an email with the tracking details.
If you have any questions about the process, please ask your Customer
Care Network representative.
I hope this process helps us fix the mis-shipments. We do value the
excitement, feedback and support we get from the Cars community and
intend to do everything we can to serve you better in the future.
Thanks,
Dev
Thanks and I hope this alleviates and resolves everyone's issues.

Dev Mukherjee
President Toys & Seasonal
Sears Holdings"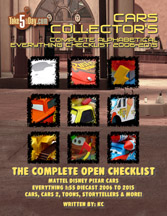 metroxing

3 November 2010

Mattel Disney Pixar CARS, Retail


54 Comments