Home
»
CARS
,
collecting
,
Disney Pixar
,
Mattel Disney Pixar CARS
World of Cars Stickers and Sticker Books By Panini Video Review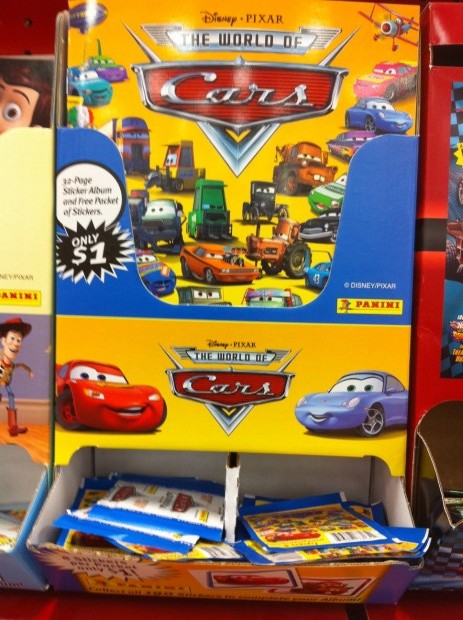 Here is a snapshot in the retail wilds of Target for the Panini sticker packs self liquidator merchandiser (which is retail geek speak for box thingy that holds stuff).
The collector books are $1 and each sticker pack of eight stickers are $1 as well.  Rather than post a sequence of photos from this first book and the stickers, I shot two little videos for your perusal.
The first is a look through the entire sticker book for placement of your stickers:
and the other is one opening up a packet of eight stickers to see what we find:

The music btw was provided under Creative Commons license. The artist is Popof. The song is "Titine" on the album 'Pomponette II, le retour'. You can download your own mp3 copy of it here.
My first reaction is that many of the spreads in the collector book are really nice and provide some nice ambiance to your collection.  The stickers themselves feel a bit on the thin side which was surprising to me but they are a thin vinyl substrate and not produced just on paper so the colors hold up. The stickers themselves are just numbered so if you are stuck trying to remember just who that Cars character is you need to look into the collector book to find the corresponding name.
Not a biggie really and the process I am sure Panini thinks will help draw you into their world and the hunt for kids to locate just where each sticker is supposed to go is a big part of the fun.  But, in case you need some collector guides, I know this really great source that will sell you some (shhh!  Hey Buddy!  Over here.). 🙂

tizmanian

3 September 2010

CARS, collecting, Disney Pixar, Mattel Disney Pixar CARS


8 Comments