Home
»
Mattel Disney Pixar CARS
Mattel Disney Pixar Diecast CARS: 15 Steps to a CARS Exclusive Minus 14 Steps
"Dolly P." notes that in Austria the CARS Exclusive Mail Away Offer is a few steps shorter than the usual.
Normal Steps.
1) Buy a CAR.
2) Buy a CAR.
3) Buy a CAR.
4) Buy a CAR.
5) Buy a CAR.
6) Save all your receipts.
7) Circle the price you paid on the receipts.
8) Go to the store to pick up an entry form.
9) Fill out the entry form.
10) Mail in the entry with proof, receipts, stamps, etc, etc ….
11) Light a candle the post office does not lose your envelope.
12) Sacrifice a Chicken McNugget along with yodel chant in hopes that Mattel Int'l does not lose your package of cards, receipts and maybe a small payment.
13) Wait for redemption CAR.
14) Throw cumin over your left shoulder after 3 360 degree circles clockwise in hopes you get a special redemption car and not Nitroade or N20 Cola.
Or travel to Austria where you have two difficult steps.
A) Reach into Jar.
B) Pay at Register.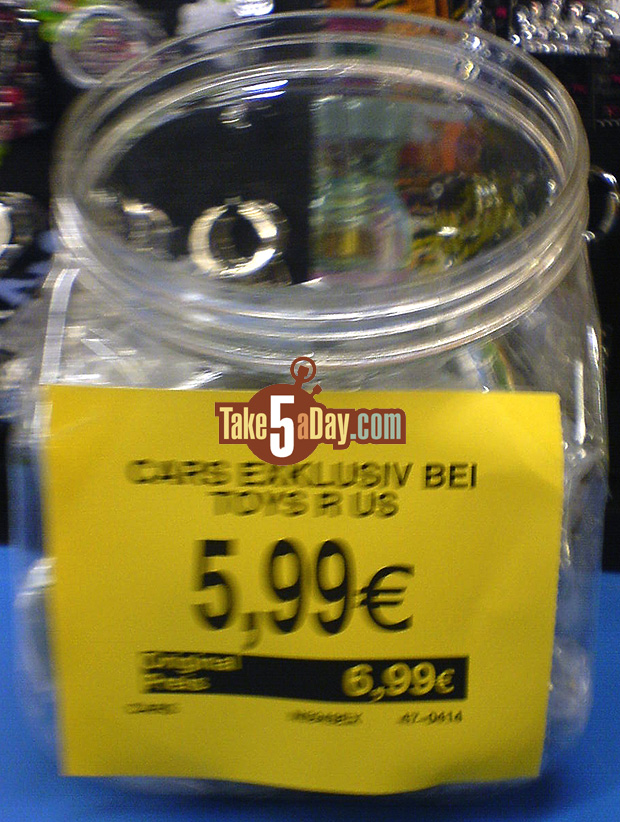 What's inside for 5.99€ (marked down from 6.99€ )?
Yep.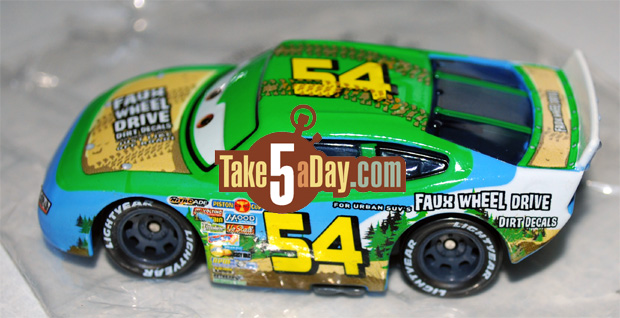 I predict Dolly & other Austria friends will suddenly make many new friends. 🙂
In her own words from her email …
"went to our TRUs (here in Austria) today to see if they had something new because i saw yesterday in Zürich, Switzerland that they got the Punching Monster Trucks. Well, to my surprise, they got not only the Punching Monster Trucks (for a nice price of $25,45 USD Surprised smile) but they got also the 5er Packs Flo's V8 Cafe and some other ones.
From last lenticular case with Chase McQueen with Rust-EZE Can no sign. Till now just in our supermarket to see (and that only one piece, ours). So, i wanted to go without buying because we already have all those cars and …. what a surprise. At the cashier desk, a small cube with a note on:  CARS EXCLUSIVE TRU : Faux Wheel Drive, the price????? $7,65 USD Open-mouth smile Pics attached!"
Nice.
What's next, the Apple CAR in a box by the register? The Bessie ball pit of Bessie's?
So, I wonder if those in the UK and France might be mad or are they crying that after all their hard work in their ongoing promos, they might get a CAR you find in a jar in Austria?
It's never dull.
Thanks, "Dolly P." – hope you wanted 1,100 people to friend you 😉 … thanks for the nice pics of your jars of Faux Wheel Drive. Maybe that's how I should store all my CARS. 🙂

metroxing

29 August 2010

Mattel Disney Pixar CARS


39 Comments