Home
»
Mattel Disney Pixar CARS
Mattel Disney Pixar Diecast CARS: Collecting … The Easy to the Hard … To the Rare …
With 282 official releases* (including some variants, haulers, oversized, singles, box sets, exclusives, and mail aways), if you weren't here at the beginning, it's not always an easy slog to collect them all … (* Not counting lenticulars nor Expanded Universe Toon-Storyteller CARS).
Some are obviously easy to collect as they are essentially re-released in every two-three cases such as Lightning McQueen, Doc Hudson or Radiator Springs McQueen. Some are common and frequently re-released but still sell fast enough they are not easy to immediately pick up such as Mater, King or Chick Hicks … but a couple trips should do the trick.
Some are not often released or proved to be not so popular like Trunk Fresh Pitty or small Al Oft that while you might not be able to find it on your nearest  store shelf, you should have not a lot of problems finding someone to sell you at a nice price or for no more than original retail.
Some are not exactly common but not really 'uncommon' but because of their popularity – it only seems that way such as Frank or Bessie … pretty much no one can resist passing them up so they never last long on the shelves …
And due to distribution issues, sometimes "common" CARS get lost in shuffle and there are gaps in releases … so some releases get a giant bump in price until a re-release such as Lizzy or Wingo or View Zeen … though sometimes even though a CAR is not often re-released, the demand is not very high so there is not a huge run-up in price like Yeti or even many of the CHASE CARS.
So, out of 282 official releases, there are really only a handful that are hard to find … so here's the updated hardest to find and sought after including the super, super duper exclusives** …
** Final Lap CARS are not counted here as the final verdict is too early to finalize.
The @20,000 Gang
Milton Calypeer, Sally with Cone, Fred (original), Todd Pizza Planet & Patti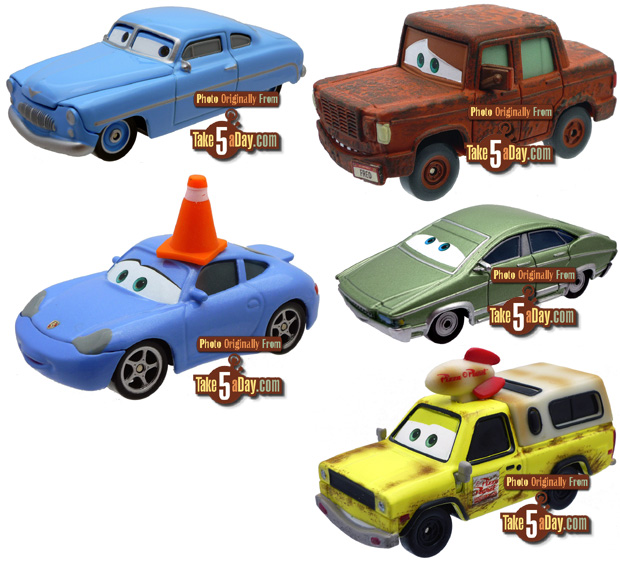 There are not a lot of singles that have only gotten one release but these are pretty much it. Except for Fred, these all came with Kmart Day cases so because of case sales, the on-shelf qualities seem much lower – especially since many of them are still locked and sealed in cases … Fred has been rescaled to the smaller size – one of the few CARS retired – especially released only once.
The 15,000 Number
Blu Ray McQueen (Mail Away)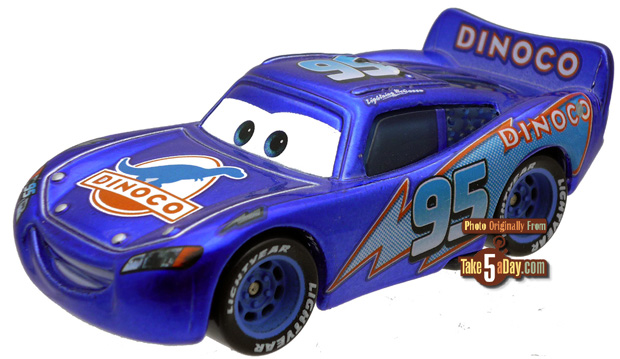 The Disney Blu Ray DVD Mail Away. You can read more details HERE.
The 7,000 Number
Lightning Storm McQueen (SDCC)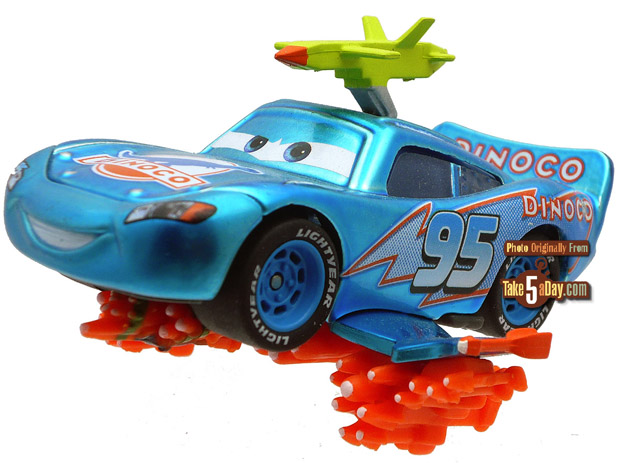 The 2008 SD Comic Con Exclusive
Probably Less Than 4,000? Maybe a tad under?
Spare Mint Pitty, Hank Hallsum, Flik & PT Flea, Dirt Track Doc Hudson & Faux Wheel Drive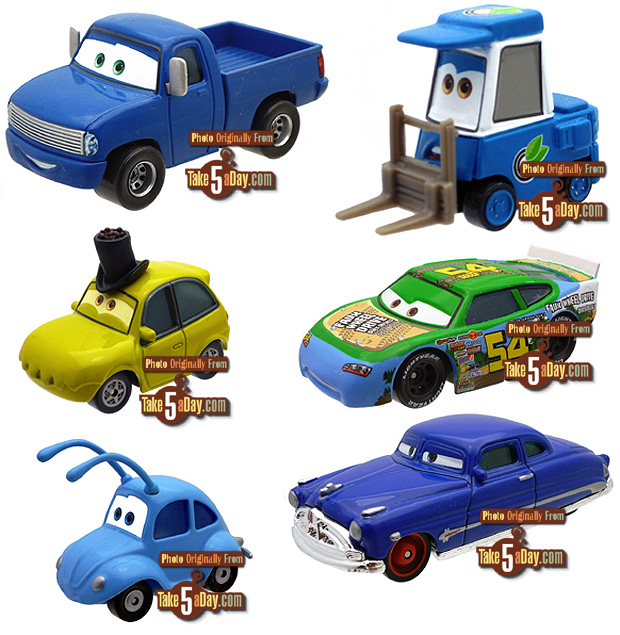 Impossible to guess the actual amount but each has only gotten one release in a multi-pack configuration which are produced in much fewer quantities, it's probably around this number and unlikely to be much more. Faux Wheel Drive was available in two overseas promotion (along with the Motor Speedway of the South release of 1,000) but the quantity is unknown but probably not much more than 2,000-3,000 but of course, it's just a guess.
Probably 3,000 or Fewer?
Bubba, & Gask-Its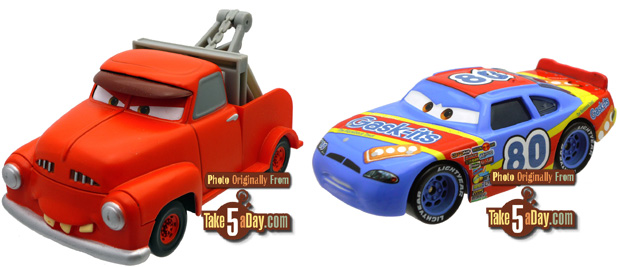 Bubba's release in the Storyteller's multi-pack was in pretty low quantities. Gask-its was also only from the Motor Speedway of the South plus a very low quantity in the French mail-away promotion …
Less Than 2,000?
Pixar Motorama Event CAR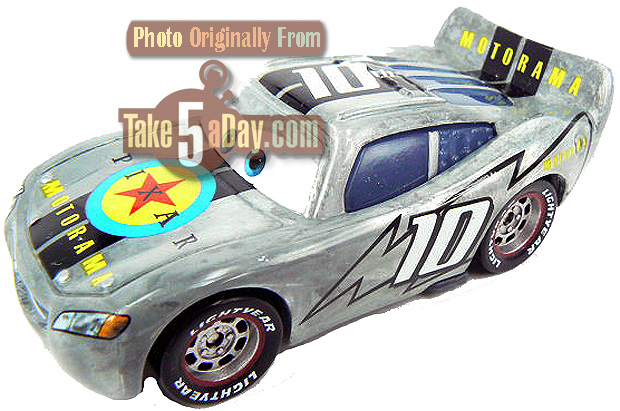 Of course, not an official release but part of the super exclusive collection of CARS not available to the general public … this was a giveaway to Pixar employees at their recent 10th anniversary Motorama event … an annual event where employees bring their tuner and spiffed up CARS … no is sure of the exact count but it's presumed that no more than 1 or 2 were given to each employee.  (Pixar has about 1,000 employees).
BTW, like every exclusive CAR, there are "non-authorized" versions … the original CARS produced have a production code of 1410 EAA M.I. – when the back door gang at the factory realized there were more profits to be made – they went back to create some more so any other production date makes the provenance more questionable … and of course, the official Pixar giveaways came in a box with a sleeve. Like verifying original art by the parts hidden by the frame, we will withhold precise detailed info about what that box looks like, how it was marked and what the outer sleeve says 🙂 … so keep in mind, there are factory look-alikes, factory look-alikes second production runs and the official Pixar giveaway in its box & sleeve – you can decide its value.
Around 1,000
Apple Piston Cup Racer, & Tach O Mint

The Apple CAR and Tach O Mint have only bee released so far in the Motor Speedway of the South set so their official release is only in 1,000 range. You can read all about the factory seconds and later back door ones that seem to be from a random factory HERE.
The 50 and the ONE
Red Ransburg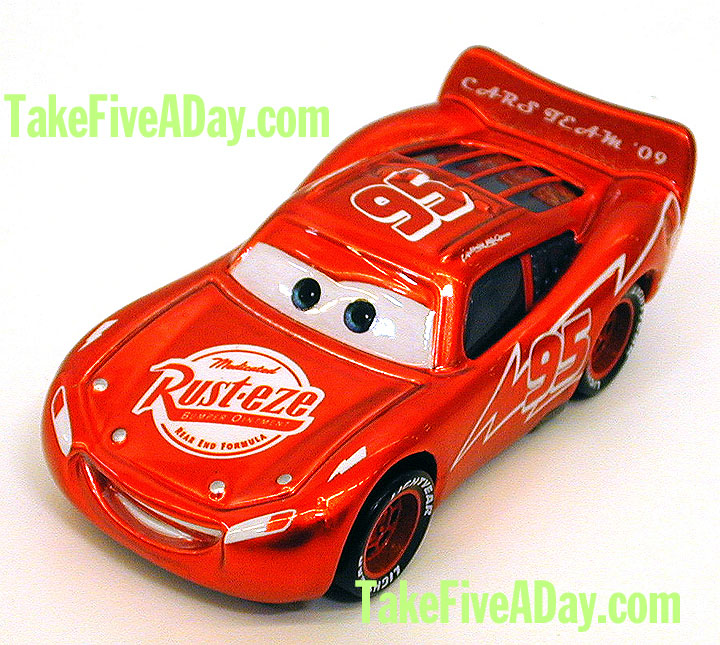 Without going over every detail, you can read this post.
Thanks for the reminder to update, Jason V.

metroxing

11 August 2010

Mattel Disney Pixar CARS


84 Comments