Home
»
Books
,
Magazine Checklist
,
Mattel Disney Pixar CARS
Mattel Disney Pixar Diecast CARS: COMPLETE Visual Opener Checklist Magazine Issue is Complete!
Everyone kept asking for it and until now, the releases kept overlapping each other but since we have had a natural-unnatural CARS release break, this seemed a good time to make a symbolic linkage & recap of June 2006 to June 2010.
This OPENER CHECKLIST issue includes EVERY single CAR release from Mattel as a diecast from June 2006 to June 2010.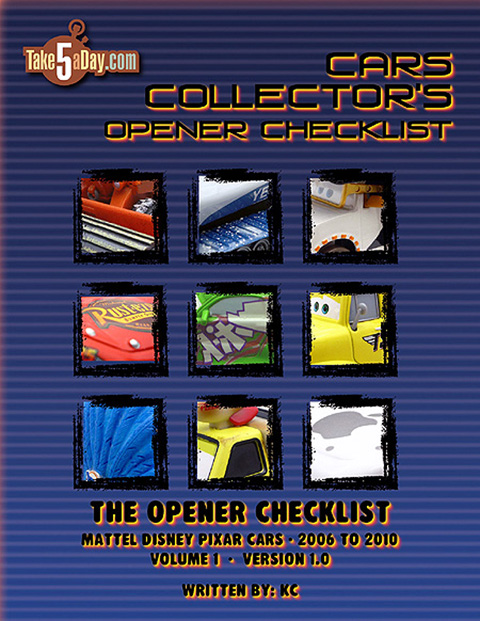 So, finally now, there is ONE COMPLETE CHECKLIST that shows you EVERY CAR and EVERY important variant so for most collectors, they might choose to skip buying Radiator Springs McQueen WORLD OF CARS version since it's essentially the same as the SUPERCHARGED one but now – can also tell the difference between the three DJ's released?
Yes, technically, the first CARS made it on the shelves in April, 2006 but officially, the release date was June, 2006 so the checklist is from June 2006 to June 30, 2010.
By my count, it is 265 CARS (mainline singles, megasize-deluxe, and SOME Storytellers) + 17 haulers for a total of 282 releases.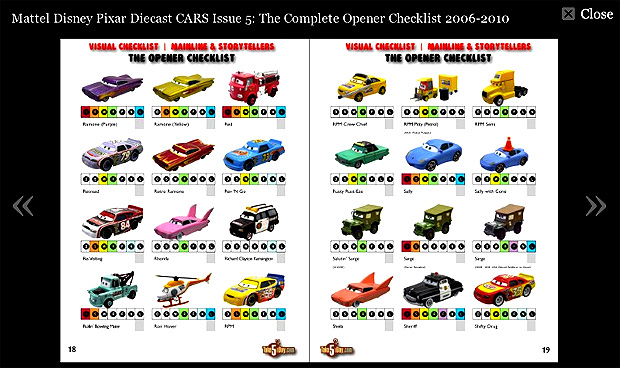 This total includes some variants but not all the variants were deemed worthy of a separate screenshot so your count might vary a little here and there. CARS released as a lenticular but NOT as a classic non-moving eyes CAR by June 30, 2010 is photographed and shown. Lenticular re-releases of the classic non-moving eyes CARS are 'variants' and will be in their own issue of the magazine someday but here, for cost reasons (it would add another 3-4 pages), they are only listed on the "grid."
This count does NOT include the holiday Storytellers nor the Mater Tall Tales Toons CARS as they are considered 'Expanded Universe' and they will get their own magazine issue.
However, it does include some of the Storytellers that are deemed canon as they have been released with 'regular' mainline CARS like Doc, Red, Fred, etc … in the mix. They are featured in the WORLD OF CARS book John Lasseter has blessed (by writing the foreward) AND those CARS are also featured in the official back story capacity in comic book form … plus some are featured in the animatic short from the DVD release some of the non-holiday Storytellers count as part of the mainline characters.
So, check out the PREVIEW of EVERY PAGE by selecting SHOW PREVIEW.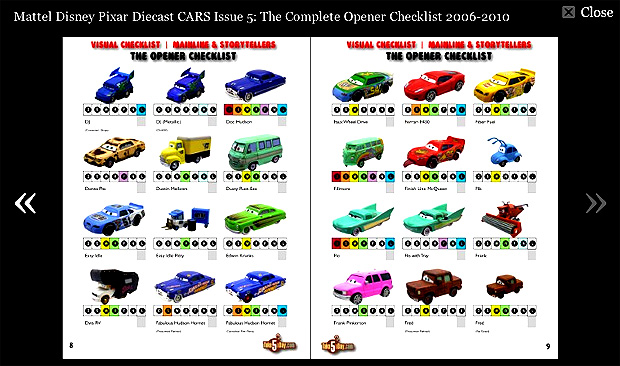 The next update won't be until next year Spring when the final Final Lap CARS are out and the CARS2 CARS start hitting.
Two more bits of good news.
There is a sale that ends TODAY so if you want to save a little, order before midnight PST at Magcloud.*
And NOW, AVAILABLE WORLDWIDE! Not just to Canada, the Uk or the US but anywhere UPS delivers!
The only oddity seems to be you can only order one copy of each issue … (if I'm reading it correctly) … or can you order only 1 magazine at a time?
"When shipping elsewhere in the world, you are limited to a maximum of one copy per order."
If you are ordering from anywhere but the US, the UK or Canada – let us know what worked and what's what. Again, it's out of our hands, MagCloud sets the policy. Sorry.
* MagCloud's sale is off the price of the base production cost so it's hard to tell exactly what your final sale price will be but a sale is a sale. And while the sale has been going on all July – kind of a busy month but at least you have the sale for one day …
Yes, we know it's not the most inexpensive magazine you will buy this month but it does have close to 300 HIGH RESOLUTION photos all enlarged for this issue. Every CAR release is shown and with a grid showing what years of release availability and of course, you support TakeFiveADay so enjoy and thanks!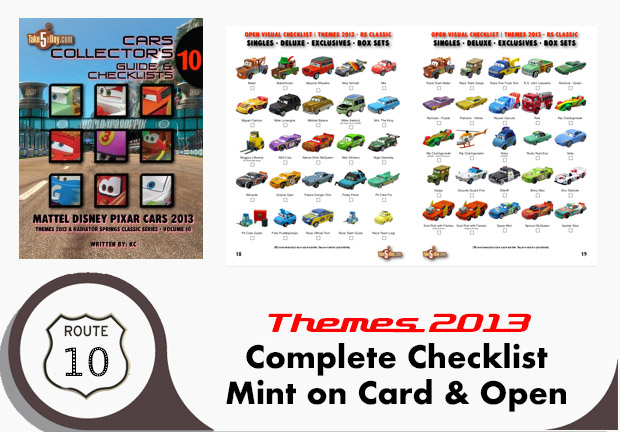 metroxing

31 July 2010

Books, Magazine Checklist, Mattel Disney Pixar CARS


29 Comments