Home
»
Mattel Disney Pixar CARS
,
Retail
Mattel Disney Pixar Diecast CARS: Shopping Target
I've always liked shopping at Target.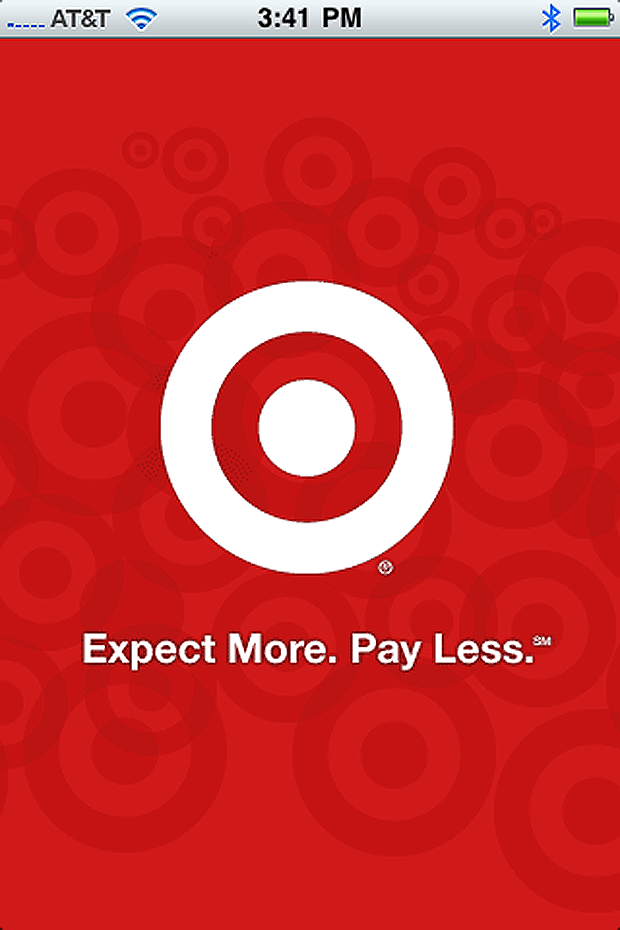 All the lights are on, the shelves are orderly and best of all, they welcome you to check their inventory … when you are in the store …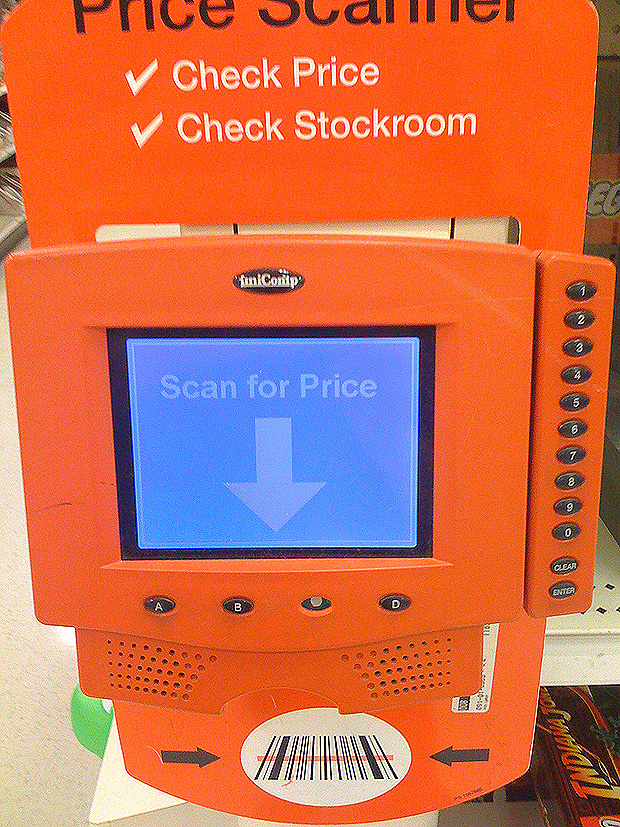 To check inventory, just start keying in the 9 digit DPCI numbers on the right and then hit ENTER. Remember to punch it in fast, they expect you to know what you are doing 🙂
From an old photo …
In this case, there's NO aisle number and NO as in the stockroom so clearly they are out. But if IN STOCK ROOM reads: YES. You can find someone to bring it out to you or just go up to customer service. Sometimes the hand held scanner doesn't jive with this but look for an employee who can call the stock room to ask. They might be out or have not received it but they can also check ALL the stores in the surrounding area.
This is ALSO IMPORTANT. They lump a lot of things under ONE DPCI number. For instance, if you want GIL the hauler, it's not so easy because EVERY HAULER is one DPCI number – in that case, you have to call and verify it's really GIL and if they can hold that for you.
So, for instance, while the Christmas CARS and Christmas Box Set is easy as it's two NEW DPCI numbers – either they have it or they don't but STORYTELLERS are much harder because everything from last year is the EXACT same DPCI number so the DPCI database is not going to be helpful on the phone because they'll say – yes, we have 10 but unless you want last year's, there's no way to tell unless the clerk is willing to look at each one OR you are in the stores.
Yes, sometimes they will say no or they cannot sell it to you – wait until that shift is over and call or try with another clerk … though obviously if the stockroom person says no, you can't just ask another floor employee as it's the same guy back there :-/
And yes, now there is an APP for that (only for iPhone, I believe) that will actually search our local targets for inventory!
Launch the app and select> MORE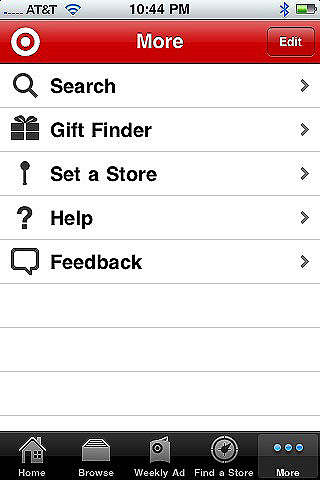 It will bring up the SEARCH window. DPCI for the Christmas singles.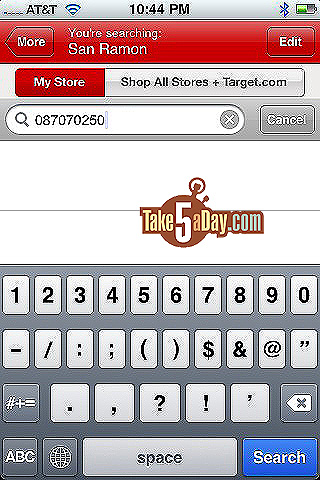 Hit SEARCH.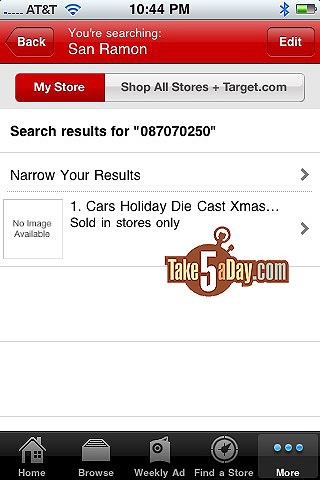 Yep, searches by DPCI …
Tap on the line and it shows the info in that particular Target.
As you can see, it's supposed to be in Aisle 38 and they are out. But I can tap on FIND IT AT ANOTHER STORE …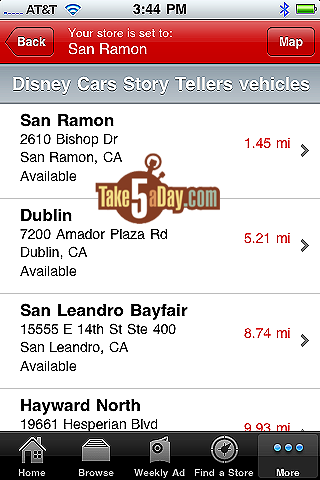 Though there can be a 24-hour update difference so I don't think anyone is expecting to be able to peer into the stockroom video cam 🙂 but it's still nice you are able to access that info …
And of course, tap on it to get more details and store info – you can tap on the phone # to dial the store …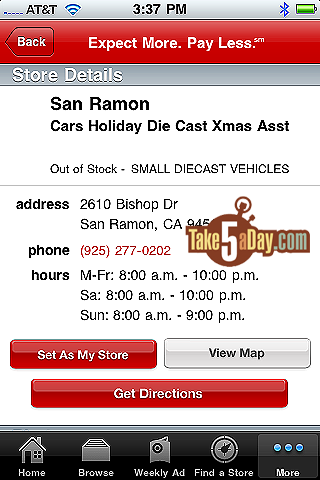 Not the greatest app as the 'normal' search mode is not that great – search for Disney diecast CARS and get everything from books to cribs … but not bad – if nothing else, you don't have to look up all the Target phone numbers in your area 🙂
Of course, the app is free.
And yea, iPhone great, Apps great – as you can see, AT&T coverage leaves a little to be desired 🙂  – hey, I got 1/10 of one bar – time to call Madagascar! 🙂
Target.com offers a inventory store search IF the DPCI number is on the website – but for instance the Christmas CARS & Box Set are NOT so the website cannot search inventory of your local stores …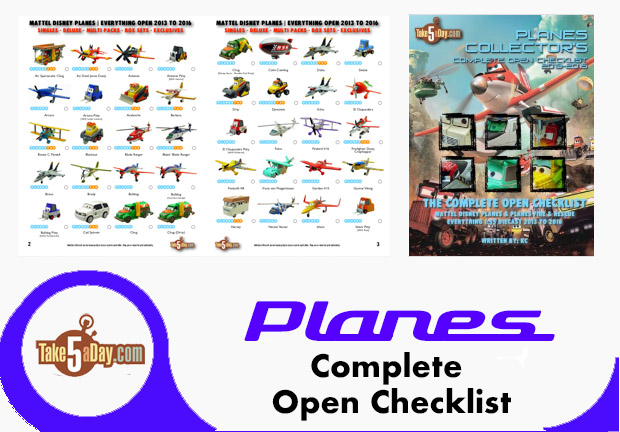 metroxing

3 November 2009

Mattel Disney Pixar CARS, Retail


31 Comments