Home
»
Mattel Disney Pixar CARS
Mattel Disney Pixar Diecast CARS: Current, Lenticular & Final Lap Checklist
Here is a new checklist incorporating all the listed, announced and already released lenticulars and Final Lap CARS.
The lenticular list probably now extends to mid summer and the Final Lap list is probably pretty complete in terms of NEW CARS through October 2010. Right now, there are not many previous released CARS (Desert, Supercharged, WOC, etc …) that are scheduled to be re-released as Final Lap (non-lenticular CARS) but as you can see, they will be mostly re-released as lenticulars.
There are some new lists showing other lenticular formats (3-packs) or View Zeen in the 4-pack so those CARS which will not be assigned a "singles" number but are listed for completeness … some other lenticulars and singles will be re-released in other formats but this checklist will ignore those – as it's mostly about the singles numbering.
When the 2010 Collector's Guide is here, we should have an update on the numbering.
Oops, forgot in the LEGEND that RED means CHASE and of course, the X means as a CHASE CAR, it is unlikely to be re-released in the other format but of course, it's not exactly like physics where there are some firm rules … it's more of a guideline 🙂
The ones that are blank are unknown and not on any lists so far so again, but you can consider it unlikely to be a Final Lap re-release but much more plausible for a lenticular re-release.
Visual Checklist of FINAL LAP CARS.
Visual Checklist of CHASE CARS.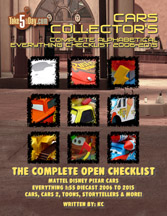 metroxing

2 November 2009

Mattel Disney Pixar CARS


18 Comments