Home
»
Advertising
,
Mattel Disney Pixar CARS
,
Retail
Stop the Presses! Take5 Has A New Advertiser! And You Will Want To Know For This Saturday… (UPDATE – COUPON LIVE) (UPDATE ON COUPON DETAILS)
COUPON DETAILS UPDATE BY TIZMANIAN:
I just confirmed the details about the coupon for this weekend's CARS event at Kmart.  Here is the response to my question about whether we can use the 10% off coupon on CARS 3-car gift packs,  playsets, etc since the coupon prohibits using it for a singles CARS purchase:
"The coupon only excludes the "Cars Singles", and not other Cars Pixar related items. Hope this clarifies."
That is straight from the Kmart/Sears HQ folks.  This is good news and I hope this helps to ease some of your minds about the details about how we all can use this coupon.
BTW – Here is an image from the email Kmart sent out about the CARS event this Saturday: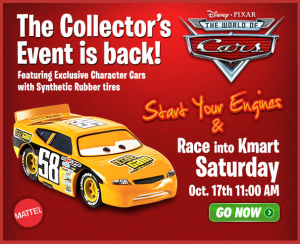 We now return you to our original post with its respective updates:
Great Googly-Moogly! There is huge news here at TakeFiveADay.com!
And here it is: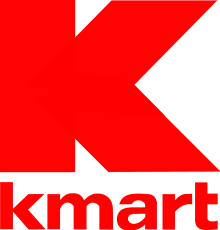 Kmart is now an official advertiser here at TakeFiveADay.com!
You will see an ad that will start appearing on our site as soon as I can get the code from Kmart's agency which should be around 5 pm EST or a bit sooner today.  The ad will look like this:
Once this ad goes live (THE AD IS LIVE RIGHT NOW!) here (and here at TakeFiveADay.com exclusively!), you can click on that ad which will launch a coupon for you to print and take into the store for a 10% discount off of a single car purchase toy purchase (except for CARS singles).  KA-CHING! Or is that Ka-CHoW!
We are very excited to see Kmart support their CARS program with their pre-sale case efforts as well as their in-store events for toy collectors and fun loving folks everywhere.  I was going to put up a video post about this since it is such huge news but of course my imac decided it didn't like its built in mic nor my usb mic input anymore.  And just only one week after needing to replace the optical drive…hmmm…I better not be smelling lemons as this puppy is less than one year old.
But hey, we are in the making-lemonade-out-of-lemons biz here at Take5!
So, be on the lookout later today for that ad above to start running on our site.  This ad will appear in the top ad position at very top of our site.  We are beholden to getting the link to make the ad live from Kmart's agency so bear with us as we push, prod, beg, and dance the mambo to get it up and running as soon as we can!
UPDATE!  THE AD IS NOW LIVE ON TAKEFIVEADAY.COM. CLICK ON THE AD THAT LOOKS LIKE THE ONE IN THIS POST AT THE TOP OF OUR WEB PAGE.  THIS WILL OPEN UP ANOTHER WEB PAGE WHERE YOU WILL SEE A COUPON THAT YOU CAN SAVE AND/OR JUST PRINT OUT TO TAKE TO YOUR LOCAL KMART TO SAVE 10% ON ONE TOY PURCHASE THIS SATURDAY AND SUNDAY, OCTOBER 17 & 18 ONLY!
THAT COUPON WILL LOOKS LIKE THIS:
NOTE: This coupon is good for all TOYS and other CARS items except for the singles – really intended so you get a bigger discount on box sets & playsets OR of course, any other toys they have in stock.
Viva Kmart!  Have fun this weekend and share your pics and comments about your shopping experiences here.

tizmanian

14 October 2009

Advertising, Mattel Disney Pixar CARS, Retail


100 Comments