Home
»
Toys
Disney Pixar CARS: Easy GeoCaching to GeoTrax CARS (Bring Cash) + Aiden Mom's Setup
Now that these have hit the shelves (thanks Mike E. & Popeye for the Target pics …), it seems many of you missed the original GeoTrax post and recap so here's your updated checklist. If I wasn't already collecting Steinway pianos, ICBM missiles and Mattel 1:55 Disney Pixar CARS (now that really fills up a house, let me tell you), I would add this cool line to my collecting list …
Trev will be pretty hard to resist … send us pics of Trev set up the MINI's  (right & stylization & scale?)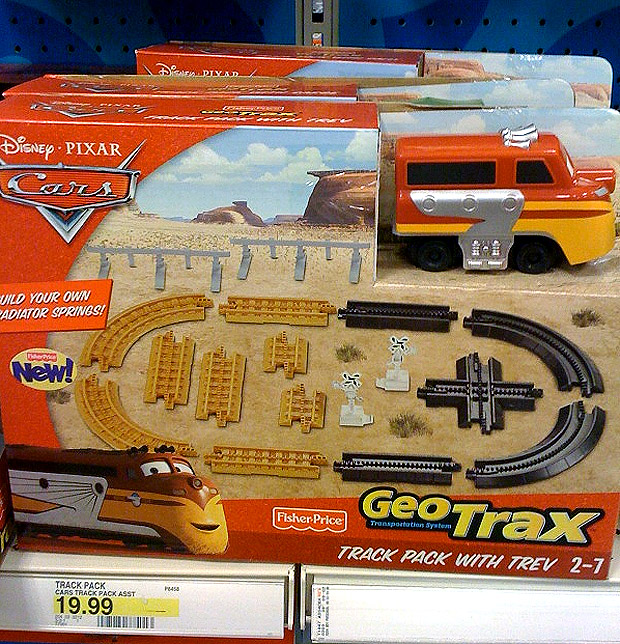 Start small and go big?
" …Lightning McQueen RC vehicle with an easy-to-use remote control. This RC vehicle also includes forward & reverse feature with fun sound effects and moves twice as fast as regular Geotrax RC vehicles! Lightning McQueen still works within the current Geotrax world so kids can use this vehicle with additional track & play pieces!"
Also available at Amazon.com (click on the name or the photo for a direct link).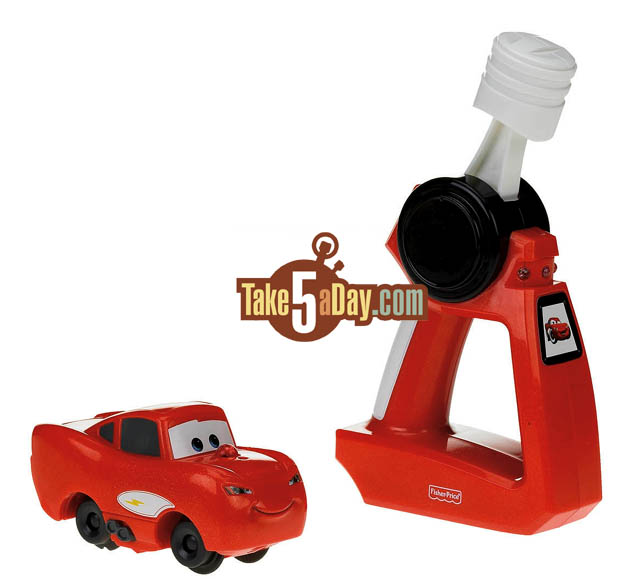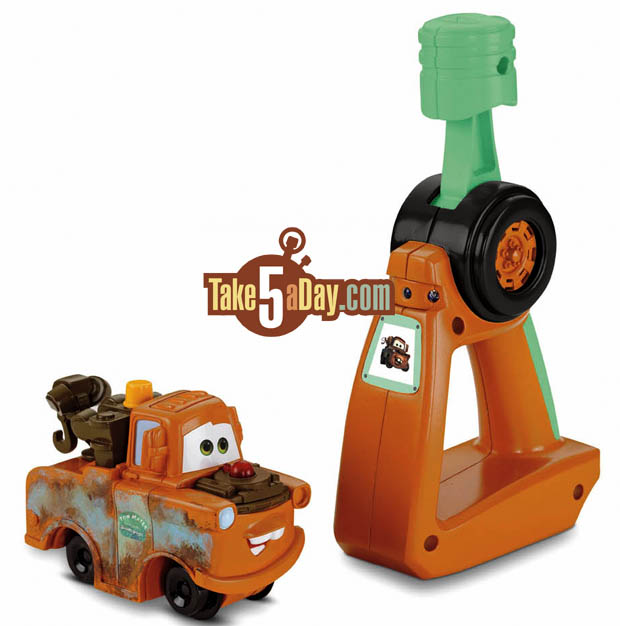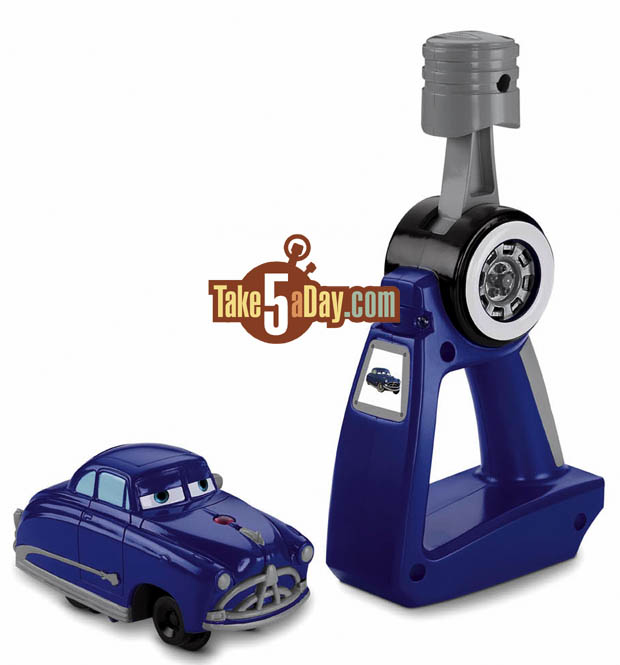 But what's CARS without Radiator Springs tracks and streets, right?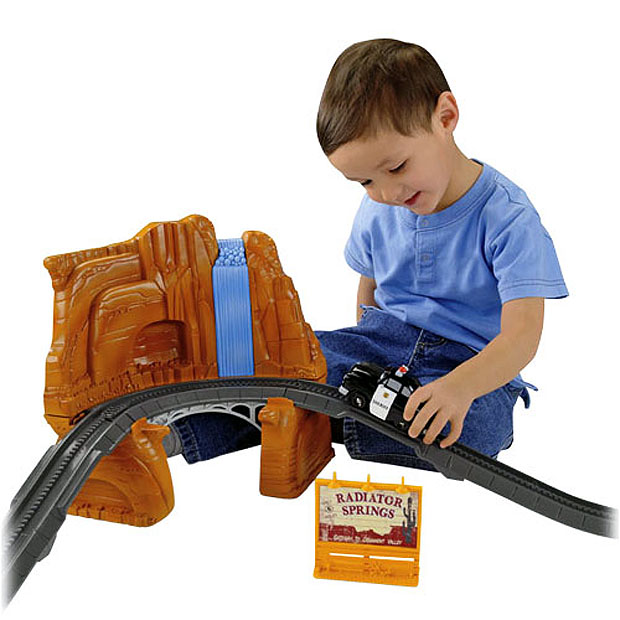 (Kid not included).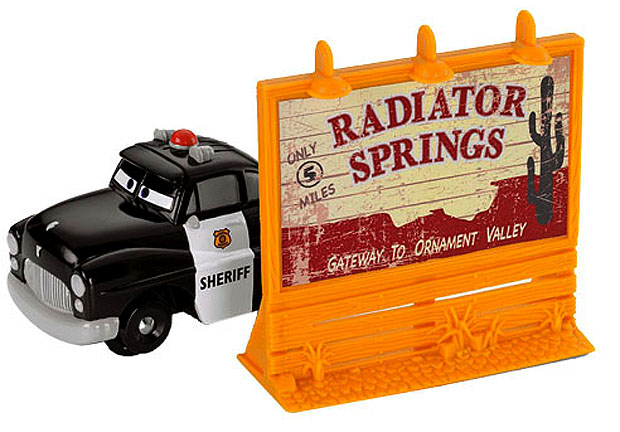 Too funny!
Ramones GeoTrax House of Body Art!
Flo's V8 Cafe (with Sound Effects!)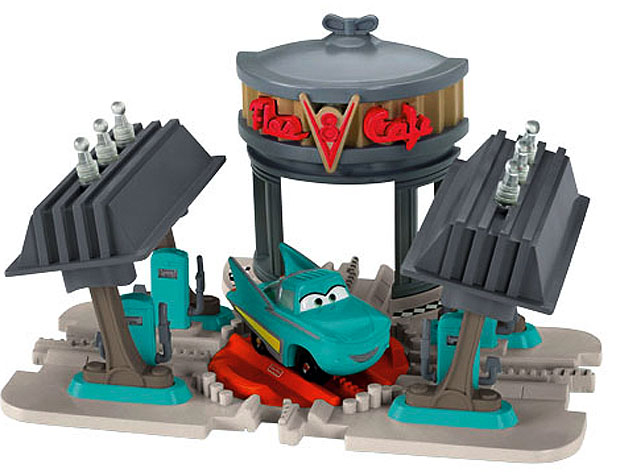 And of course, you need tracks to attach these to …
The "elevation" Track Pack with Sally & the Stop Light …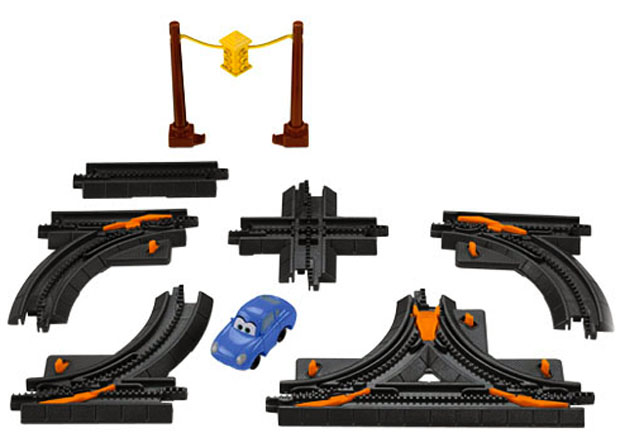 The "ground" Track Pack with Sarge & the Route 66 Sign …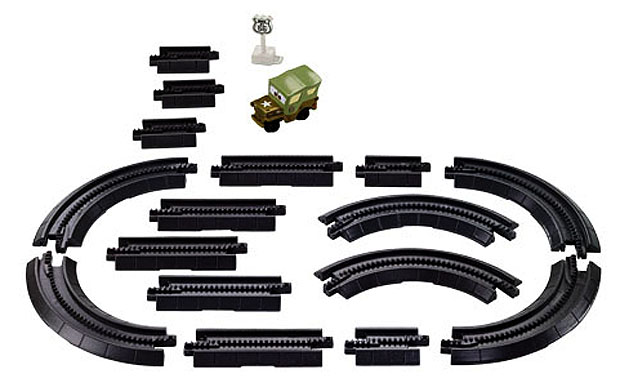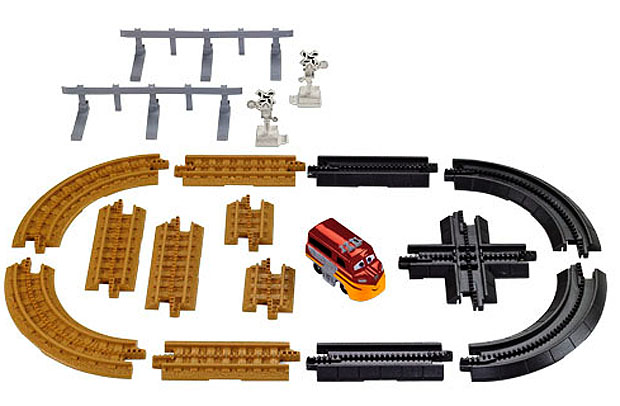 Swwwwwweeetttttttt!
UPDATE!
Thanks for "Fiddleheads-Heather" & DLMcQueen, it looks like there are two new "combo sets."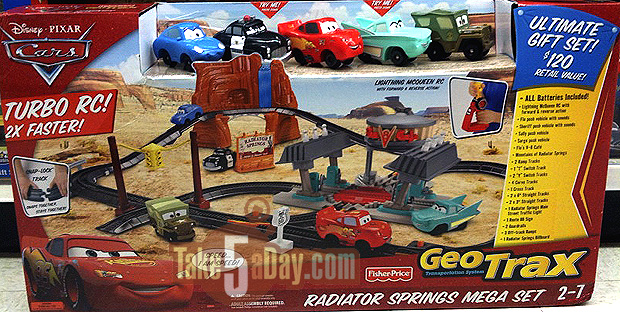 They have bundled 6 sets together as the "Radiator Springs Mega Set." It looks like it includes the following sets: Flo's V8 Cafe, Sheriff's Lookout Mountain, the Sarge & Sally expansion tracks plus the Lightning RC rev thing.
Lightning McQueen's Close Call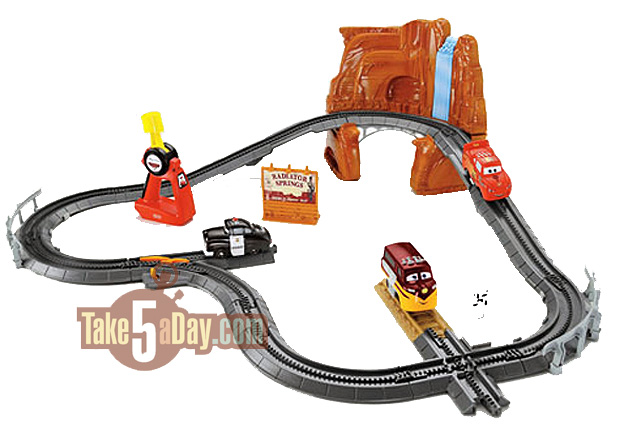 And a another combo set just out that combines part of the Sheriff Lookout, Trev (though without as many track components) and RC McQueen.
Too nice!
So I guess you can drive from "roads" onto "train tracks?" Is that the right example to teach kids? JUST KIDDING! I want to see the entire setup running with all the CARS and trains – you can … do it!
Aiden's Mom has delivered one punch that is the knockout punch – good luck topping this … yep, this the Geotrax CARS room – top that … 🙂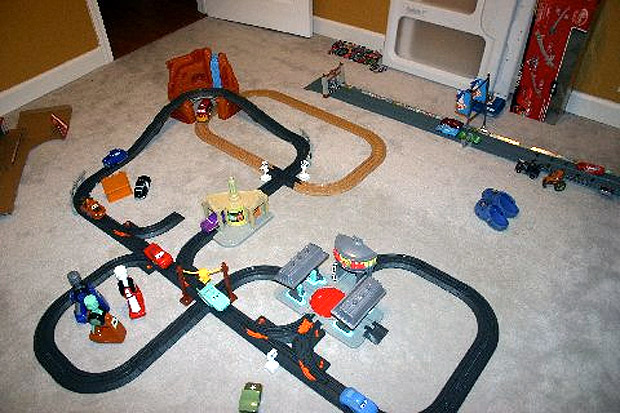 I believe she lives with the motto, "Go big or don't go at all."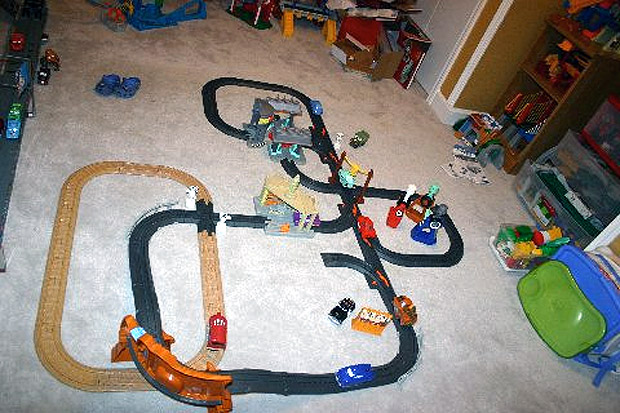 Yep, pretty complete … so, I suppose if anyone needs to be sent to their room, there some other room that's a lttle less 'punishing?'  😆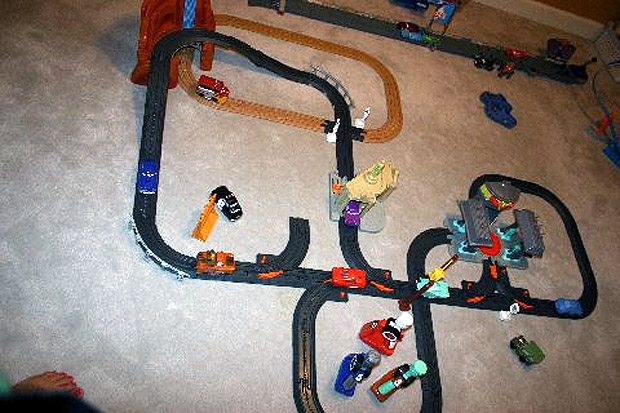 What's that long strip of road in the back? GeoTrax also? Not CARS …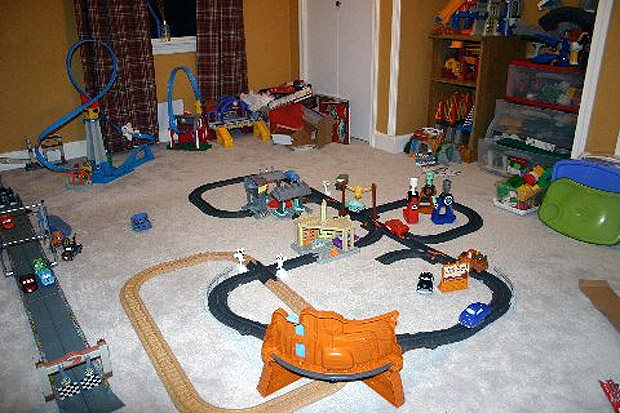 I think this is the airport one in the background …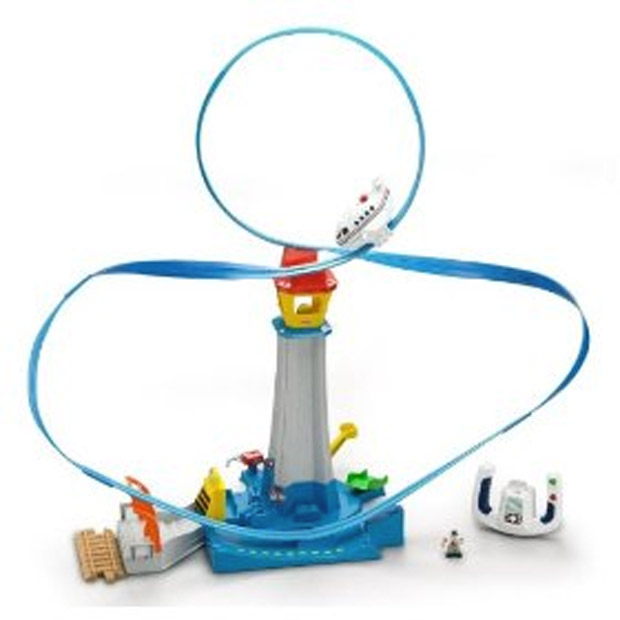 Just remember to hide the humanoids from the set when playing with the CARS set  🙂
I think Grand Central Station is also in back …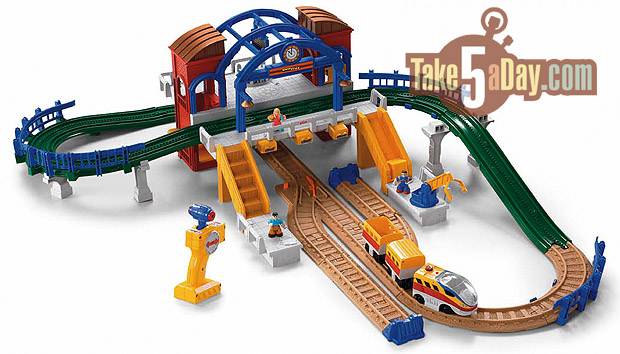 The gauntlet & GeoTrax standard has been set by Aiden's Mom so good luck to topping this 🙂