Home
»
Advertising
,
Books
,
CARS
,
Checklist
,
collecting
,
Design
,
diecast
,
Film
,
Gadgets
,
Internet
,
Magazine Checklist
,
Marketing
,
Mattel Disney Pixar CARS
,
Media
,
Mobile
,
Retail
,
Toys
,
TV
Mattel Disney Pixar Diecast CARS: Take Five With You Where Ever You Go!
Take Five A Day: The Magazine!
You asked for it and now, you can on-demand it!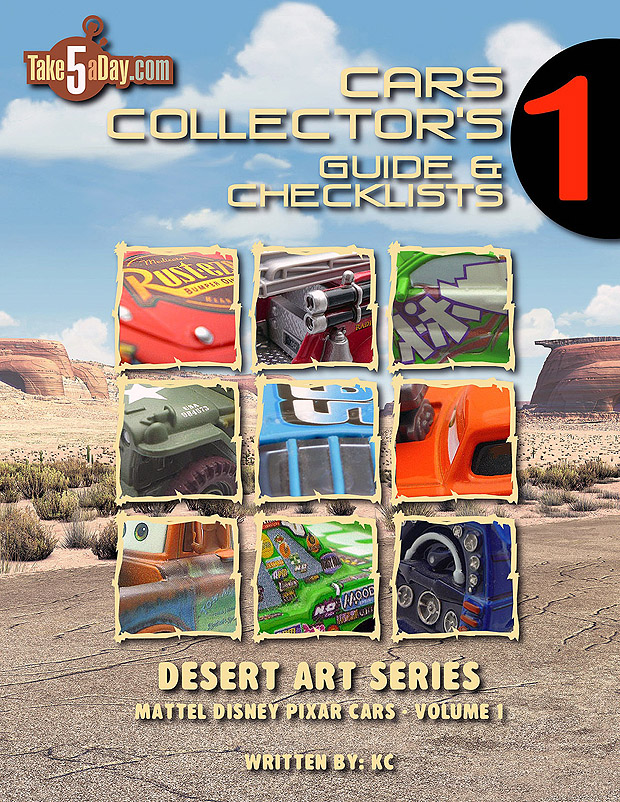 Issue #1 of our magazine is available for order! 20 full-color pages devoted just to the DESERT ART series … Other than a few pages of text, the magazine is entirely comprised of full color checklists for however you are collecting the Desert Art CARS – mini preview example below: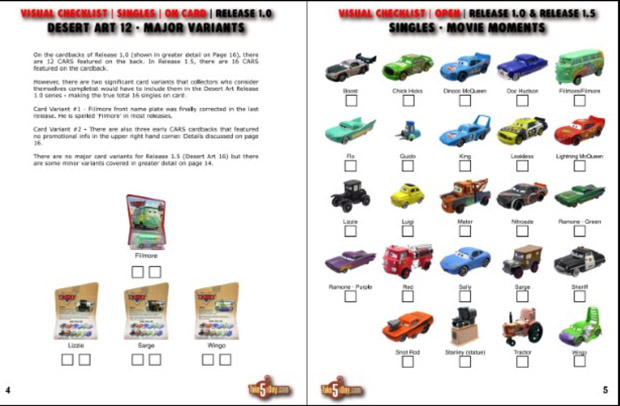 I have re-photographed nearly everything with crystal clear backgrounds for clarity, there are SEPARATE checklists for openers, mint on card collectors, box sets, playsets, and even three different checklists for EVERY cardback for variant collectors.
Full Color, Full size @8.5 by 11″.
Every Desert Art (12 & 16) CARS item released in the US is shown.
Click on HERE to order and check out a Preview.
Issue #2 (not completed yet) will covered the Supercharged Series and others to come, of course.
Just order directly and they will print up an issue to send to you. They can only ship to the US, Canada & the UK for now. Credit cards or Paypal.
For anyone interested in wholesale pricing or to co-brand your store, drop me an email at metroxing @gmail.com
Take Five A Day: The Book!

Of course, the book that covers the years 2006 & 2007 has been available but just a quick reminder for those who do not have it.
It covers the first two years of CARS collecting in much greater detail and is not a collection of just checklists. The book cost-per-page was that it was too costly to create all the possible checklists that the magazine can now do so – so it really the story of CARS, the diecast line – over 110 pages and over 300 high res photos of EVERYTHING released for CARS in 2006 & 2007 or from Desert Art to Supercharged to the opening salvo of World of CARS.
Volume II will be available in early 2010 covering 2008 & 2009.
Click on the graphic below to see a preview of the first pages and reviews.
Own a Kindle or Thinking of Buying One?
Now, have TakeFiveADay.com auto load via the magic of wireless right into your Kindle!
Just click on the graphic below … or even if you don't have a Kindle, sign into your Amazon account and leave a review!
(Amazon sets pricing BTW … I tried typing in $11,999.00 but no go 🙂  ).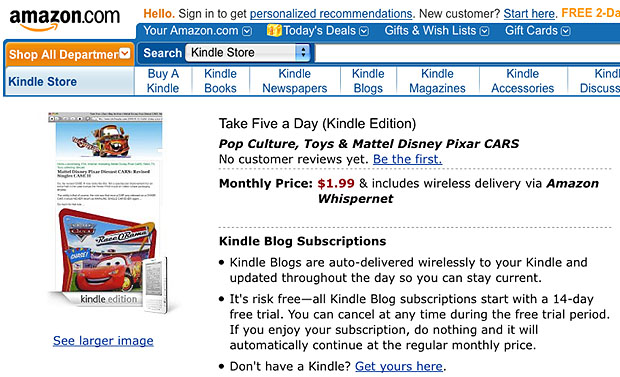 We're always here on the web but if you want to take TakeFiveADay with you – enjoy and thanks for your support!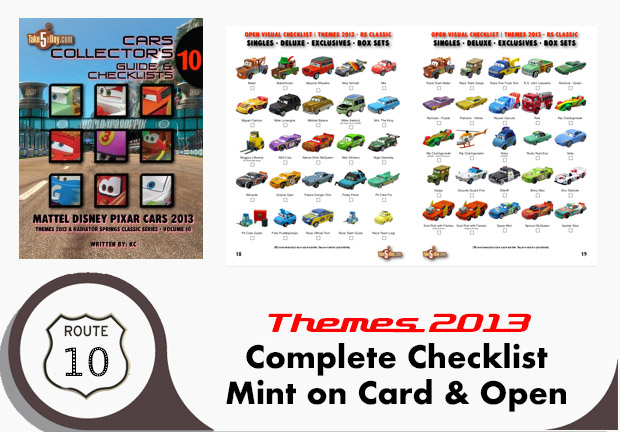 metroxing

17 May 2009

Advertising, Books, CARS, Checklist, collecting, Design, diecast, Film, Gadgets, Internet, Magazine Checklist, Marketing, Mattel Disney Pixar CARS, Media, Mobile, Retail, Toys, TV


19 Comments